News
Stay informed about the latest enterprise technology news and product updates.
Overland boosts performance of low-end VTL
The REO 1500 is the first hardware refresh for the low-end VTL product in two years as Overland moves ahead without its former OEM partners.
This Article Covers
RELATED TOPICS
Looking for something else?
TECHNOLOGIES
Overland Storage Inc. has announced the REO 1500, the first refresh of its low-end virtual tape library (VTL) product line in two years.
The product will replace the REO 1000 iSCSI VTL for small businesses. Like the 1000, the 1500 model can be used either as a block-based disk target or as a VTL, or both, and several instances of VTL can be used in separate partitions of the underlying RAID-5 disk array, the company claims.

Download this free guide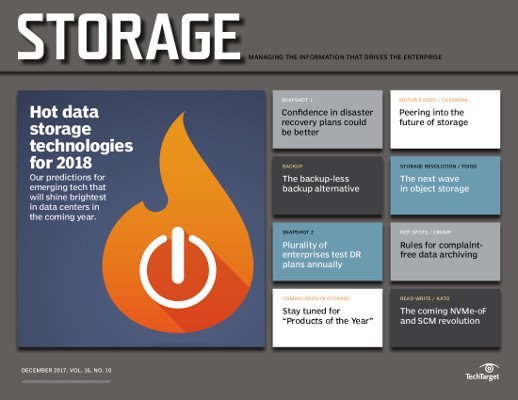 Snapshot of top 2018 backup tech: CDM, complaint-free archiving, ransomware detection vendors
The SearchStorage.com team names the most promising ransomware detection products, 4 rules for complaint-free archiving, how to use copy data management for effective recovery, and more. Download your e-zine copy here.

By submitting your personal information, you agree that TechTarget and its partners may contact you regarding relevant content, products and special offers.

You also agree that your personal information may be transferred and processed in the United States, and that you have read and agree to the Terms of Use and the Privacy Policy.

The chief difference in the REO 1500 is the addition of new underlying hardware, including new 250 GB and 500 GB SATA drives from Seagate Technology Corp., 2.93 GHz Intel Corp. Celeron processors, a new RAID controller from Applied Micro Circuits Corp. (AMCC) subsidiary 3ware and a new motherboard. The combined effect of the new components' horsepower is a boost from the 20 megabytes per second (MBps) throughput of the REO 1000 model to 100 MBps aggregate throughput on up to six data streams on the REO 1500.

Overland has also adjusted its software to accommodate the increased number of data streams and performance, upping the number of VTL partitions from four to six over the REO 1000, as well as doubling the number of iSCSI targets available on the device, from eight to 16.

Meanwhile, the capacity -- configurations of 1 terabyte (TB) or two TB and price, $5,543 -- will stay the same.

The product is most comparable to Hewlett-Packard Co.'s (HP) recently announced D2D appliances, which are based on ProLiant servers and bundled with HP's Data Protector software, a rebranding of Yosemite Technologies Inc. backup. The D2D110 and D2D120 VTLs come with 750 GB or 1.5 TB of SATA disk and are priced at $2,999 and $3,999 respectively, with software included.

Though it's slightly more expensive than HP's version, pricing was what drew REO1500 user Ben Loscalzo, IT manager for iSystems LLC, a payroll software developer based in Colchester, Vt., to the system. ISystems was previously using open source backup software on a Linux server with a single direct-attached tape drive to back up some 800 GB of production data from direct-attached RAID arrays the company uses for primary storage. Loscalzo said he had been evaluating an IBM x Series server with 2 TB of RAID direct-attached storage (DAS) as a backup target for CA Inc.'s Brightstor ArcServ software, which the company also implemented this quarter, but the cost of 2 TB of DAS and the server would have been between $6,500 and $7,000.

"And that wasn't even including any VTL or iSCSI capabilities," Loscalzo said. "It wasn't even that fast a server."

The REO 1500 system's capacity, meanwhile, will probably last iSystems for years and the company has yet to touch the iSCSI target feature. Loscalzo is looking to add storage area network (SAN) storage for some of its database servers and might be able to use part of the REO for that.

At larger companies, the REO 1500 devices can be used with Overland's replication software to send data from remote offices to Overland's higher-end VTL models, the REO 4000 and REO 9000, at a main data center, and a virtual tape thin provisioning feature introduced with the REO 1000 model will carry over into the REO 1500.

According to Jeff Graham, senior product manager for Overland, HP's iSCSI VTL offering is also based on a network attached storage (NAS) device, while the REO 1500 is block based. "Basing a VTL on an underlying NAS system can lead to fragmentation of files," he said, slowing performance.

The REO 1500 also does not offer compression or data deduplication, both of which, Graham said, were "in process" behind the scenes at Overland and should be ready for announcement later this year.

According to Brian Garrett, technical director of the Enterprise Strategy Group Lab, the announcement should be encouraging to the estimated 4,500 to 5,000 customers of Overland's disk-based backup appliances. (Graham declined to disclose specific numbers on each individual product.) Overland is coming off a rocky 18 months in which it lost major OEM deals with HP and Dell Inc.

"The company is still trying to find its way back to solid ground," Garrett said. "But the REO is kind of a shining star in their portfolio, particularly for the midpoint of the SMB market."
Dig Deeper on Disk-based backup
PRO+
Content
Find more PRO+ content and other member only offers, here.