News
Stay informed about the latest enterprise technology news and product updates.
IBM updates VTL, shuns data deduplication
IBM has released an LTO-4 product and enhancements to tape backup offerings, including its VTL, but claims the jury's still out on data deduplication.
This Article Covers
RELATED TOPICS
Looking for something else?
TECHNOLOGIES
IBM has announced a bundle of updates to its tape and archiving products, which include new tape drives based on the LTO-4 standard, scalability and performance updates to its virtual tape library (VTL) and a deeper integration of software from startup Bycast Inc. into its archiving product line.

Download this free guide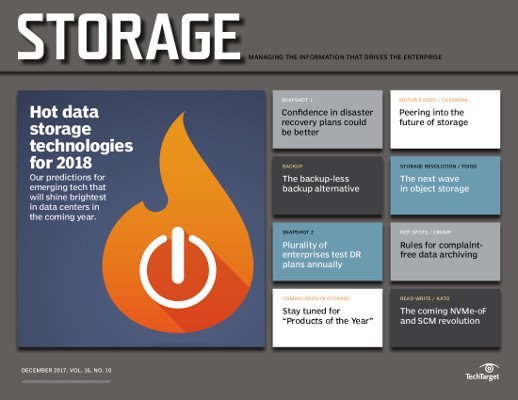 Snapshot of top 2018 backup tech: CDM, complaint-free archiving, ransomware detection vendors
The SearchStorage.com team names the most promising ransomware detection products, 4 rules for complaint-free archiving, how to use copy data management for effective recovery, and more. Download your e-zine copy here.

By submitting your personal information, you agree that TechTarget and its partners may contact you regarding relevant content, products and special offers.

You also agree that your personal information may be transferred and processed in the United States, and that you have read and agree to the Terms of Use and the Privacy Policy.

The new IBM Virtualization Engine for Open Systems TS7520, which will be available June 8, is the first update to IBM's VTL product line since its announcement in December 2005. IBM could have made "incremental" announcements along the way, according to Charlie Andrews, director of product marketing for IBM System Storage, but decided to bundle all the updates into this release. New features include support for dual "controller units" for high availability, iSCSI connectivity and hosted backup on the VTL, something EMC Corp. did with its EMC Disk Library last year.

IBM is especially trumpeting the new scalability of the Virtualization Engine, which it claims can now support up to 512 virtual libraries, 4,096 virtual drives and 128,000 virtual volumes -- with 750 GB drives, Andrews said. The product is architected to scale up to 1.3 petabytes (PB) behind a single controller.

All that capacity makes the one feature still missing from the VTL rather conspicuous in its absence: data deduplication.

Despite the fact that IBM's VTL partner, FalconStor Software Inc., offers data deduplication, according to Andrews, IBM has no immediate plans to add the feature to the Virtualization Engine. "We want to make sure we implement it in the right way," he said. "For us there are a variety of potential issues around that technology that we're not completely satisfied with having to do with reliability, performance and consistency." The product will support hardware-based compression for data reduction, he said. (Andrews declined to comment on the rumors that IBM has been in talks to acquire FalconStor.)

While this puts IBM behind emerging VTL companies, such as Sepaton Inc., Diligent Technologies Inc. and Data Domain Inc., which offer VTL with dedupe, it's still neck-and-neck with some of the other major players, such as EMC Corp., which is also partnered with FalconStor for the EMC Disk Library and Network Appliance Inc. (NetApp). EMC still has yet to add dedupe to its VTL despite also acquiring dedupe software maker Avamar in October. NetApp shied away from dedupe with the latest release of its NearStore VTL, saying it was due to performance concerns.

"Dedupe is important, and they know that," said Heidi Biggar, analyst with the Enterprise Strategy Group (ESG). "They are a little late now, but they can still make it up, but they need to have a clear roadmap."

When it comes to the VTL market, Biggar said, "EMC has out-shipped them so far in terms of petabytes, but there's still a lot of market left out there."

More tape, DR550 announcements

IBM announced an entirely new tape product line based on the new Linear Tape Open Generation 4 (LTO-4) standard. Andrews said Dell Inc.'s new LTO-4 tape drive, first out of the gate last week, is actually a rebranding of IBM's LTO-4 drive.

The real claim to fame for IBM's products around the new standard is key management for LTO-4's native encryption. Users can add LTO-4 drive keys into IBM's Web-based Global Key Manager and manage those keys alongside keys from IBM's TS1120 proprietary self-encrypting tape drives in one console.

"It's a nice extension into the midrange with the encryption they announced with their TS1120 [drive]," Biggar said. "Key management also becomes an issue with native tape encryption. It can become a very cumbersome and complex process without the ability to centralize management."

The new LTO-4 products include the IBM System Storage TS2340 Tape Drive, with 120 megabytes per second (MBps) native data transfer rate and 800 GB native capacity; the IBM System Storage TS3100 Tape Library, available with one LTO-4 drive with either Low Voltage Differential (LVD) SCSI, 4 Gbps Fibre Drive or new 3 Gbps dual-port SAS; the IBM System Storage TS3200 Tape Library, available with up to two LTO 4 drives; the IBM System Storage TS3310 Tape Library, available with up to 396 LTO storage slots and up to 18 LTO-4, 4 Gbps Fibre Channel or dual-port SAS hot-swappable drives; and the IBM System Storage TS3500 Tape Library, which scales up to 16 frames, 192 tape drives and over 6,000 cartridge slots for up to 10 PB of capacity. Pricing on the new products was not available.

Archiving update

IBM is also brushing up features of its DR550 fixed content archiving product, which will now support the TS1120 drive, data shredding through an over-write process according to policy and a new file system gateway that supports either NFS or CIFS via a new OEM deal with Bycast. Bycast's File System Gateway will be providing the NFS / CIFS connectivity for the DR550; its Grid Access Manager software is to become the basis for IBM System Storage Grid Access Manager Software and will also be ported into the DR550. Andrews said at this point there are no plans for an IBM acquisition of Bycast.

Finally, IBM is adding support for a new LTO-3 half-height tape drive into its TS3100 and TS3200 libraries. The ability to fit two drives into the space occupied by one full-height drive will allow those libraries to scale higher in the same footprint.
Dig Deeper on Disk-based backup
PRO+
Content
Find more PRO+ content and other member only offers, here.