News
Stay informed about the latest enterprise technology news and product updates.
Virtual tape library vendors zero in on midmarket
Overland has scaled up and Diligent has scaled down, as the VTL vendors focus in on midsized businesses.
This Article Covers
RELATED TOPICS
Looking for something else?
TECHNOLOGIES
Over the last week, two of the industry's virtual tape library (VTL) players have newly targeted the midmarket. Analysts say that though the hype around disk-based backup has been loud of late, it's still a market very much up for grabs.

Download this free guide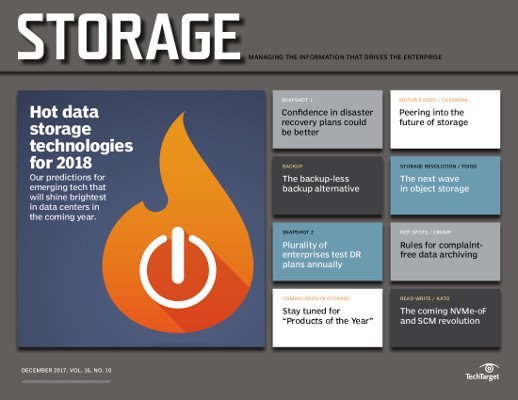 Snapshot of top 2018 backup tech: CDM, complaint-free archiving, ransomware detection vendors
The SearchStorage.com team names the most promising ransomware detection products, 4 rules for complaint-free archiving, how to use copy data management for effective recovery, and more. Download your e-zine copy here.

By submitting your personal information, you agree that TechTarget and its partners may contact you regarding relevant content, products and special offers.

You also agree that your personal information may be transferred and processed in the United States, and that you have read and agree to the Terms of Use and the Privacy Policy.

Diligent Technologies Inc. announced today that it will be scaling down its ProtecTier VTL into two hardware/software packages it intends for channel partners, including Hitachi Data Systems (HDS), to sell to midsized companies.

The systems will come in two flavors, though channel partners can also customize packages for end users. An entry-level configuration includes up to 8 terabyte (TB) usable capacity, up to 12 virtual tape drives and up to two VTLs will be priced at around $75,000. A "standard" configuration with up to 20 TB usable capacity, up to 16 virtual tape drives and up to four VTLs will be priced at around $110,000. Each system will come with a single dual-core server to run the ProtecTIER software.

By contrast, Diligent's high-end ProtecTier packages do not come with hardware, and a typical deal at the high end, according to Tom Grave, director of product management for Diligent, often runs into the $400,000 range. The high-end system uses an in-line process for data deduplication that uses multiple quad-core server nodes for performance; hence Diligent's claims of over 400 megabytes per second (MBps) performance in the high-end product. With the midmarket packages, Diligent estimates its systems' per node throughput at 120 MBps.

"We're now two years into the game with ProtecTier and have experienced partners in the channel who can become the authority on this technology for misized customers," Grave said, adding that Diligent's direct-sales focus would remain on high-end deals.

Meanwhile, low-end secondary storage player Overland Storage Inc. has announced the REO 9100, a replacement for the previous REO 9000. The product, a SATA-based Fibre Channel or iSCSI-connected VTL that can scale from 3 TB to 66 TB using 750 GB drives, now represents the highest end of the Overland VTL lineup. It has all new silicon, including 3.2 GHz Intel Corp. Celeron processors on a new motherboard and new Applied Micro Circuits Corp. (AMCC)/3Ware controllers, as well as four 4 Gbps Fibre Channel ports. Overall throughput on the system has been tested at about 520 MBps, according to the company. General availability on the product was announced June 4; it costs $28,000 for a half-populated 5U chassis.

"The midmarket is a perfect spot for us and our partners," according to Overland's chief strategy officer Michael Kerman. "We offer products to the very low end, but where the biggest opportunities and margin lie is in the $25,000 to $50,000 product-size range."

No missed opportunities -- yet

Overland's business has taken a licking and kept on ticking -- after losing major OEM deals with Hewlett-Packard Co. (HP) and Dell Inc. Overland reported $20 million in losses in its first earnings report for fiscal 2007 last October, and president and CEO Christopher Calisi stepped down in November. Since then, Overland's stock price has continued to tumble, but in the last six months the company has begun announcing new products and customers again.

"We've made more announcements in the last six months than we made in the 18 months prior," Kerman said, adding that capacity shipped for Overland is up 50% year over year and units are up 20%, though he would not specify customer numbers or units shipped.

"Overland's probably shipped more units than anybody," said W. Curtis Preston, vice president of data protection services at GlassHouse Technologies Inc. "But because most of their products are so inexpensive, they're probably at the back end of the list of vendors in terms of revenue."

However, just when Overland has updated its products to survive the trend away from tape and toward disk in the secondary storage market, another factor may have them behind the 8-Ball. "Overland's remote office enterprise play is not going to be interesting to anyone unless they have deduplication," Preston said.

According to Kerman, Overland plans to partner to offer data deduplication this year. "I think you'll see something happen in the next couple of months," he said.

While Overland will be among the last secondary storage players to add some form of data deduplication capability, analysts say it's still early.

"In disk-based backup, whether VTL or NAS, you know you need that [data deduplication] technology, but it's not a missed opportunity [for Overland] by any means when you look at actual user deployments, especially if you factor in that Overland has such strong access to the channel," said Heidi Biggar, analyst with the Enterprise Strategy Group (ESG).

The same holds true for Diligent when it comes to midsized market opportunity, even though dedupe competitor Data Domain has already been there since the beginning. Ironically, said ArunTaneja, founder and consulting analyst with the Taneja Group, it may have been Data Domain's success that spurred Diligent to action. "Data Domain has demonstrated to [Diligent] that the midmarket is strong and growing," he said. "The needs of midsized companies are no different from the enterprise in terms of data protection and compliance, and there are still a lot of opportunities there."

Meanwhile, Data Domain has steeled itself for new competitors with a recent boost to its product line, adding new processors and support for more capacity to a new model of its appliance line, the DD580. (See, Data deduplication supplier pushes performance.)

Taneja added, "I don't know if it was extremely good planning or good planning with a heavy dose of luck, but it was a brilliant move in retrospect for Data Domain to begin with a focus on the midsized market."
Dig Deeper on Disk-based backup
PRO+
Content
Find more PRO+ content and other member only offers, here.