EMC reveals universal data backup and archive appliance
Users at a customer forum last week got a preview of EMC's plans to integrate its data backup and archiving products into a single appliance.
This Article Covers
RELATED TOPICS
Looking for something else?
TECHNOLOGIES
EMC Corp. is planning to integrate its large portfolio of data backup, archiving and replication products into a single appliance and software offering over the next 12 to 24 months.

Download this free guide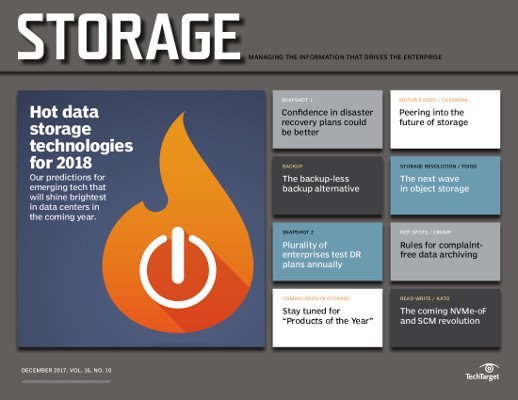 Snapshot of top 2018 backup tech: CDM, complaint-free archiving, ransomware detection vendors
The SearchStorage.com team names the most promising ransomware detection products, 4 rules for complaint-free archiving, how to use copy data management for effective recovery, and more. Download your e-zine copy here.

By submitting your personal information, you agree that TechTarget and its partners may contact you regarding relevant content, products and special offers.

You also agree that your personal information may be transferred and processed in the United States, and that you have read and agree to the Terms of Use and the Privacy Policy.

EMC is planning a "universal restore and retention appliance," said Prashant Dholakia, vice president of information protection software for EMC, during a presentation last week at EMC Forum, a one-day user event held in Uncasville, Conn. In a presentation screenshot, the planned device bore a strong resemblance to EMC's recently announced Avamar Technologies' Data Store product, which the company claims can scale to half a petabyte.

The device would be accessed using what Dholakia termed the Intelligent Information Management Console, which would bring together management of EMC's offerings, including Legato Networker, DiskXtender, EmailXtender, Centera, Backup Advisor and Avamar. The package would sort out data according to predetermined user policies.

"We want our various product features, such as deduplication, to become on-demand services as part of the same product package," Dholakia said. "It's time for a new reference architecture for backup and archiving."

The news was clearly welcome to users at the session, several of whom requested clarification on the various backup, replication and archiving products EMC currently offers. In recent months, some EMC users have cited confusion and complexity in EMC's replication offerings as the reason they switched to other storage vendors.

One attendee, George Scangas, manager of IT architecture for Welch Foods Inc., said he'd come to the session hoping to learn more about EMC's disk-based backup products, but commented that he might delay his purchase for the new package. "We're in the early days with disk-based backup anyway," he said. "The value of less to manage and a single interface would be worth waiting for."

But another user said the new product probably won't hold up her purchasing plans. "Competitors, like Mimosa [Systems Inc.], in archiving are already touting being able to handle both file and email in one system," said Debbie Lemieux, storage administrator of L.L. Bean and an EMC Symmetrix user. (Mimosa has not yet formally announced a file archiving product but has been public about its plans to officially make it available later this year.) Lemieux wondered why EmailXtender and DisXtender had not yet been combined for this purpose and said the long time frame given for the product's release would make her more likely to go with other vendors.

Another concern, according to Lemieux, would be the pricing scheme EMC sets up for the product if she considers it at a later date. "Historically, EMC software offerings have been very costly. Adding manageability in one location is a great idea, but if I still have to license each underlying piece separately, it would be very difficult to get through our budget process."

The move for EMC would help it join not only Mimosa, but other large competitors, such as Symantec Corp. Symantec has been beating the marketing drum of its "Storage United" strategy since its Vision user conference in June and has released a more tightly integrated version of its backup applications.

"EMC has a really broad storage product portfolio with several product lines relying on different underlying replication technologies," said Stephanie Balaouras, senior analyst with Forrester Research Inc. In data protection alone, Balaouras noted, EMC currently has RecoverPoint, SRDF and MirrorView in replication and disaster recovery; Legato and Avamar in the backup space; and Retrospect for the small and medium-sized business (SMB) market.

"It's a great portfolio with best of breed of technologies," she said. "But it does make it more complex for users to architect a data protection or disaster solution that incorporates several of these offerings."

Short-term updates planned for Avamar

In the meantime, EMC officials say that the Avamar data deduplication product will be getting a capacity boost sometime in the first quarter of 2008. The update will consist of a move to a 64-bit operating system, a boost to the total number of segments that can be stored in the software's database and updated multithreading capabilities to take better advantage of multicore processors, according to Jed Yueh, co-founder of Avamar and vice president of product management for EMC. The updates will allow each instance of Avamar software to access 3 terabytes (TB) of disk storage, double its current limit of 1.5 TB per server node.

This is also welcome news for Avamar users, especially those in big shops looking to roll the product out for unstructured data on Windows and Linux file servers. "Their virtual edition could be a way to get around that limitation for now by allowing you to load multiple instances of the software on the same physical server," said Joe Meyer, senior storage architect at Level 3 Communications LLC, who manages close to 1 petabyte (PB) of gear from EMC and currently has 60 TB licensed from Avamar. "But I'd still rather move around the physical servers, which offer better performance, and be smart about how I build these grids."
Dig Deeper on Disk-based backup
PRO+
Content
Find more PRO+ content and other member only offers, here.