News
Stay informed about the latest enterprise technology news and product updates.
Quantum overhauls PX500 tape libraries
Quantum has completely overhauled its line of ATLs, introducing three new low-end versions that can be built up and taken apart at will.
This Article Covers
RELATED TOPICS
Looking for something else?
Quantum Corp. is refreshing its PX500 line of automated tape libraries (ATL) with the release of three new boxes, each with different capacities and pricing structures, but all built with the same hardware design. According to analysts, the way the boxes can be mixed and matched could be a big leap forward for tape infrastructures.

Download this free guide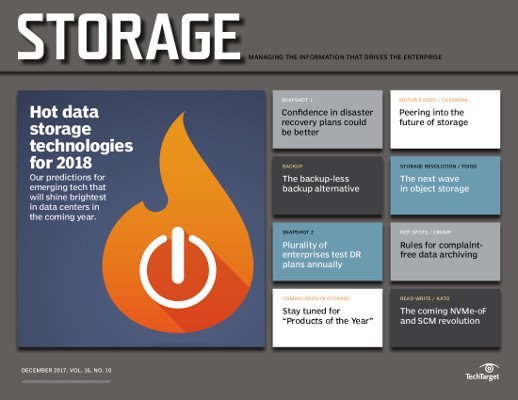 Snapshot of top 2018 backup tech: CDM, complaint-free archiving, ransomware detection vendors
The SearchStorage.com team names the most promising ransomware detection products, 4 rules for complaint-free archiving, how to use copy data management for effective recovery, and more. Download your e-zine copy here.

By submitting your personal information, you agree that TechTarget and its partners may contact you regarding relevant content, products and special offers.

You also agree that your personal information may be transferred and processed in the United States, and that you have read and agree to the Terms of Use and the Privacy Policy.

The PX 502, the smallest of the three, is a 4U box with one or two drives, according to what the customer wants. It holds either 32 DLT or 38 LTO tape cartridges, and can mix mediums. It retails starting at around $12,000. The PX 506, a 10U box, has between one and six drives and can hold 88 DLT or 100 LTO cartridges, and begins at around $24,000. The PX 510 goes up to 40U with 22 drives and 220 carts, and starts at around $33,000.

The 510 box was originally announced Aug. 1, but Quantum's manager of public relations Sean Lamb said the announcement was a "seeding" for the series release.

The boxes use infrared connections between modules very similar to a television remote control. Boxes from each of the three classes of PX500 can be stacked with the others, and the entire system will appear to management software as one unit. The boxes can also be taken apart and used again separately.

"A lot of times, if you want to add capacity [to a tape library], you have to put together a new frame," said Dianne McAdam, senior analyst and partner with the Data Mobility Group. "The way this is designed, you can slide new boxes in and don't have to do any cabling."

She added, "Quantum has brought out a good point: 40% of tape libraries end up moving to a new spot before they get retired -- a remote office or other department. With these boxes, you can add capacity but you can also take it away, and it gives you a lot of flexibility. Nobody else is really doing this -- making it so easy to stack."

"It's attractive because you can start really small and get really, really big," said Steve Duplessie, founder and senior analyst with the Enterprise Strategy Group Inc. "It's easy, and smart -- the physical design looks pretty intelligent. As you're scaling up, as opposed to doing a forklift upgrade, you can just modularly add in capacity. You won't need a crane to add things in."

"There are products out there that you can scale, but it's not easily done by end users," said Robert Amatruda, research manager for tape and removable storage with IDC. "It frees Quantum up to work with an OEM customer much more easily, where they could actually do assembly much like a car and customize it on the fly."

Meanwhile, Quantum said that the overhaul of its PX500 series is the biggest product launch in the company's history.

And with the "tape is dead/long live tape" debate still raging in storage, it is, as director of automation product marketing for Quantum's storage media group Ted Oade put it, "A big bet on tape."

"I think tape's going to be around a long time, but it's being repositioned," McAdam said. "We're still going to need tape to hold older backups and longer term archives because it's still the most inexpensive way to do that. The difference is that tape will be the second tier of backups, not the first tier anymore."

McAdam said Quantum was wise to target the low to midrange of the market. "In the enterprise, you already have all these libraries, but a lot of midsized companies want smaller automated tape products. The PX500 series plays into that market -- the lower end."

"It truly is a reinvestment, and Quantum is investing in a growth area," Amatruda said. "They have actually done pretty well over last several quarters with growth in the tape automation market, particularly at the low end, and I would look at PX 500 series as a different approach to midrange tape libraries."

"The bottom line is that the mid- to high-end market is still very vibrant and very active for tape and tape automation vendors," Duplessie said. "This is definitely going to turn heads in that market space."
Dig Deeper on Tape backup and tape libraries
PRO+
Content
Find more PRO+ content and other member only offers, here.