News
Stay informed about the latest enterprise technology news and product updates.
Storage outlook '06: High-density tape a priority
IBM and Sun shop, Dartmouth College, talks to SearchStorage.com about its storage plans for next year.
This Article Covers
RELATED TOPICS
Looking for something else?
Dartmouth College may trace its history back to 1769, but today's student body relies on a modern campus-wide network that now exceeds 9,000 PCs. Supporting such an active network for file sharing and database applications demands a careful consideration of data storage. Systems architect James E. Dobson is responsible for 12 terabytes (TB) of storage across a 2 Gb Fibre Channel (FC) SAN, but product end-of-life concerns and utilization improvements are figuring prominently for 2006.

Download this free guide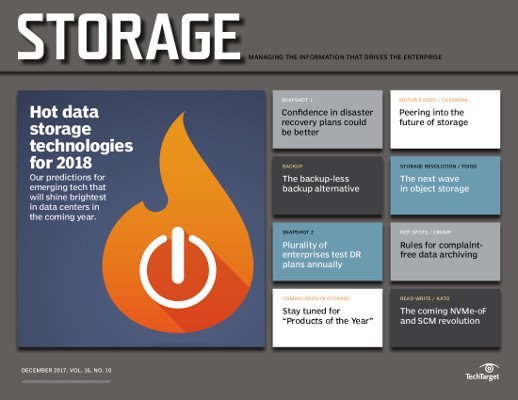 Snapshot of top 2018 backup tech: CDM, complaint-free archiving, ransomware detection vendors
The SearchStorage.com team names the most promising ransomware detection products, 4 rules for complaint-free archiving, how to use copy data management for effective recovery, and more. Download your e-zine copy here.

By submitting your personal information, you agree that TechTarget and its partners may contact you regarding relevant content, products and special offers.

You also agree that your personal information may be transferred and processed in the United States, and that you have read and agree to the Terms of Use and the Privacy Policy.

What's your most important storage project for 2006?

James Dobson: We're migrating off some older storage devices. [Dobson's primary storage vendors include Sun and IBM.] It's becoming a priority as things have reached their end of support life. Batteries on old arrays are dying left and right.

Space has become an issue, so higher density [SATA] arrays will be replacing lower density arrays. For example, we have maybe 10 storage arrays that only hold 18 drives [only yielding about 1 TB in total]. We want to pull those out and install something a bit more dense. [Dobson is considering SATA arrays from Sun, Dot Hill's 3500 series and Apple's XSan.]

This will also help us make better use of space, power, cooling and management. We have two data centers and we're going to start doing some replication between them. But that's only been available on the higher end arrays, so we can't replicate everything -- only the critical data.

What are the key storage trends in your industry?

Dobson: I think that [FC] speeds are coming up. I see a lot of the 4 Gb equipment, but until we find the applications that will really require it -- or the cost becomes equivalent -- we'll stay at 2 Gb. The switch infrastructure and HBAs [host bus adapters] are really the big costs for 4 Gb FC. When changes [to 4 Gb] come, they'd happen on the arrays first and then probably switches, and finally HBAs on the servers that really require higher bandwidth. But we seem to be doing well with what we have at 2 Gb.

What do you think will be the biggest hurdles to implementing storage in the coming year?

Dobson: Budgets are always an issue. As products reach the end of their support life, getting that money justified [for replacement equipment] is a little bit difficult at times. There are also concerns with increased environmental issues, such as air conditioners dying that can quickly end the life of a disk. Staffing should not be an issue. We'll probably continue buying new hardware from the same vendors and hopefully they keep similar software so we don't have to learn new systems. I don't anticipate any change in the SAN and it will stay at 2 Gb [FC] for now.

What storage technologies are you evaluating for 2006? What looks interesting to you?

Dobson: We're looking at higher density tape. We're also looking at tape libraries -- systems with eight drives and hundreds of tapes [capacity], such as DLT8000. That's certainly something that we're interested in looking at and learning more about and evaluating.

Virtualization also looks interesting. I'm already using a product that does some virtualization. Doing that across the whole SAN might be nice. I've seen a few products there that are interesting. [Dobson uses a Sun 6920 for virtualization, which is capable of SAN-wide deployment provided that he has enough support for back-end storage devices.]

I'm watching smaller SATA arrays [under 20 drives], and I think that there are new products coming that I'd be interested in looking at.

What kind of staff changes do you expect, if any, in 2006? What skills are you looking for your staff to gain?

Dobson: I think they'll stay the same. We're not looking for any huge changes, and I don't need any adjustments there. We want to use what [staff] we have better. I don't feel that more staff is justified. We went through a phase of some large architectural changes a couple of years back and once we completed that, we had a few departures [resulting in a smaller staff overall], but we've been able to handle things. It's just a matter of continually simplifying architecture and consolidating where we can. Just doing what we can with what we have.

How do you see your storage utilization changing for the coming year?

Dobson: We're getting pretty good utilization on the storage we have. Right now, moving data between different devices has been a challenge but some of our software choices have made that [migration] a little bit easier. We can transparently add storage without altering locations. [Dobson uses SAM-QFS for disk-to-disk migration]. We can transition off of old storage onto new storage easily. We can usually find some unused portion [of disk space] to carve off and move away to another device. I anticipate that we'll keep our disks pretty full. Probably about 30% [4 TB] of our storage will be replaced where warranties and service contracts have expired, and I would anticipate adding about another 6 TB of total capacity in 2006 [a 50% net increase, bringing the total to about 18 TB].
Dig Deeper on Tape backup and tape libraries
PRO+
Content
Find more PRO+ content and other member only offers, here.