News
Stay informed about the latest enterprise technology news and product updates.
Sony resellers stick with AIT tape
At the official launch of Sony's AIT-5 tape technology in Los Angeles, resellers say they are sticking with the product, despite previous bumps in the road.
This Article Covers
RELATED TOPICS
Looking for something else?
TECHNOLOGIES
Sony Electronics Inc. hasn't made it easy in recent years for its original equipment manufacturer (OEM) partners, resellers and users to adopt its Advanced Intelligent Tape (AIT) tape technology. But with the global launch of AIT-5 in Los Angeles last week, the company said it is back on track with compatibility, and most partners said they will stick with the product, despite the recent bumps in the road.

Download this free guide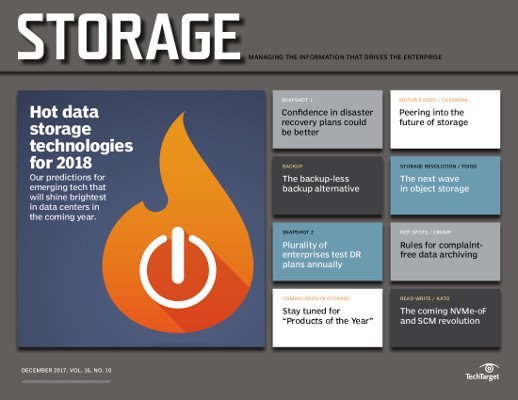 Snapshot of top 2018 backup tech: CDM, complaint-free archiving, ransomware detection vendors
The SearchStorage.com team names the most promising ransomware detection products, 4 rules for complaint-free archiving, how to use copy data management for effective recovery, and more. Download your e-zine copy here.

By submitting your personal information, you agree that TechTarget and its partners may contact you regarding relevant content, products and special offers.

You also agree that your personal information may be transferred and processed in the United States, and that you have read and agree to the Terms of Use and the Privacy Policy.

To briefly recap, the previous version of Sony's AIT product, AIT-4, was launched in July 2004, but backward compatibility issues plagued sales of this product. The drive heads could be damaged when using AIT-1, -2 or -3 media in AIT-4 drives, and Sony couldn't guarantee 100% reliability. The company came up with a bridge product to close the gap, but it was a workaround and added complexity for users.

"We didn't do what we needed to do with AIT-4, but with AIT-5, we are correcting that," said Michael Nixon, senior manager for OEM marketing in Sony's tape division.

AIT-5 drives are read and write backward compatible with AIT-4, AIT-3Ex and AIT-3 media, and support WORM formats when required, the company said. AIT-5 features more than 1 terabyte (TB) of capacity on a compressed cartridge (400 GB native) and approximately 62 megabytes per second (MBps) of throughput, compressed.

Compared with its Linear Tape-Open (LTO) and digital linear tape (DLT) equivalents, AIT-5's main selling point is its size, according to Nixon. Based on the 8 mm format, an AIT-5 drive can fit in a 3.5-inch drive bay, Nixon said, whereas most LTO and DLT drives require a full 5.25-inch slot. That's especially important for rack-mount servers where real estate is at a premium, he said. And compared to similarly sized digital Data Storage (DDS) or Digital Audio Tape (DAT)72 cartridges, AIT-5 holds more data: 1.04 TB versus a modest 72 GB.

Further improvements include a new dynamic tracking feature to control relative head position to the tape media with an actuator, enabling each head to trace the narrow track path for more precise and accurate reading, according to Nixon. In addition, an automatic head cleaning system and a "soft touch" tape loading mechanism improve the reliability of the product, the company said. The drive cooling system is isolated from the tape mechanism, limiting airborne contaminants from entering the tape path and affecting reliability. And AIT-5 drive's mean time between failures (MTBF) is an impressive 400,000 hours at 100% duty cycle.

As far as the roadmap goes, Nixon said the company is working hard on AIT-6, which will offer 800 GB native, backward compatibility with AIT-4 and AIT-5 and should be available in the next 24-30 months.

Jacques Guilloton, regional vice president for Bell Microproducts Inc. southwest division, said AIT technology is still a great product despite the recent compatibility issues. "All products go through a lifecycle, and if you don't reevaluate technology you could be cutting off your nose to spite your face." He added that more Bell Micro partners are sticking with the product than not.

Another big Sony tape partner, Tech Data Corp., plans to distribute AIT-5 as soon as it's available. "We've been through the bumps with AIT-4, but we carry a lot of Sony, it makes sense business-wise for us to have it in our portfolio," said Stephanie Palinkas Kohler, marketing manager, peripherals at Tech Data.

Users, meanwhile, are waiting for the price to come down. Tommie Hill, senior supervisor of transit operations for the Kansas City Area Transportation Authority, has AIT tape installed in video surveillance systems on 100 of the company's 300 buses. "AIT-5 makes the system too expensive; the tape drive alone would be half of the cost of the system at this point," Hill said. He added that Kansas City has just passed a bill to build a light rail network, which means it could standardize video surveillance across the buses and trains. AIT-5 "may be affordable by then," he said.

Similarly, Nathan Yakobovitch, director of global strategic purchasing for Nice Systems Ltd., which builds video surveillance systems, is impressed with AIT technology but cannot afford the latest version. "We are not yet at AIT-5, unless the price will go down," he said. Nice Systems switched from DDS to AIT several years ago and saw failure rates decrease from 5% to 6% to less than half a percent, according to Yakobovitch. "For cost purposes, we use AIT-1," he said.

Analysts said Sony has done a decent job of repairing its compatibility problems but note that AIT-5 is up for a stiff battle against the incumbent LTO makers. Robert Amatruda, research manager, tape and removable storage at IDC Corp., said AIT-5's density and small footprint "puts it in good stead" to compete on its technical merits, but in the end, "it may not be about technology." According to a recent report by Freeman Reports, the percentage of tape libraries shipping with LTO drives increased to 81% in 2005, up from 73% the year before. By 2010, Freeman Reports predicts LTO will ship in 86% of libraries.

On top of this trend, Bob Abraham, president of Freeman Reports, points to the rapid consolidation in the marketplace and the declining growth of tape, adding to Sony's challenge. There were 72 tape drive manufacturers in 1990, according to Abraham, and now there are seven. On the plus side, he noted that Sony manufactures all the components of its product, meaning that it is at least in control of its own destiny.
Dig Deeper on Tape backup and tape libraries
PRO+
Content
Find more PRO+ content and other member only offers, here.