News
Stay informed about the latest enterprise technology news and product updates.
Analyst report: Tape libraries slipped in 2006
The annual tape outlook by Freeman Reports indicates that tape library revenue in the storage industry dropped after two consecutive years of double-digit growth.
This Article Covers
RELATED TOPICS
Looking for something else?
TECHNOLOGIES
According to an annual report released today by analyst firm Freeman Reports, tape library revenue and unit shipments took a tumble in 2006 following double-digit growth rates in the two previous years.

Download this free guide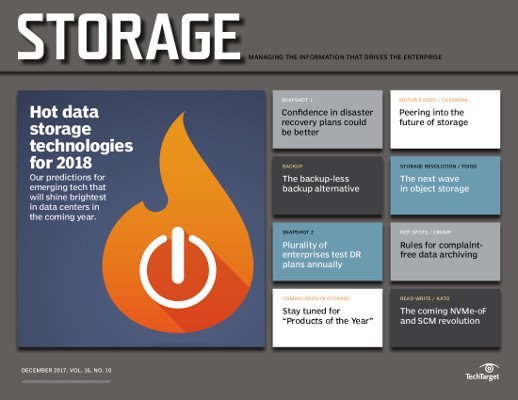 Snapshot of top 2018 backup tech: CDM, complaint-free archiving, ransomware detection vendors
The SearchStorage.com team names the most promising ransomware detection products, 4 rules for complaint-free archiving, how to use copy data management for effective recovery, and more. Download your e-zine copy here.

By submitting your personal information, you agree that TechTarget and its partners may contact you regarding relevant content, products and special offers.

You also agree that your personal information may be transferred and processed in the United States, and that you have read and agree to the Terms of Use and the Privacy Policy.

Total revenue from all tape libraries was $1.81 billion in 2006, a decline of 15.6% compared to 2005. The drop in industry revenue follows two consecutive years of revenue growth -- 10.4% in 2005 and 13.5% in 2004. Total demand for tape libraries fell to 57,668 units in 2006, a decline of 4.5%. The report also says that revenue will drop to $1.77 billion in 2007, but will rise to $2.15 billion by 2012, a compound annual growth rate of 2.9%. Unit shipments are projected to grow to 60,438 units in 2007 and to 80,707 units in 2012, for a growth rate of 5.8%.

The sharp decline in total units shipped last year was mostly attributed to steep declines for 8 mm, helical scan, DLT and SDLT formats. Of all the tape library formats, LTO showed a modest uptick in units shipped, from 48,900 units shipped in 2005 to 51,000 in 2006. However, the LTO format declined in total revenue, from $1.116 billion in 2005 to $1.053 billion in 2006.

While the increase in unit shipments might seem like good news for the LTO format, Freeman Reports' president, Robert Abraham, noted in a press release that the 4% unit growth rate is the lowest for the format since it was introduced in 2000.

How the vendors fared

IBM moved from second place in 2005 to leapfrog Sun Microsystems Inc./StorageTek at the top of the market with a 29% market share in 2006 (in 2005, its share was 23.3%), a move the report attributes to strength in half-inch cartridge and LTO libraries. Quantum Corp. and its new acquisition Advanced Digital Information Corp. (ADIC) combined for 26.7% revenue share, up from 21.7% share in 2005, prior to their merger.

Sun/StorageTek, meanwhile, plummeted from 41% share and the market lead position in 2005 to 26.2% share in 2006, which puts it in third place overall. The report says Sun's library revenues were down in every library category in 2006. Overland Storage Inc., meanwhile, slipped slightly (0.8%) but remained in fourth place with 6.8% share. Hewlett-Packard Co. (HP) increased share from 1.7% in 2005 to 5.3% in 2006.

Is disk-based backup winning the battle against tape?

"The cost per megabyte of magnetic disk storage continues to fall, resulting in a perception that disk storage is closing the price gap with tape storage," the report reads. Meanwhile, "some disk subsystem manufacturers are blatantly targeting to eliminate tape from the backup process because of tape's slow performance."

Even when tape is not completely replaced by disk, the report notes that tiered storage, which shifts tape into an archival rather than a daily backup role, is also a factor in the decline of tape library sales. Tape autoloaders and optical storage libraries were also seen taking market share from tape libraries.

However, "recently announced removable disk products, such as those from Imation, ProStor and Quantum, are expected to have little impact on the tape library industry in the near term," according to the report.

Despite the numbers, the report does not conclude that tape is not on its way out. "Most secondary and all tertiary storage functions and utilities, such as disk backup, transporting of large data databases and data archiving, are … best performed on tape," it reads. "Accordingly, tape subsystems usually accompany secondary disk subsystems to provide an optimum solution."

Other analysts said they agreed with the conclusion that there's a shifting role for tape, but also said it doesn't necessarily foreshadow the death of the medium.

Heidi Biggar, analyst for the Enterprise Strategy Group (ESG), said recent ESG research (VTL Adoption and Market Trends) shows that overall tape use is on the decline due to the increasing presence of disk-based alternatives. In that research, she said, 21% of respondents described their data backup process as "backup to disk," 51% described it as "backup to disk and then to tape" and 29% said they did "backup to tape only."

"If I were a vendor, I wouldn't put all my eggs in a tape basket, though I wouldn't abandon it either," Biggar said. "Users, if they haven't already, should start phasing in disk into their tape-based environments. The benefits of doing so are many."

According to Greg Schulz, founder and analyst with the StorageIO Group, in an email to SearchStorage.com,"the continued downward pricing pressure and increases in tape capacity will [continue] to make tape viable … in a shifting role from day-to-day backup … to less frequent backup and long-term archive."
Dig Deeper on Tape backup and tape libraries
PRO+
Content
Find more PRO+ content and other member only offers, here.