Symantec launches service option for Backup Exec
Symantec's Protection Network is now online and offers integration with the new Backup Exec 12.
This Article Covers
RELATED TOPICS
Looking for something else?
Symantec Corp.'s much anticipated data backup Storage as a Service (SaaS) is finally seeing the light of day.
The Symantec Protection Network (SPN) will now be generally available as a standalone service, as well as a backup media option in the latest version of Backup Exec, also unveiled today.

Download this free guide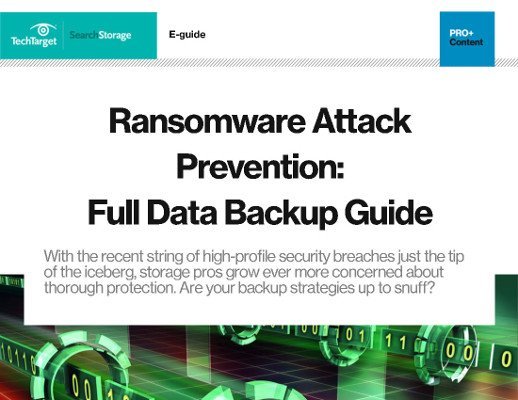 SearchStorage experts combat ransomware in this comprehensive backup guide
Download our editors' ransomware guide, in which you'll discover the full value of mature DRaaS, blockchain technology, and copy data management techniques in detecting and fighting the scourge of ransomware. Additionally, we review backup tools from Acronis and Unitrends used for ransomware protection.

By submitting your personal information, you agree that TechTarget and its partners may contact you regarding relevant content, products and special offers.

You also agree that your personal information may be transferred and processed in the United States, and that you have read and agree to the Terms of Use and the Privacy Policy.

The two new services are called Symantec Online Backup and Symantec Online Storage for Backup Exec. The Online Backup option accesses the SPN storage facility through a Web portal that includes a user's registration and account information, as well as access to provisioning tools for the service. The portal is eventually intended to support other SaaS offerings from Symantec with tabular views in a single console. Pricing for the service is $25 per month for 5 GB of storage.

Online Storage for Backup Exec allows the SPN service to be managed through the Backup Exec interface and does not require customers to install a separate software agent on the client server. The Backup Exec option lets organizations back up to tape or disk and then to the SPN as an off-site option. Pricing for this option is $38 per month for 10 GB. Users of both services can add or subtract capacity on a monthly subscription basis.

Symantec has tried to support users through a Web-based portal before and acknowledges that the customer service portal launched after the rollout of Backup Exec 11d was a failure. According to Chris Schin, Symantec's director of product management for SPN, the circumstances around SPN's launch are less complicated than they were with the customer support portal, which launched at the same time as a new product and a new licensing policy. The team that runs SPN also has experience managing a large multitenant infrastructure with Symantec's existing managed security services, he added.

Symantec began beta testing SPN last April. The service was supposed to have been available before the end of 2007 but languished as rivals EMC Corp. and CommVault Systems Inc. launched their own data backup SaaS offerings last month.

Schin said Symantec originally intended to launch a standalone service but decided to hold off until it was integrated with existing products. "We heard strong feedback from a significant number of customers that they wanted us to keep their current environments intact," he said. "We decided to reallocate our resources and work toward launching two services."

Uncertainty over how to position SaaS may also have played a part, according to Eric Burgener, a Taneja Group analyst. "One of the strategic concerns for Symantec has always been how to grow revenue for NetBackup and Backup Exec without letting them cannibalize each other," he said. "There are additional potential problems SaaS presents to license-based revenue streams."

Backup Exec 12 -- Incremental updates

Symantec's Windows data backup software is getting a minor facelift to go with the new online backup option. "These updates aren't what I'd consider a major leap forward," Burgener said. "There are some incremental improvements and integration with some previous acquisitions."

The updates include a more granular restore capability for Microsoft Exchange. Backup Exec now allows mailbox-level recovery of data from one backup. In previous versions of Backup Exec, mailbox-level restores required users to make two backups of the same information. According to Symantec's Backup Exec director of product management Brian Greene, some customers reported that granular Exchange backups took 10 times as long as regular backups.

The new version also allows customers to back up Exchange, SharePoint and Active Directory from a snapshot, rather than the production host, and allows backups to be sent to destinations other than the media server, such as a SAN or removable hard drive.

"Not having to back up Exchange separately is a huge advantage," said Nick Joseph, network administrator for business systems certification registrar Orion Register Inc. Joseph said full backups take about 16 hours in tests with version 12. Prior to this release, his backups took up to three days.

Backup Exec 12 can now back up the Enterprise Vault data archive and use Symantec's ThreatCon security threat monitoring system to trigger automatic backups. Backup Exec is also the first data backup application to be certified with Microsoft Windows Server 2008.

Symantec officials said there are no planned changes to Backup Exec's licensing for VMware, which currently requires a backup software agent for each guest host. Joseph said this is the most pressing item left on his wish list.

"VMware backup doesn't seem to be as complete [with Backup Exec] as with NetBackup," Joseph said. Symantec added support for granular virtual machine restores for its NetBackup 6.5 enterprise backup application last June, but that remains missing from its Windows-based Backup Exec product.

"I'd like the ability to just back up VMs and restore them like any other server," Joseph said.

System Recovery 8 -- Consolidation to come?

Symantec made the same upgrades to its Backup Exec System Recovery 8 bare metal restore application as it did to Backup Exec 12, except for the SPN integration. "We wanted to have these features available for people who use just one product," Greene said.

Asked about the possibility of merging the two products into one, Greene said, "That's a good question, but it's something I can't talk about today."
Dig Deeper on Data storage backup tools
PRO+
Content
Find more PRO+ content and other member only offers, here.