Riverbed rolls out print and streaming video services
Riverbed launches its initial phase of remote services, while adding the option of full WAN transparency.
This Article Covers
RELATED TOPICS
Looking for something else?
Riverbed Technology Inc. has upgraded its operating system to support new services for remote offices and add options to make its wide area network (WAN) optimization more transparent.

Download this free guide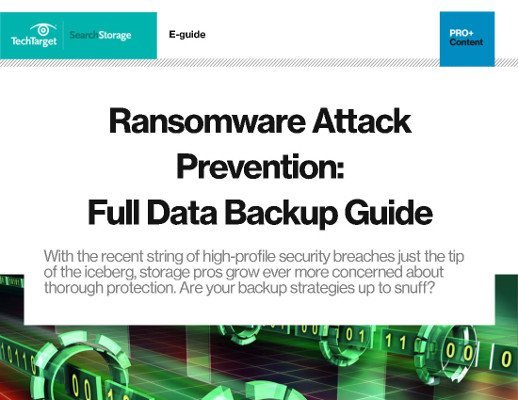 SearchStorage writers evaluate backup's role in ransomware detection
WannaCry, NotPetya, the list of dangerous ransomware viruses goes on and on, well beyond the most highly-publicized attacks. Use this guide to learn about the extent of the threat posed by ransomware, and bolster protection of your data, apps, and systems by using the backup strategies detailed within.
By submitting your personal information, you agree that TechTarget and its partners may contact you regarding relevant content, products and special offers.
You also agree that your personal information may be transferred and processed in the United States, and that you have read and agree to the Terms of Use and the Privacy Policy.
With its Riverbed Optimization System (RiOS) 5, Riverbed launched its Riverbed Services Platform (RSP) of services for remote offices on its Steelhead appliances. The first two offerings are a local printer server and streaming media. A DNS/DHCP server module for IP address management is close to being ready, said Harold Byun, senior product marketing manager at Riverbed.
Riverbed charges customers $495 to turn on RSP for a Steelhead device and customers license the necessary software from Riverbed partners. Byun called the initial rollout "Phase 1" – besides having only two services to pick from, customers can use only one RSP per device. But Byun said that eventually customers will be able to run multiple modules on a Steelhead device.
The RSP runs in its own partition and does not impact the resources allocated to Steelhead's optimization operations. Riverbed is supplying print services at no extra cost, while the streaming media comes from Wowza Media Systems and allows viewers in branch offices to leverage a video stream from headquarters. The DNS/DHCP server will come from Infoblox Inc. and will allow branch offices to replace dedicated DNS/DHCP servers by running the services on Steelhead appliances.
Riverbed also plans to offer RSP modules for Active Directory, unified threat management, virtual machines and application monitoring. RSP modules are available on all Steelhead appliances except for the company's 5520 and 6020 data center models.
Remote services on the menu
Gartner analyst Joe Skorupa said RSPs cut down on the number of appliances that remote offices need and allow Riverbed to offer services without having to develop them.
"You don't want 17 boxes in the branch office," he said. "The goal is to get it down to two: a router plus another box. Riverbed's approach is 'there's a whole lot of services people want that we're not going to build ourselves.' They've identified a series of partners with a broad suite of services, and their customers can pick and choose what they want."
Skorupa said he expects Riverbed rivals to follow this approach. Some, such as Packeteer Inc. and Expand Networks Inc., already offer DNS and Active Directory integration on their remote office appliances.
"You can expect to see others do this," Skorupa said. "And we'll see people differentiate not only services but how good a job they do with management integration. An organization might want to integrate optimization and performance, but not optimization and DNS/DHCP. There are some things you want to integrate and others you don't."
Justin Marthaler, IT coordinator for engineering firm Strand Associates, said he has beta tested Riverbed's printer server and looks forward to the WAFS vendor adding more. Strand switched to Riverbed from Peribit Networks Inc. (now Juniper Networks Inc.) devices around two years ago. Marthaler said Steelhead delivered better caching capabilities for the Madison, Wis., company's 10 remote offices.
According to Marthaler, Strand uses the RSP printer service to eliminate the need for a printer in a two-person office in Indiana. "I can see us using other services," he said. "Active Directory can be handy. Now our users can authenticate, but they have to go through a VPN to one of the other servers. This [Riverbed's Active Directory service] can cut down on the process. In certain cases we can use services not to deploy a full server in some of these remote offices."
More WAN visibility
Also new in RiOS 5 are two WAN visibility modes, giving Riverbed customers three options, in an attempt to deflect criticism of the way the operating system handles transparency. Riverbed uses Network Address Translation to place all the traffic it analyzes under one address, which requires it to hide IP and port addresses, while showing the WAN accelerator's address. This is called correct addressing.
Other vendors, notably Cisco Systems Inc., use transparent addressing to show the original IP and port addresses and to hide the accelerator's address. Transparent addressing is considered the better way to handle quality of service under certain conditions, but Riverbed argues that these cases are rare.
Byun said he expects 99% of Riverbed customers to continue using correct addressing, which is the default mode. But Riverbed now offers an option to maintain correct IP addresses and to give port visibility for traffic analysis, as well as an option for full IP and port visibility.
"They addressed a problem that in some cases was more perception than an actual problem," Skorupa said. "Network quality of service was an issue in some cases, and the competition made sure it was an issue. With some companies, transparency causes a problem based on their network topology. You have to pick something to do first. [Riverbed] took the quality of service question away."
Strand's Marthaler likes the comfort of having three options, although he intends to stick with the default mode for now. "We found out we don't need to use full transparency features," he said. "I'm not going to use the transparency feature, but it's nice to know it's there."'
Riverbed also added support for Exchange 2007, as well as features to accelerate Web applications that specifically target dynamic HTML pages.
Dig Deeper on Remote data protection
PRO+
Content
Find more PRO+ content and other member only offers, here.