Law firm goes for new remote office data backup
Ford & Harrison goes for a new product from startup ROBObak designed for remote offices, but analysts say ROBObak is late to a crowded midrange data backup market.
This Article Covers
RELATED TOPICS
Looking for something else?
TECHNOLOGIES
Breaking into the remote office data backup space can be tough these days, but startup ROBObak is looking to find customers unhappy with the many options out there from established vendors.

Download this free guide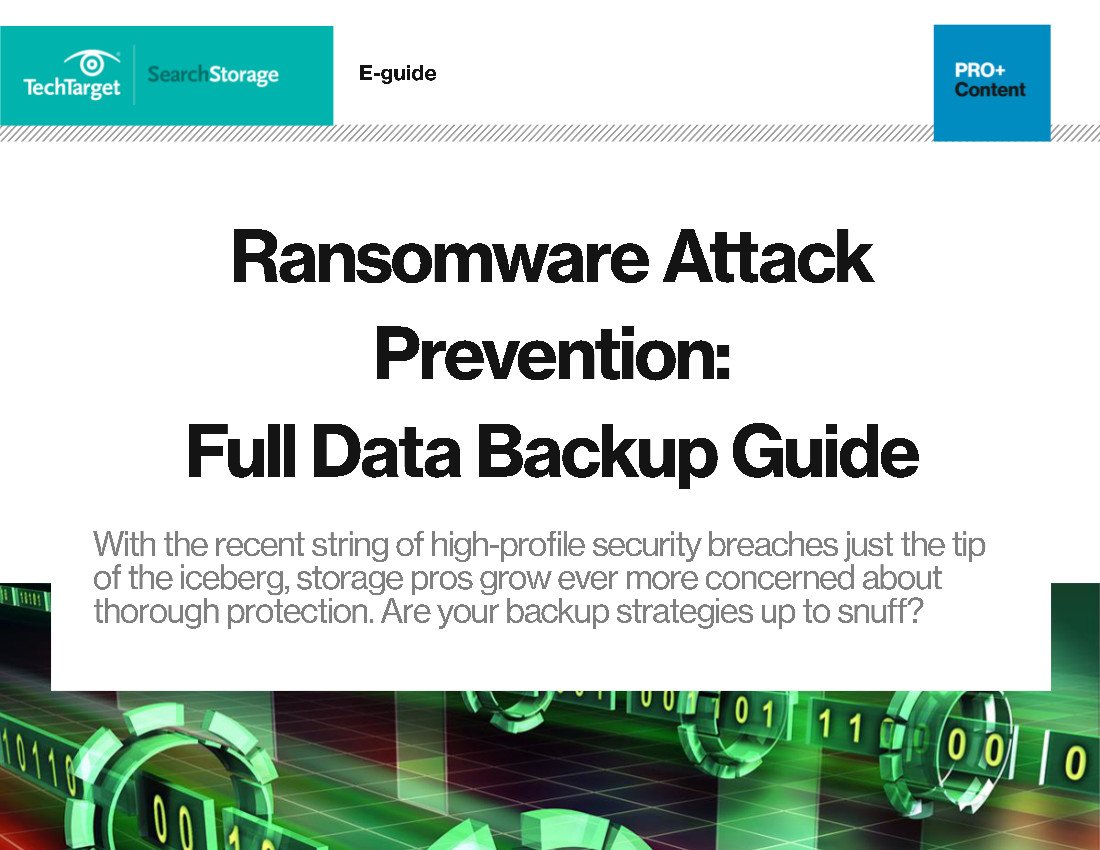 Protect Against Ransomware with Comprehensive Backup and Recovery
Download this handbook to learn how to prepare your backup system to handle the mounting ransomware threat. Inside, you'll discover the importance of adopting canary files for quick infection alerts, as well as the individual merits of using a cloud-based DR to repair selective files or folders versus full enterprise file sync-and –share, and more.

By submitting your personal information, you agree that TechTarget and its partners may contact you regarding relevant content, products and special offers.

You also agree that your personal information may be transferred and processed in the United States, and that you have read and agree to the Terms of Use and the Privacy Policy.

ROBObak claims seven end-user customers and some 30 service provider customers since coming out of stealth in June of 2007, and it has signed up resellers, such as Cambridge Computer Services Inc. and Iodynamics LLC.

Its customers include law firm Ford & Harrison LLP, which turned to ROBObak after unhappily trying several other backup software options. Ford & Harrison dumped its Veritas tape backup product in 2005 to try disk-based software that backed up ROBOs to a central location over the WAN.

Ford & Harrison director of information systems Mike Gallagher didn't want to name his previous vendor, which also specializes in remote offices and backup service providers. Gallagher said his firm frequently experienced data corruption with the other product and found its "self-healing" process sometimes took two or three weeks to fix a corrupted file.

Gallagher said he also liked that ROBObak's software is "built from the ground up" for organizations with many remote offices, rather than being a data center play with modules or versions for ROBOs. ROBObak uses an agentless, single-client install that automatically discovers machines on the network and integrates with existing security policies set by applications, such as Active Directory in Microsoft environments. The product also includes remote replication from the central site for disaster recovery and single-instance storage for files at both the remote office backup and remote replication phases of the backup process.

Gallagher said an important distinction between ROBObak and other data backup products targeting service providers is that ROBObak has two versions of its software interface, one for end users and another for service provider customers. "They don't have the features like chargeback calculators meant for ISPs that are cumbersome for some people, like us," he said.

Most importantly for him, Gallagher said, "It works as advertised."

So far ROBObak's closest competitor is Asigra Inc., and like Asigra, ROBObak offers its software to service providers for use as part of hosted backup services. ROBObak CEO Ron Roberts said he hopes the product will eventually become an alternative for users with large data centers, as well.

"There's nothing about the product that means it couldn't backup a large data center," Roberts said, pointing to a centralized replication feature that adds disaster recovery at a secondary location for data backed up from remote offices. Other additional modules available for ROBObak include an archive module, file encryption and open file migration.

Analysts said ROBObak will need more differentiation from the established backup vendors to stick around for the long haul.

"There are already a large number of software providers in this space, including Asigra; Commvault; LiveVault, which Iron Mountain licenses to partners; Evault, which Seagate licenses to a lot of players, as well, and Remote Backup Systems," said Stephanie Balaouras, Forrester Research senior analyst. "It's seems these guys are a little late to market."

However, Balaouras said she saw some potential for ROBObak if it "targets a whole new market, like VARs who want to offer their own service and who can license this service and use Google or Amazon as the back end."

Enterprise Strategy Group analyst said Lauren Whitehouse agrees that ROBObak is late and needs to find something it does better than its competitors.

"It's late for these guys, unless they can carve out a unique niche — right now I see them having a lot of checklist items," Whitehouse said. "That doesn't mean they won't capture some share of the market, the way companies like UltraBac and NovaStor have, finding a niche with a couple of things people really like about them. But I don't know that they'll have a breakout unless they're able to ride on some [technology] wave."
Dig Deeper on Remote data protection
PRO+
Content
Find more PRO+ content and other member only offers, here.