Riverbed customers cry foul over AutoCAD incompatibility
AutoCAD's latest file system throws off Riverbed's hashing algorithms and stops it from deduplicating files. Users fear the problem will extend to other apps and storage networks.
This Article Covers
RELATED TOPICS
Looking for something else?
TECHNOLOGIES
A compatibility problem between Riverbed Technology Inc.'s Steelhead WAFS appliance and Autodesk Inc.'s AutoCAD application is causing pain for customers using both products.

Download this free guide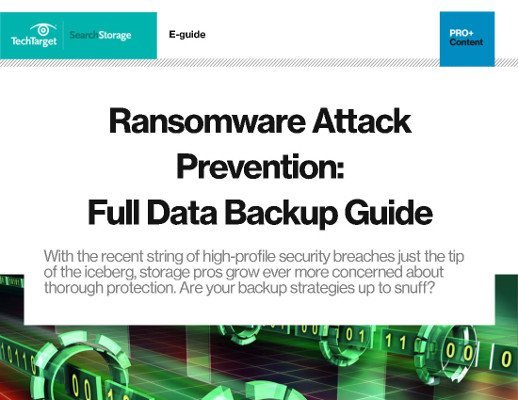 SearchStorage writers evaluate backup's role in ransomware detection
WannaCry, NotPetya, the list of dangerous ransomware viruses goes on and on, well beyond the most highly-publicized attacks. Use this guide to learn about the extent of the threat posed by ransomware, and bolster protection of your data, apps, and systems by using the backup strategies detailed within.

By submitting your personal information, you agree that TechTarget and its partners may contact you regarding relevant content, products and special offers.

You also agree that your personal information may be transferred and processed in the United States, and that you have read and agree to the Terms of Use and the Privacy Policy.

The problem began when Autodesk revised its drawing file format two years ago in a way that makes Riverbed's data reduction technology less effective. The issue has not been widely publicized, but IT administrators using both products said they are frustrated the problem has lasted so long without a solution.

The performance issues are significant for engineering firms and other organizations that rely heavily on large CAD files and frequently access them in branch offices across the WAN. Both vendors have received their share of blame -- Autodesk for making sure its changes didn't affect other technologies in their customers' shops and Riverbed for failing to anticipate the changes and address the problem earlier. At least two rival WAFS vendors said their customers haven't reported problems with the new AutoCAD files.

The gory details

Autodesk refreshes the CAD software every year and makes changes to its file formats every three years. Whenever a .dwg file is saved in the most recent 2007 format, the bits inside it are rearranged and the entire file looks new to Riverbed's data hashing algorithms. This prevents Steelhead from deduplicating the file.

This means that for any user running the 2007 or 2008 versions of AutoCAD or AutoCAD Civil3D, every saved file will be sent almost in its entirety across the wire by Riverbed with only TCP/IP WAN optimization and application acceleration for data reduction. As a result, the files take substantially longer to save.

According to a webinar presentation by Riverbed technical marketing specialist Blanco Lam last week, tests by Riverbed showed an 8 MB AutoCAD 2004 drawing would take over 100 seconds to save without Steelhead and only 14 seconds with the Riverbed appliance. The same file in AutoCAD 2007, meanwhile, would take 71 seconds to save with Steelhead. That's a 7.64 times performance improvement for AutoCAD 2004 compared to a 1.31 times performance improvement with the newer AutoCAD.

Customers have the option of setting an incremental save percentage (ISP) within AutoCAD 2007/2008, which tells the application how much rescrambling it needs to do on a given file. Setting ISP to 50% will slightly improve performance with Riverbed, but if there are enough changes, the whole file will be rescrambled anyway, Lam said.

Riverbed has provided Autodesk with two Steelhead 5010 appliances for testing so it could recreate the problem in its labs. "We are aware and understand the impact this issue has on our customers," Lam said. "Unfortunately the long-term solution is for Autodesk to change the file format, and this is something out of our control." Riverbed officials on the webinar urged users to do their own testing to see what ratios they could get in their own environments, but also told customers to delay upgrading to the new version.

Because AutoDesk changes its file formats on three-year cycles, Lam said he expects the problem to continue with AutoCAD 2009 unless changes are made.

Pointing fingers

So who's the real cad here? It depends on who you ask. Engineering firm Wright-Pierce issued a statement saying it won't upgrade to AutoCAD 2008 and is threatening to let its $1,000 per user per year maintenance subscription lapse on AutoCAD 2007. "This is an Autodesk issue," said Ray Sirois, IT director. "I can't imagine why they'd make this change to their file format, and it's very frustrating for those of us who rely on Riverbed to do business." Sirois said the problem is much worse with AutoCAD 2008 than AutoCAD 2007.

Autodesk did not return calls seeking comment, but one of its resellers put the onus on Riverbed to figure out how to compress the new file formats. "Everyone knows Autodesk is on a three-year cycle with changes to its drawing engine," said James Wedding, vice president of Engineered Efficiency Inc. "If [Riverbed] wants to play in this space, they don't get to come out and blast Autodesk for playing by its own rules with its own application."

Markus Weidner, director of IT for engineering firm Pennoni Associates Inc., blames both vendors. "It's as if [Autodesk] developed this on an island without thinking about the rest of their customers' environments at all," he said. At the same time, he's frustrated that Riverbed failed to anticipate the change to the file format earlier because the architectural and engineering markets were Riverbed's first bread and butter. "They came out swinging hard back in 2005 marketing their product to firms like ours," Weidner said. "I'm disappointed it took so long to have a public discussion about this."

Riverbed vice president of marketing and alliances Alan Saldich said Riverbed spends most of its development resources on more widely used applications and protocols, such as CIFS, Exchange and Oracle. "It's important to note that at this point no vertical market accounts for more than 10% of Riverbed's revenue," Saldich said.

Implications beyond Riverbed and WAFS

Riverbed insists that any WAFS or WAN optimization product that uses algorithms to detect patterns of data will have this issue, but two of its rivals said the latest AutoCAD files have not affected their performance. A Cisco Systems Inc. spokesperson said none of its WAAS appliance customers have reported problems with AutoCAD. Cisco claims its product can identify chunks that have not changed, even if they have been reordered, and that allows it to save AutoCAD files properly.

Another Riverbed competitor, Packeteer, reports customers are successfully using AutoCAD 2007 with its WAFS products. Packeteer uses object-based file-level caching, as well as algorithmic byte/block level caching. According to a Packeteer spokesperson in an email to SearchStorage.com, "This means that upon continual saves … the resultant .dwg files will first appear as file/object cache hits, avoiding the request to the byte/block level cache."

Still, users point out this could be a problem for other storage products that use algorithms to distinguish new data. "We just bought ExaGrid's backup and deduplication system," Sirois said. "I'm concerned that that product won't work for us either if we upgrade [to the newest version of AutoCAD]." Weidner said he has the same concerns about EMC Corp.'s RepliStor asynchronous replication software, which is supposed to send only changes over the wire.

"To me this isn't really a Riverbed problem, but more of a larger application problem that we're likely to see more and more," said Zeus Karravala, a Yankee Group analyst. "It's a fact of applications and network infrastructure coming together."

Enterprise Strategy Group analyst Bob Laliberte said the outcome in this case could set an important precedent. "Does Autodesk change its file format to accommodate the rest of the network?" he asked. "How this gets resolved could indicate how future issues like this will be worked out. It also makes a strong case for better standardization in the industry."
Dig Deeper on Remote data protection
PRO+
Content
Find more PRO+ content and other member only offers, here.