News
Stay informed about the latest enterprise technology news and product updates.
Symantec adds incremental VMware backups and CDP to NetBackup
Symantec's updated NetBackup gives users the ability to take incremental snapshots of VMware hosts, as well as CDP and data deduplication integration.
This Article Covers
RELATED TOPICS
Looking for something else?
TECHNOLOGIES
LAS VEGAS -- Symantec Corp. boosted its support for VMware's products in two new incremental releases for NetBackup at Symantec Vision.
The updates to NetBackup come as part of two new "double-dot" releases, NetBackup 6.5.2, which is available immediately and NetBackup 6.5.3, which is expected later this summer. "We have a new release model for NetBackup," said Matt Kixmoeller, vice president of product management for Symantec. "We're looking to get innovations to market faster, rather than just having an enormous big-bang release every few years."

Download this free guide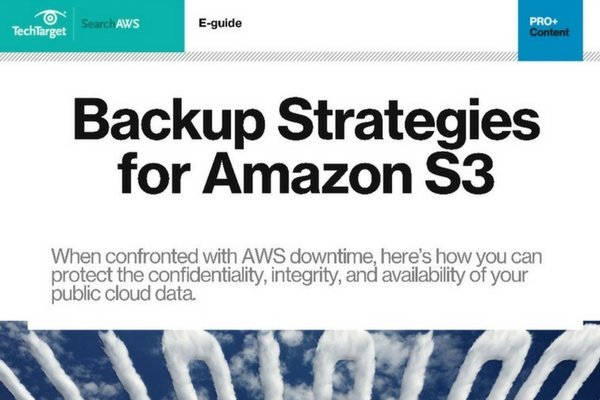 Amazon S3 in the spotlight: Your 34-page backup guide
In this guide curated by the SearchAWS.com editors, you'll evaluate and overcome the DR tradeoffs associated with Amazon S3, with guidance on solidifying an AWS backup plan and securing S3 buckets. Download your copy now.

By submitting your personal information, you agree that TechTarget and its partners may contact you regarding relevant content, products and special offers.

You also agree that your personal information may be transferred and processed in the United States, and that you have read and agree to the Terms of Use and the Privacy Policy.

Support for incremental and parallel snapshots of VMware hosts through NetBackup's VMware Consolidated Backup (VCB) integration are the main new features of the NetBackup 6.5.2 release, which also includes CDP and complete integration with PureDisk's data deduplication.

"On the large scale, the XenServer platform has some fundamental advantages," said Rob Soderberry, senior vice president for Symantec's storage and availability management group. "Our strategy is to create the best possible exploitation of the XenServer and VMware stack, and let customers and clients decide what they want to pursue."

Symantec is adding granular recovery technology into NetBackup. The feature was first incorporated into its product line with Backup Exec 11d, which allows unique object recovery from a single backup instead of through a secondary redundant backup that forced customers to use twice the space and time for backups if they wanted granular restores. Version 6.5.2 will make the feature available for Windows hosts, VMware hosts, and SharePoint Portal. Exchange integration will follow in NetBackup 6.5.3.

"Most snapshots, including Microsoft's VSS, don't allow you to get a file directly out without restoring the full snapshot," said analyst Lauren Whitehouse, Enterprise Strategy Group. "That feature puts Symantec a step above even Microsoft and other VCB integrations at this point."

NetBackup customer Eddy Navarro, a storage computer systems manager for J. Craig Venter Institute, said he's been waiting for the ability to schedule multiple concurrent snapshots of VMware hosts. "[In previous versions], NetBackup purposely set a cap on concurrent snapshots, meaning you could only schedule one at a time," Navarro said. This was done to avoid overwhelming environments that couldn't handle the load of parallel snapshots. "But, we have the infrastructure that can handle it," Navarro added.

Navarro said he's also looking forward to support for NDMP backups to disk in the new version. He wants that for his NetApp filers. While there might be ways to make the NAS backup standard dump directly to disk, Navarro wasn't familiar with them and wants all backups done through one portal. "I don't want to have to go back when I want to do a restore and say, now which way did I back this up?" he said.

New CDP, data deduplication integration

NetBackup 6.5.2 will also include the first integration with Symantec's CDP software acquired from Revivio in late 2006 and renamed RealTime 6.5.

NetBackup will be able to request snapshots from RealTime, but it will otherwise use a separate repository and interface until NetBackup 7.0 is released next year. While a new "NetBackup-like" interface on RealTime lays the groundwork for an integrated GUI, the repository will probably remain separate because Symantec expects users to deploy the "copy every write" software sparingly, according to Kixmoeller.

"The first generation of CDP struggled because there wasn't enough deep integration with applications," he said. With this re-release of Revivio's IP, NetBackup agents running on application servers will create pointers to quiesced snapshot copies in the CDP stream. The catalog of files and recovery screens will also be done in NetBackup.

Symantec has yet to integrate CDP with replication, another item on its roadmap since last year. "Symantec supports several replication products," said senior analyst Eric Burgener, Taneja Group. "Depending on how replication is linked into the CDP process, it can make it difficult to unlink it and use it with something else."

NetBackup 6.5.2 also completes an integration process between NetBackup and Symantec's PureDisk data deduplication software that has been ongoing since NetBackup 6.1. PureDisk agents can now perform data deduplication at the client, backup media server or target. Symantec is also supporting a stack of PureDisk, Veritas Cluster Server and Storage Foundation to create a grid architecture for post-process data deduplication on the target side.

While this stack of licenses could get confusing, the number of options Symantec is offering is more important, Whitehouse said. "It allows you to coordinate your backup strategy to your workload." "And, setting up various agents is a process you only do once."
Dig Deeper on Backup and recovery software
PRO+
Content
Find more PRO+ content and other member only offers, here.