News
Stay informed about the latest enterprise technology news and product updates.
HP prepares double dose of data deduplication
HP's first data deduplication products surface, unannounced, at HP's Technology Forum. One is an in-line dedupe application for SMBs and remote offices. The other is a dedupe license option for its enterprise VTLs.
This Article Covers
RELATED TOPICS
Looking for something else?
TECHNOLOGIES
LAS VEGAS -- Hewlett-Packard (HP) Co. will enter the data deduplication market with two types of dedupe products at the end of the month.
HP hasn't announced anything yet, but it is demonstrating the two data deduplication products at the HP Technology Forum trade show this week. The data deduplication products include two new members of the D2D Backup System disk appliance platform that HP launched last year and a data deduplication license option for its existing VLS virtual tape libraries (VTLs). The D2D devices use HP's internally developed data deduplication technology, but for the enterprise tape libraries, HP will OEM data deduplication technology from Sepaton Inc.

Download this free guide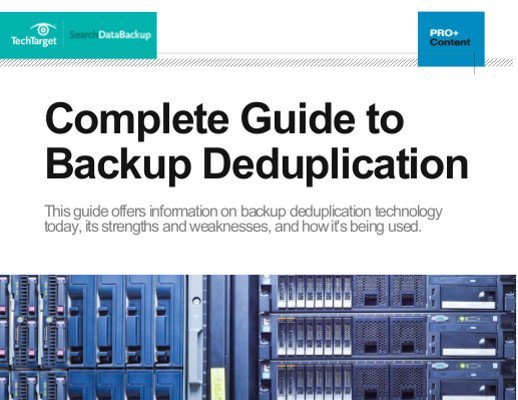 Free Download: Complete guide to backup deduplication
Access all of the 31 articles in our Data Deduplication Essential Guide by downloading our comprehensive PDF version so that you can access all of this expert content in one, easy-to-read resource.

By submitting your personal information, you agree that TechTarget and its partners may contact you regarding relevant content, products and special offers.

You also agree that your personal information may be transferred and processed in the United States, and that you have read and agree to the Terms of Use and the Privacy Policy.

HP had planned to launch the data dedupe products at its Technology Forum but decided to push the launch back two weeks. Stephan Schmitt, vice president of marketing for HP StorageWorks, said the products will be formally launched next week and will begin shipping June 30.

Schmitt didn't say anything else about the products but other HP sources and internal documents obtained by SearchStorage provide greater details. HP calls its deduplication flavors Dynamic Deduplication and Accelerated Deduplication. HP Labs developed the former, an in-line hash-based chunking version that will run on the D2D appliances. Accelerated Deduplication is HP's name for Sepaton's DeltaStor application.

Appliance-based deduplication

The D2D2500 and D2D4000 are larger versions of HP's D2D100 appliance, which came out in February 2007. The 2500, a 1U rack-mount backup system aimed at SMBs or remote offices of larger organizations, has an iSCSI interface and scales to six servers and 2.25 TB of usable capacity. The 4000, a 2U backup system aimed at companies with 500 to 1,000 employees, connects via iSCSI and Fibre Channel, and scales to16 servers and 7.5 TB. The 2500 supports RAID 5; the 4000 supports RAID 6. Data deduplication will not be offered on the D2D100 appliances.

HP claims a data deduplication ratio of 50:1 is possible with its Dynamic Deduplication application for daily full backups over three months and a 20:1 deduplication for daily incrementals and weekly fulls over that span. As with the Accelerated Deduplication product, HP plans to support replication later this year, but it will not be available at launch.

HP considers the 2500 competitive with entry-level NAS systems, such as Dell's PowerEdge DP500, Overland's REO1500 and Adaptec's Snap Server 410, all systems that do not include data deduplication. It will position the 4000 as a lower-priced alternative to deduplication backup products from Data Domain, EMC, Quantum and ExaGrid. List price for the 2500 is $6,499; the 4000 ranges from $18,999 with 4 TB of raw capacity and ISCI to $42,998 with 9 TB raw and Fibre Channel.

Accelerated Deduplication will be available for a license fee per terabyte on HP's existing VLS6000 and VLS9000 enterprise VTLs and the VLS12000 EVA gateway. The VLS6000 series is for midrange enterprises, and the VLS9000 and the VLS12000 EVA gateway are for enterprise SANs. The enterprise VTLs scan to eight nodes and 16 arrays.
Dig Deeper on Data reduction and deduplication
PRO+
Content
Find more PRO+ content and other member only offers, here.