News
Stay informed about the latest enterprise technology news and product updates.
Open source backup tool adds Oracle, Windows integration
Open-source backup startup Zmanda adds integration with Oracle and Windows apps, in order to play "feature catch-up" in the enterprise backup software arena.
This Article Covers
RELATED TOPICS
Looking for something else?
Zmanda Inc. is updating its Amanda Enterprise open source backup software by integrating the Amanda backup utility with Oracle and Windows applications. The upgrade is the next step in Zmanda's plan to bring its subscription-priced backup offering closer to major proprietary backup packages, although it still has a ways to go before achieving feature parity.

Download this free guide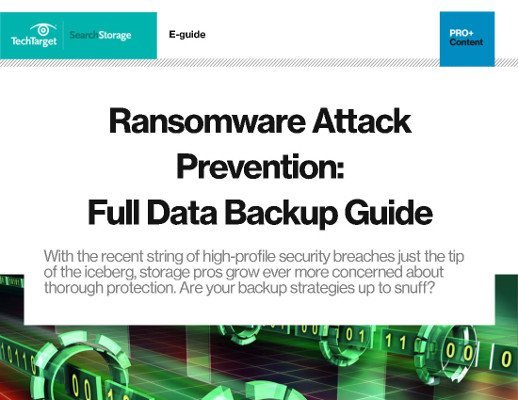 SearchStorage writers evaluate backup's role in ransomware detection
WannaCry, NotPetya, the list of dangerous ransomware viruses goes on and on, well beyond the most highly-publicized attacks. Use this guide to learn about the extent of the threat posed by ransomware, and bolster protection of your data, apps, and systems by using the backup strategies detailed within.

By submitting your personal information, you agree that TechTarget and its partners may contact you regarding relevant content, products and special offers.

You also agree that your personal information may be transferred and processed in the United States, and that you have read and agree to the Terms of Use and the Privacy Policy.

Amanda Enterprise is based on the open source Amanda standard developed at the University of Maryland over a decade ago. Zmanda has evolved Amanda from its original incarnation to support Windows machines, added security features, brought it up to date with support for new applications, improved its scalability and added the Zmanda Management Console (ZMC) GUI, which also includes reporting features.

With Amanda Enterprise 2.6.4, the company is adding a hot backup option for Oracle-- Zmanda Oracle Agent --which can be integrated with Oracle's Recovery Manager (RMAN) for hot backup of Oracle databases. A Zmanda Oracle Windows Agent will also be available, for integration with Oracle's VSS Writer.

With these enhancements to Zmanda, Oracle database managers can use the familiar RMAN interface to set data protection policies for their applications and to recover data in the event of an outage while keeping Oracle backups catalogued with the rest of the company's backups through Amanda. "This could be of great interest to Oracle DBAs," Taneja Group analyst Eric Burgener said. "From the DBA point of view, proprietary software agents mean extra steps."

The new version of Zmanda has also extended its support for hot backups of Exchange and SQL databases to Exchange 2007 and SQL 2005. Amanda Enterprise 6.5.4 will also support Windows Server 2008. For desktops and laptops, this new version can also back up and restore system state information as well as Active Directory.

"At this point they're starting to fill in the checkboxes for commercial backup products," said W. Curtis Preston, vice president of data protection services for GlassHouse Technologies.

And Zmanda's price is tough to beat. For each Oracle agent, the cost for subscription-based support is $300 per year. For each Oracle Windows agent, the cost is $450 per year. A premium support subscription for each Zmanda Backup Server is $375 per year.

The upgrades come as Zmanda starts to make inroads in the enterprise backup market. Since the company came out of stealth two years ago, its Zmanda product has been installed on 500,000 machines worldwide, according to CEO Chander Kant. It has also been named a Red Hat Linux partner. Zmanda is also a hot backup agent for open-source database MySQL, which landed Zmanda a reseller deal with Sun Microsystems after Sun acquired MySQL earlier this year.

Kant said the company gained about 100 customers through Red Hat and about 50 through the Sun partnership. Most of those new customers are larger companies with interest in bigger licensing contracts. Zmanda's customer references on its website include Amazon, Travelocity and Yelp.

Zmanda still facing hurdles in enterprise backup

Analysts sayd Zmanda still faces hurdles before it can really compete with the major players in enterprise backup. "The biggest thing applications like NetBackup have over [Zmanda] is centralized management console that can manage thousands of backup servers and multiple locations," Burgener said. "Right now, Zmanda is best suited to midsized businesses or departments that don't need integration with a central data center."

Preston said there's a long checklist left for Zmanda before it can successfully compete in large enterprises, where customers want features such as tape multiplexing, LAN-free backups and tape library sharing. Preston also pointed out that Zmanda doesn't support Windows backup servers, and doesn't yet have agents or support for HP-UX, AIX, Sybase and Informix, among other enterprise operating systems and applications.

Kant says adding those features are part of the company's plans. "We're looking to expand our umbrella of application coverage to include more and more potential customers," he said.

Preston said it's not impossible for Zmanda to bridge that gap over the next few years. "When Red Hat first came out, a lot of people were skeptical that it would make inroads into the enterprise," Preston said. "Five years from now, Zmanda could be where Red Hat is today."
Dig Deeper on Backup and recovery software
PRO+
Content
Find more PRO+ content and other member only offers, here.