News
Stay informed about the latest enterprise technology news and product updates.
MozyPro users grumble about poor backup and restore performance
Some users of EMC's MozyPro onilne backup service are experiencing lengthy restores.
This Article Covers
RELATED TOPICS
Looking for something else?
Users of EMC Corp.'s MozyPro online backup service are becoming frustrated with long restore times. A storage service provider, an IT consultant and a small software company report problems with the service, and two have dropped MozyPro for other backup offerings.

Download this free guide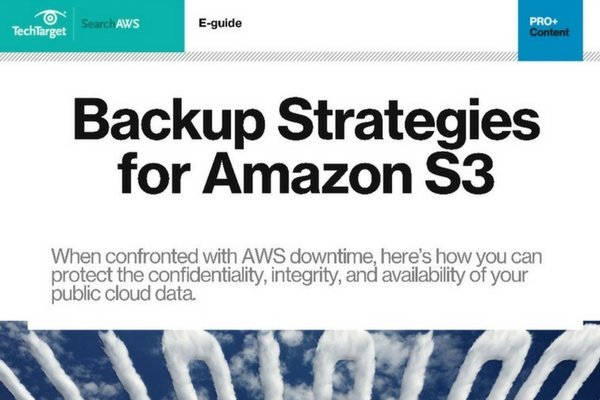 Amazon S3 in the spotlight: Your 34-page backup guide
In this guide curated by the SearchAWS.com editors, you'll evaluate and overcome the DR tradeoffs associated with Amazon S3, with guidance on solidifying an AWS backup plan and securing S3 buckets. Download your copy now.

By submitting your personal information, you agree that TechTarget and its partners may contact you regarding relevant content, products and special offers.

You also agree that your personal information may be transferred and processed in the United States, and that you have read and agree to the Terms of Use and the Privacy Policy.

Patrick Siefe, a computer consultant for Clean Data in Santa Barbara, Calif., manages IT infrastructure for several companies, including the Teddy Bear Cancer Foundation, a charitable organization that provides families whose children are sick with financial aid and support services.

A wildfire in July caused Santa Barbara to be hit with several power outages, which led to the failure last week of one of three drives in a Teddy Bear server's RAID group. Before a replacement drive could be installed, another drive in the group failed, and the foundation's data was lost.

Siefe then went to MozyPro's online console to initiate a restore of the data beginning August 3. Restoring data from MozyPro is a two-step process. The data first must be queued or recompiled from multiple versions of files stored on MozyPro systems, then it can be downloaded by the user.

For Siefe, the queuing process dragged on while he went back and forth with MozyPro's engineers. "They started off by telling me that [readying the data for download] should only take about two to four hours," he said. "By the time it had been 24 hours, they told me 24 to 48 hours was not unusual with a large number of files."

Siefe was trying to restore 55 GB of data, representing about 50,000 files. "Considering the smallest desktop hard drive I can get these days is 80 GB, 24 to 48 hours doesn't seem right for a restore to me, particularly since it means there might be kids who don't get their housing or treatments paid for while we can't get this data back," Siefe said.

MozyPro spokesperson Devin Knighton said 24 to 48 hours for a restore is not typical, even for tens of thousands of files. "It should only take a few hours at most, not two, three or four days," said Knighton, who personally drove an Iomega hard drive with Siefe's data to Santa Barbara last week. "What [Siefe] experienced is not normal and something that shouldn't happen for our customers."

According to Siefe, another restore in early July also took 23 hours from initiation to download. "I understand that they can't predict how long downloads will take because it depends on the size of each pipe," he said. "But we're talking about the process that happens before you can even start downloading."

Siefe emphasized that MozyPro engineers had initiated the July restore at his request. "It would be easy to assume this was my error, but this process was initiated by them," he said. His frustration grew because the first attempt to queue the data resulted in corruption, which Siefe noticed before MozyPro did. "If your business is backing up and restoring files, corruption shouldn't happen," he said. "And if it does happen, you should notice it first."

Siefe had been affected by an "isolated bug" in the Mozy service that caused files to take longer than normal to queue before download, Knighton said. Customers who have been affected by slow restores will receive discounts or have subscription fees waived to make good for the problems, he added.

Steps are being taken to address this at MozyPro by recompiling files more often and more proactively before users request them. Only a small percentage of MozyPro customers had been affected by the bug, Knighton said, though he didn't know exactly how many.

"I just think they should be more upfront about how long restores are going to take," Siefe said. "Customers should know realistically how long it should take to get your data back."

Others affected by delayed restores, quibble with pricing

Another IT consultant, Wade Weppler, CEO of WW Works Inc., said he experienced similar issues while trying to restore files for clients. The problems prompted him to switch to hosting his clients' backups himself using ROBObak last month. "We had some reliability issues with Mozy," he said. "It would hang on backups or abort them for no good reason."

Weppler said servers with more than 30 GB or that ran intensive applications, such as SQL Server or Exchange, seemed to have the most problems. "Mozy didn't seem to interact with them in an efficient manner," he said. "In our experience, it also didn't clear database logs [after it had backed them up]."

Weppler didn't want to host his own backup services, but felt he had no choice if he wanted to make things right for his customers. He said he chose ROBObak for its self-healing features in the event of data corruption on the network and because its pricing was significantly lower than a comparable offering from Asigra.

Pricing was also an issue for a former SOHO user of MozyPro, Jim Blake, founder of a software company called Alpine Desert. He was a MozyPro customer from late last year through this past February for multimedia files at home, as well as business files for his company. But Blake switched to a backup SaaS offering from SpiderOak because of dissatisfaction with the MozyPro licensing model.

"In our house, we have four computers, and Mozy needed an account for each one. It just ended up being more expensive than it should've been," Blake said. "It wasn't totally unreasonable, but that made it a hassle."

EMC recently changed MozyPro's capacity-based pricing model in response to customer feedback, Knighton said. "The original MozyPro had one client for desktops and servers. We changed it to two clients, a desktop and a server version, but did a poor job communicating that change," he said. "Customers pointed out that the value from the two offerings comes from server licensing, not the capacity. So we lowered the desktop and server capacity pricing to the same 50 cents per gigabyte."
Dig Deeper on Cloud backup
PRO+
Content
Find more PRO+ content and other member only offers, here.