News
Stay informed about the latest enterprise technology news and product updates.
EMC boosts data backup, dedupe and replication tools
EMC updates its data protection portfolio with enhanced data backup, deduplication, replication and backup reporting tools.
This Article Covers
RELATED TOPICS
Looking for something else?
TECHNOLOGIES
EMC rolled out incremental updates across its data protection product line today, with changes to its backup, backup reporting, source-based data deduplication and multi-site replication tools, including new licensing and integration with virtual servers.

Download this free guide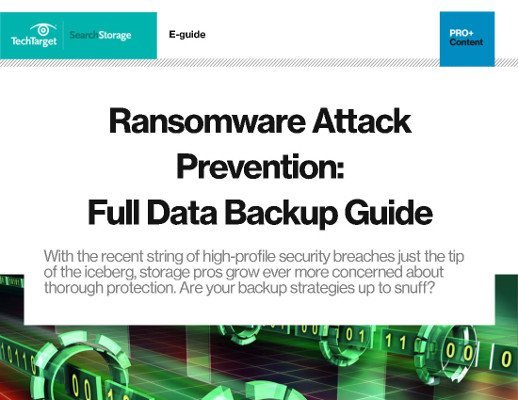 SearchStorage writers evaluate backup's role in ransomware detection
WannaCry, NotPetya, the list of dangerous ransomware viruses goes on and on, well beyond the most highly-publicized attacks. Use this guide to learn about the extent of the threat posed by ransomware, and bolster protection of your data, apps, and systems by using the backup strategies detailed within.

By submitting your personal information, you agree that TechTarget and its partners may contact you regarding relevant content, products and special offers.

You also agree that your personal information may be transferred and processed in the United States, and that you have read and agree to the Terms of Use and the Privacy Policy.

EMC NetWorker 7.5 introduces new licensing for backing up virtual servers by physical host, rather than requiring a separate license client for each guest machine. Only one license will be required for most virtual machines. Separate licenses will be required for Exchange and SQL, but only one per physical host. "We have a moderate VMware environment today, but I expect this will save us $4,000 per physical host going forward," said Sean O'Mahoney, vice president and senior manager of technology services for Republic Bank in Louisville, Ky. "That's huge."

NetWorker will now track and visualize virtual machines in the environment for the backup administrator and notify them when a new virtual machine is added to the environment that is not addressed with a backup policy. "The challenge with server virtualization in general is that it's so easy to create another virtual machine," said IDC analyst Noemi Greyzdorf. "It's also helpful that this feature differentiates between a new virtual machine and a virtual machine that's been moved to another physical system so you don't get pinged every time you do a VMotion."

Application licenses for Active Directory, Microsoft Exchange, SQL Server and SharePoint will share one NetWorker module for Microsoft applications agent, according to Dan Cobb, chief technology officer of storage software for EMC. "Some applications in the past have wanted [Virtual Backup Device Interface integration], some have wanted VSS and some have wanted a hybrid," he said. "Microsoft has evolved new features around application consistency and how to integrate different storage and copy technology into VSS."

VSS is also key to backing up Microsoft's new virtual server, Hyper-V, where EMC has added support for both "parent" (host) and "child" (guest) servers. "Customers have also been asking us for more flexibility with SharePoint," Cobb said. Version 7.5 also adds the ability to recover individual objects from SharePoint and to redirect recovery of part of the SharePoint database to a different part of the infrastructure from where it was created.

Avamar 4.1 adds performance, manageability, but no integration

EMC is adding a new user interface and other improvements to the latest version of its Avamar source-based data deduplication application. The new UI allows for more "batch jobs" to apply policies to multiple remote office server nodes without needing to address each one individually. The interface in Avamar 4.1 also provides graphical tracking of ata deduplication ratios and disk utilization on Avamar servers.

EMC has also improved the algorithm for consistency and data integrity checks to leave more CPU processing power free for the backup operation on each server. Avamar now supports a smaller entry configuration -- three nodes instead of four. Cobb said there were no specific benchmarking or CPU utilization numbers to go along with the improvements because they depend on which server hardware is used with the Avamar software.

"We use NetWorker to manage Avamar, so the manageability updates don't really apply to us, but any forward progress in efficiency certainly helps us," O'Mahoney said.

The bank is rolling out Avamar to replace tape at branch locations, with a plan to replicate branch data back to an Avamar Data Store at headquarters. This is a separate environment from the 1 TB to 1.5 TB nightly backups made at headquarters using NetWorker to a DL3D 1500, which is replicated at a colocation site. O'Mahoney said there haven't been significant pain points with the dual environment so far, but he's hoping to see it consolidated. "I would prefer to have the Avamar Data Store and EMC Disk Library combined," he said. "I don't know if it's possible, but if we could consolidate that disk space it would be very valuable for us."

EMC launched the DL3D line based on a partnership with Quantum earlier this year. Around the same time, Avamar was repositioned with a focus on VMware, and remote and branch office environments. EMC has promised data deduplication support across all its product lines, but it remains unclear whether those products will be integrated.

Data Protection Advisor 5.0: A facelift for WysDM

EMC is changing the name of Backup Advisor to Data Protection Advisor and expanding the product's reporting capabilities. It now monitors and reports on the configuration, status and performance of the backup infrastructure, including application servers, tape libraries, switches and disk repositories. New support in this version has been added for VMware, NetApp and Celerra filers. EMC had sold Backup Advisor through an OEM deal with WysDM, but acquired the startup in April.

The VMware integration will collect configuration, status, performance and utilization data for VMware environments. This overlaps with EMC Control Center (ECC), which also recently added support for VMware reporting on EMC storage devices and Application Discovery Manager (ADM). There will probably be some future integration between all of those products, but today they are "complementary," Cobb said.

RecoverPoint 3.1 stretches continuous data protection

RecoverPoint customers can now have "stretched" continuous data protection (CDP) up to 30 km distance. Further asynchronous replication can then be "cascaded" from the data at the secondary location. Continuous snapshots at the secondary location can be consolidated into rougher-grained points in time, similar to a feature launched with Symantec NetBackup 6.5 this past June. RecoverPoint will now support Microsoft failover clusters and Clariion CX 4 virtual provisioning.
Dig Deeper on Backup and recovery software
PRO+
Content
Find more PRO+ content and other member only offers, here.