News
Stay informed about the latest enterprise technology news and product updates.
Data Domain delivers the DD880: A bigger, faster data deduplication device
Data Domain rolls out the DD880, its largest data deduplication device; the new box increases throughput and capacity but still lacks global deduplication.
This Article Covers
RELATED TOPICS
Looking for something else?
Data Domain Inc. today launched the DD880, its largest and fastest data deduplication backup device, which will almost certainly be its last product brought out before it becomes part of EMC Corp.

Download this free guide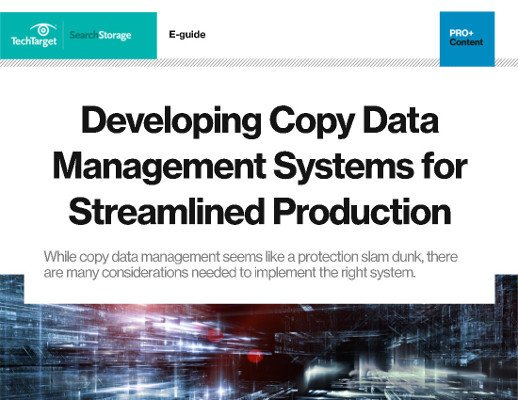 Copy management: Flexible framework amid solution fluctuations
While the honeymoon for standalone CDM appliances isn't over, many vendors also offer built-in CDM functionality. Download our guide for an examination of the CDM market, which vendors to keep your eye on (i.e. Actifio, Commvault, Catalogic, etc.), and a framework for establishing lasting copy management—no matter how the solutions for doing so fluctuate.

By submitting your personal information, you agree that TechTarget and its partners may contact you regarding relevant content, products and special offers.

You also agree that your personal information may be transferred and processed in the United States, and that you have read and agree to the Terms of Use and the Privacy Policy.

The Data Domain DD880 launches as EMC works on closing its $2.1 billion acquisition of Data Domain. The DD880 is Data Domain's first quad-socket quad-core processor system, and the vendor claims the increased CPU power increases aggregate throughput to up to 5.4 TB per hour, single-stream throughput up to 1.2 TB per hour and supports up to 71 TB of usable capacity.

That's twice the throughput and capacity of its next largest box, the dual-socket quad-core DD690. A DDX array with the maximum 16 controllers can perform at up to 86 TB per hour with 56 PB of usable capacity. All of Data Domain's listed throughput numbers are available for customers who use 10 Gbps Ethernet connectivity and Symantec Corp.'s OpenStorage (OST) interface.

The DD880 was on its way well before EMC and NetApp engaged in their bidding war for Data Domain. Data Domain CEO Frank Slootman said last April that the vendor was preparing to ship a system equivalent to two DD690s. Data Domain has maintained the best way to improve its inline deduplication architecture is by taking advantage of Intel's CPU advances.

"We're CPU-centric; we don't rely on adding disk drives or spindles," said Shane Jackson, Data Domain's senior director of product marketing. "Adding disk drives and racks of storage is counter-intuitive to the whole point of deduplication. When Intel shows up with a new processor, we increase performance by using our same system architecture."

Data Domain also upgraded its Enterprise Manager GUI and can now replicate data from 180 sites, up from 90. Pricing for the DD880 begins at $400,000 for around 22 TB of usable storage, and it is expected to be available next month.

Data Domain still lacks a global deduplication system that lets customers cluster nodes to share storage and load balance between them. While Data Domain execs said they are working on a clustered system, they maintain their current boxes can handle enterprise loads because they are faster than other vendors' two-node clustered systems.

Larger dedupe devices support more data streams

Data Domain customer Michael Passe, storage architect for Beth Israel Deaconess Medical Center, said he's been testing DD880s since May. He said the boost in throughput and capacity alleviate contention issues he experienced at times with the smaller Data Domain boxes while backing up 80 TB to 100 TB per week.

"This box can address more physical disk," he said. "The choke point has been that they didn't want to put so much capacity on the back end. They do consistency checking on the file system and other things in the background. With the earlier boxes, they weren't comfortable adding more storage. This allows them to stream more into them at once, both in volume and how many streams at a time that you can get into the box."

"Because they do dedupe inline, every time there's a significant bump in cores and processors, there's a significant increase in throughput. Intel's muticore strategy benefits Data Domain."

Passe added the latest Enterprise Manager GUI "is starting to come on part with what you can do with the CLI [command line interface]."

Does lack of global deduplication hurt enterprise appeal?

Still, the industry debates whether Data Domain can handle enterprise loads as well as products from vendors who support global, such as Sepaton Inc., FalconStor Software, and NEC Corp.

"You can fit more data into the Data Domain system now. The knock on them has always been they get great performance, but the boxes weren't that big," Enterprise Strategy Group analyst Brian Babineau said. "This removes that objection."

Taneja Group analyst Jeff Boles said Data Domain must do more than scale higher to be an enterprise player. It must handle distributed data better and be easier to manage across nodes, he maintains.

"Data Domain continues to make its mark from scaling up, but the scale-up story cannot be the end of the story for me if I have my enterprise customer hat on," Boles said. "It has to be about more than that."

EMC, which has been using Quantum's deduplication software on its virtual tape libraries (VTLs), won't give product roadmap specifics until the Data Domain deal closes. Boles said he wouldn't be surprised if EMC continues to use Quantum on its highest end VTLs until Data Domain proves to be more of an enterprise player.

"I think EMC recognizes these two products fit in different spaces," he said. "The Data Domain stuff may shrink Quantum in the long run, but there may be synergies between these two competitors [Data Domain and Quantum]. EMC sill has an enormous relationship with Quantum from a financing angle [EMC gave Quantum a $100,000 loan in March]. I don't think that relationship is over."

Babineau said he would be surprised to see EMC carry Quantum's deduplication after acquiring Data Domain.

"It would be very hard to see EMC having a fragmented portfolio after dropping so much money on Data Domain," he said.
Dig Deeper on Data reduction and deduplication
PRO+
Content
Find more PRO+ content and other member only offers, here.