News
Stay informed about the latest enterprise technology news and product updates.
Spectra Logic looks to leapfrog high-end tape storage market with T-Finity tape library
Claiming it can now supply the largest tape library on the market, Spectra Logic looks to take on IBM and Sun StorageTek in the enterprise.
This Article Covers
RELATED TOPICS
Looking for something else?
Spectra Logic rolled out its new high-end T-Finity tape library this week, giving it the highest-capacity tape library on the market as it attempts to capitalize on uncertainty surrounding competitor Sun Microsystems Inc.

The T-Finity tape library can scale to 30,000 drive slots, 120 drives, 25 frames and hold up to 45 petabytes (PB) of capacity. A T-Finity library complex, which takes up four data center rows with robot extensions that let robots pass between rows, can scale to 120,000 slots, 480 drives, 100 frames, and 180 PB capacity.

Download this free guide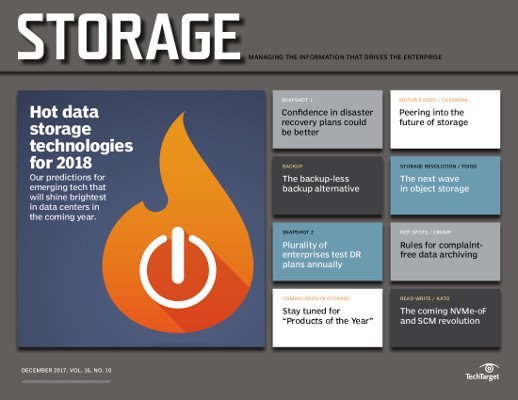 Snapshot of top 2018 backup tech: CDM, complaint-free archiving, ransomware detection vendors
The SearchStorage.com team names the most promising ransomware detection products, 4 rules for complaint-free archiving, how to use copy data management for effective recovery, and more. Download your e-zine copy here.

By submitting your personal information, you agree that TechTarget and its partners may contact you regarding relevant content, products and special offers.

You also agree that your personal information may be transferred and processed in the United States, and that you have read and agree to the Terms of Use and the Privacy Policy.

Bigger than IBM, Sun tape libraries

By comparison, IBM Corp.'s largest tape library, the TS3500, scales to 1,000 slots for IBM TS3592 tape drives and up to 1,320 slots for LTO, for 3 PB or 2.1 PB capacity respectively. A TS3500 complex can scale to 6,887 slots, 192 drives, and 16 frames. The Sun StorageTek SL8500 tape library can scale to 10,088 slots, 64 drives, 6 frames, and 15.1 PB. A complex of seven libraries can hold up to 70,616 slots, 448 drives, 42 frames, and 106 PB.

Spectra's previous largest model, the T950, scaled to 10,000 slots and 120 tape drives. Spectra claims the T-Finity is more power-efficient than competitors, drawing 0.81 watts per terabyte, and housing 15 PB capacity per square foot.

The T-Finity also adds the first support for multiple robots, which can be used to boost performance or for high availability access to the library. It will support LTO and IBM TS1130 tape drives.

The product went into beta in October, and will see limited availability before the end of the year. The base price for the tape library starts at $162,800.

T-Finity beta tester Bill Allcock, director of operations for the Leadership Computing Facility at Argonne National Labs, said he picked Spectra's T950 two years ago over ADIC (now Quantum Corp.'s) i2000, the Sun/StorageTek SL8500 and an IBM library.

"We ruled out ADIC almost immediately, because of their response to our RFP," Allcock said. "We asked for all kinds of details projected over five years and they responded with five one-page quotes and their installation guide."

Spectra's T950 was slightly denser than IBM's offerings at the time, which swayed Allcock toward Spectra. On a technical basis, it was "a horse race" between Sun and Spectra.

"I would've been completely comfortable with either product," Allcock said. "It's a design decision, really a matter of preference. I preferred Spectra's model."

Allcock said there were limitations to the T950 tape library design that might have put off some enterprise customers, such as the lack of support for a high-availability configuration with multiple robots. "What hurt them prior to the T-Finity was not having dual robots," he said. "For us, swapping out a robot in 15 minutes isn't a concern, but if it was a must-have, we would've gone with Sun."

Allcock said Spectra has been responsive to his requests for more features, including support for Unix-based system logs that would allow his team to execute scripts against the tape library the way it does with the rest of the machines in its environment. The Argonne data center draws two megawatts of power, when its cooling system becomes overwhelmed a script will perform a controlled shutdown of machines to minimize heat in the data center. Spectra also made adjustments that helped Argonne add the T950 to that program as well.

Although he's put the T-Finity through its paces as a beta site, Allcock said he's not going to upgrade immediately because he doesn't have a need yet for more capacity, but may upgrade later on.

Competition seen as good for data backup tape library industry

Spectra Logic has been around since 1979 but has recently started to raise its profile as the market consolidates and tape library use remains strongest in large shops. It recently introduced updates to its BlueScale management software that integrates with its nTier data deduplication products as well as its tape libraries.

Data backup and recovery expert W. Curtis Preston said it's good for the tape library market to have a newly aggressive competitor. "For a small company like Spectra to leapfrog IBM, Sun and Quantum in tape library capacity and density like this is awesome," he said. "Spectra has always impressed me with its ability to go big [with products] and stay [a] small [company] at the same time."

In his consulting work, Preston said he has seen some shops switch to Spectra from Sun, particularly given the pending Oracle/Sun merger.

"I see shops switching to them all the time," he said. "It's not just uncertainty [about the Oracle deal]. It's people thinking that StorageTek lost its vision once it was acquired by Sun."
Dig Deeper on Tape backup and tape libraries
PRO+
Content
Find more PRO+ content and other member only offers, here.