News
Stay informed about the latest enterprise technology news and product updates.
EMC gives Avamar data deduplication desktop and laptop support
EMC Avamar 5 gets support for desktops and laptops, denser EMC Avamar Data Store grid nodes, and data deduplication for archival tape.
This Article Covers
RELATED TOPICS
Looking for something else?
TECHNOLOGIES
EMC Corp. gave Avamar a facelift today by expanding support to desktop and laptop data backup, and adding a way of writing deduplicated archival data to tape for long-term retention.

Download this free guide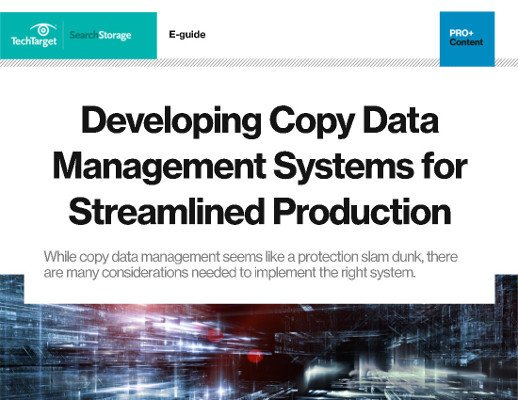 Copy management: Flexible framework amid solution fluctuations
While the honeymoon for standalone CDM appliances isn't over, many vendors also offer built-in CDM functionality. Download our guide for an examination of the CDM market, which vendors to keep your eye on (i.e. Actifio, Commvault, Catalogic, etc.), and a framework for establishing lasting copy management—no matter how the solutions for doing so fluctuate.

By submitting your personal information, you agree that TechTarget and its partners may contact you regarding relevant content, products and special offers.

You also agree that your personal information may be transferred and processed in the United States, and that you have read and agree to the Terms of Use and the Privacy Policy.

The EMC Avamar Data Store storage grid also supports denser nodes and integrates with VMware's vSphere 4.

Avamar 5 improves desktop and laptop backup by providing a lightweight agent and allowing end users to restore information on their own. Rob Emsley, senior director of product marketing for EMC's Backup Recovery Systems division, said customers have already been putting the EMC Avamar agent intended for server backup on laptops and desktops but the new features should improve the results.

Avamar's user self-restore Web interface is integrated with Microsoft's Active Directory for role-based access to backup data, and includes a file search engine to locate specific data. The IT department can continue to control restores either by policy or by not rolling out the Web portal to users.

EMC also rolled out a new feature called Data Transport for storing deduplicated data to physical tape. Data Transport creates a transient virtual machine, and data to be backed up is sent there from the Avamar repository. The virtual machine gets backed up through EMC NetWorker integration with VMware, and the data in the virtual machine image is written to tape.

"EMC Avamar Data Transport creates virtual machines as needed, works out how many virtual machines are required, calls VMware, creates the virtual machines, manages the replication of data and then calls the backup application," Emsley said.

Avamar doesn't send deduplicated data to tape directly from the media server as its competitor CommVault Simpana does, but Emsley said backing up a virtual machine image allows for more context when the data is restored.

"You not only back up deduplicated data but EMC Avamar servers that know how to understand the data on it," he said. "The EMC Avamar server would be restored along with the actual data."

Emsley added that deduplicated data on tape wouldn't be used for operational restores, but for long-term data retention where frequent restores are not required.

Enterprise Strategy Group analyst Lauren Whitehouse said she's surprised EMC didn't also offer a cloud option for long-term retention of archival data.

"Data deduplicated on tape can expire at different rates -- CommVault and [IBM] TSM have a pretty good handle on that," she said. "EMC Avamar positions the feature for very long retention, but as far as a long-term repository, it would seem to be easy for them to implement a cloud connection for EMC Avamar, given their other products like Mozy, rather than the whole dedupe-on-tape thing."

This new feature is built on EMC Avamar's integration with vSphere 4, the latest version of VMware's server virtualization software. vSphere APIs also make it possible to manage EMC Avamar through the vCenter management console through a plugin, and allow for the control of virtual machine backup at the guest operating system level.

Avamar 5 will also be able to address more storage per EMC Avamar Data Store grid node. The new version handles up to 3.3 physical terabytes per node, which means users can have 52.8 physical terabytes in one Data Store. This is a 65% capacity jump from previous versions, Emsley said. This version of the EMC Avamar Data Store will also support dual switches and NICs for better redundancy.

Wikibon analyst David Vellante said this will improve EMC Avamar's scalability limits, which he attributes more to cost rather than technical hurdles to building large EMC Avamar grids. However, he would like to see integration between Avamar and the EMC's Data Domain deduplication targets.

"When will source-based backup data deduplication write to EMC's data deduplication target?" Vallante asked. "That's where they need to go with this."

Sean O'Mahoney, vice president and senior manager of technology services at Republic Bank in Louisville, Ky., said he's looking forward to the new VMware support for Avamar. He has been backing up virtual machine data to an EMC DL3D virtual tape library but is moving VMware backups to his EMC Avamar Data Store, which is also replicated at a disaster recovery site.

"Source-based dedupe means less bandwidth across the virtual machine boxes, and allows us to proceed with confidence in upgrading to vSphere 4," he said.

However, another EMC Avamar customer said he's still smarting from the last upgrade to version 4.1. Todd Ellison, manager of networks and infrastructure for CVR Energy Inc., doesn't know when he'll make the upgrade to version 5.

"Our experience with updates has not met expectations," he said. "I would've loved for EMC to call us three months ago to say, hey, we're releasing version 5 and want to talk about your upgrade path ... but there hasn't been a lot of outreach."

An EMC spokesperson declined to comment on Ellison's complaints. Republic Bank's O'Mahoney said the installation of a secondary EMC Avamar Data Store at a different firmware rev than his primary one is scheduled for next week, and expects it to take only a day or so.
Dig Deeper on Data reduction and deduplication
PRO+
Content
Find more PRO+ content and other member only offers, here.