News
Stay informed about the latest enterprise technology news and product updates.
Nexsan and FalconStor gun for EMC Data Domain with Dedupe SG 2 data deduplication backup device
FalconStor and Nexsan add high availability features, support for more replication fan-in and lower the price for their Dedupe SG 2 data deduplication backup device.
This Article Covers
RELATED TOPICS
Looking for something else?
TECHNOLOGIES
FalconStor Software Inc. and Nexsan Technologies Inc. are making a strong run at EMC Corp.'s industry-leading Data Domain data deduplication platform with an upgrade to the backup device they market through a partnership formed last year.

Analysts say a series of updates to Dedupe SG -- comprised of FalconStor's dedupe software and Nexsan enterprise data storage systems -- put it into closer competition with the 800-pound gorilla Data Domain.

Download this free guide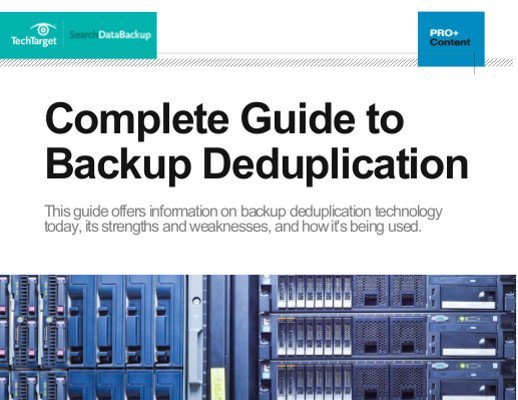 Free Download: Complete guide to backup deduplication
Access all of the 31 articles in our Data Deduplication Essential Guide by downloading our comprehensive PDF version so that you can access all of this expert content in one, easy-to-read resource.

By submitting your personal information, you agree that TechTarget and its partners may contact you regarding relevant content, products and special offers.

You also agree that your personal information may be transferred and processed in the United States, and that you have read and agree to the Terms of Use and the Privacy Policy.

The updates to Dedupe SG 2 will be sold through channel partners and include high-availability access to the data deduplication system, support for replication from more remote sites, policy-based data integrity checking, support for Symantec Corp.'s OST, and a higher capacity hardware appliance from Nexsan with support for 10-Gigabit Ethernet, called the DDSG-72.

Dedupe SG systems can now use dual active-passive server gateways to ensure access to the back-end storage system during the backup process. While most data backup software products will restart backup jobs if a device is lost, not having to deal with that problem and ensuing catalog complexities is obviously ideal, particularly in busy backup environments.

Dedupe SG 2 has also boosted the number of sites that can fan in replication to a central system from 32 in the first version to 150 with the new version. A new centralized dashboard provides real-time monitoring of all replication operations. Customers also have the option of setting replication priorities at the file or folder level to ensure critical data is replicated to a disaster recovery site without having to wait for the entire data set.

A similar policy-based management scheme has also been added to Dedupe SG 2 for data integrity checking so customers can schedule the process for less busy times on the network and specify the frequency of integrity checking operations. Customers also have the option of excluding certain volumes from data deduplication according to policy.

Finally, the partners claim the system can perform at up to 1500 MBps throughput over dual 10-GigE links using Symantec Corp.'s OpenStorage API for NetBackup. Internal tests at FalconStor indicate the second version of its File-Interface Deduplication System (FDS) can perform at 350 MBps sustained throughput over a single 10-GigE link and 700 MBps over two 10-GigE links with CIFS and NFS protocols, according to FalconStor vice president of marketing Fadi Albatal. Benchmark tests with FDS 1 and FDS 1.1 were performed using eight GigE ports, peaking at 750 MBps with high-end FDS Gateway appliances.

In addition to 10-GigE support, the DDSG-72 can hold 72 physical terabytes of storage capacity. That works out to 1.4 logical petabytes (PBs) at a 20:1 deduplication ratio. This is compared with the previous high-end DDSG model, the DDSG-52, which supported 52 physical terabytes and up to 1 logical petabyte. The products will be available through channel partners in late February, starting at $49,000.

Analysts say Dedupe SG 2 moves further onto Data Domain territory. Enterprise Strategy Group analyst Lauren Whitehouse said SG 2 includes "things that poke Data Domain in the eye, especially the high-availability configuration."

Still, she pointed out the performance numbers using OST with 10-GigE "should have some asterisks. NetBackup is very widely deployed, but not everyone is running version 6.5.4 with OST."

Wikibon analyst David Vellante said he considers Dedupe SG 2 as especially competitive with Data Domain in remote offices.

"A Data Domain type system really isn't ideal for remote office situations even though they do have a solution there," he wrote in an email to SearchDataBackup.com. "[EMC's] Avamar is a great solution for remote office[s], but with Avamar you have to rip and replace your backup software. So this Nexsan/FalconStor thing is like the best of both worlds. You get the reduction in traffic over the WAN and you don't have to do a rip and replace the home office backup software."

However, Vellante said there were still some open questions to be answered by real-world deployment of the product. "How do you size it? Put it in? Test it? What skill sets [and] testing do I need and very importantly... how do I seed the initial backup?" he asked.
Dig Deeper on Data reduction and deduplication
PRO+
Content
Find more PRO+ content and other member only offers, here.