News
Stay informed about the latest enterprise technology news and product updates.
Microsoft Data Protection Manager 2010 released to manufacturers and online data backup partners
Microsoft's Data Protection Manager 2010 has been released to manufacturers with general availability in June; Iron Mountain and i365 integrate DPM with online data backup.
This Article Covers
RELATED TOPICS
Looking for something else?
Online data backup vendors Iron Mountain Inc. and i365 have updated their cloud data storage integrations with Microsoft Corp.'s System Center Data Protection Manager (DPM) 2010, which was released to manufacturers Monday following months in beta.

The new release of Data Protection Manager adds native support for Windows clients (i.e., laptops) and hypervisor-level data protection for Hyper-V virtual servers, according to Microsoft's DPM website. DPM now automatically backs up clients when they are connected to the network. Support for Hyper-V includes item-level recovery, and protection of Live Migration-enabled Hyper-V virtual machines attached to a Cluster Shared Volume (CSV).

Download this free guide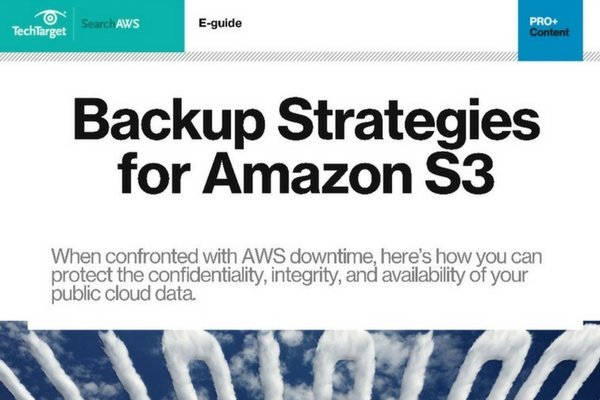 Amazon S3 in the spotlight: Your 34-page backup guide
In this guide curated by the SearchAWS.com editors, you'll evaluate and overcome the DR tradeoffs associated with Amazon S3, with guidance on solidifying an AWS backup plan and securing S3 buckets. Download your copy now.

By submitting your personal information, you agree that TechTarget and its partners may contact you regarding relevant content, products and special offers.

You also agree that your personal information may be transferred and processed in the United States, and that you have read and agree to the Terms of Use and the Privacy Policy.

DPM 2010 also adds scalability enhancements and automation features -- up to 100 servers, 1,000 laptops and up to 2,000 databases can be backed up using a single DPM server. SQL databases added to a customer's SQL Server will be automatically added to backup schedules. DPM 2010 also supports SAP running on SQL Server.

Failed backup jobs will automatically restart, and snapshot volumes will automatically grow when more space is needed. Data Protection Manager 2010 also supports site-to-site replication between Data Protection Manager servers or cloud storage service providers, and centrally managed system-state and bare-metal recovery.

Shane Waldrop, systems and network administrator at Las Vegas, NV-based process management company Caltrol Inc., has been beta testing DPM 2010 and previously used DPM 2007. Waldrop said he especially likes the automatic restart of failed jobs and auto-protection of SQL databases in DPM 2010.

"The 2010 version introduces a whole slew of things that make an admin's life easier," he said. "It reduces the overhead on me, having to do a consistency check manually -- it automatically does a consistency check and re-runs the jobs that fail. It sort of runs by itself a lot more than it did before."

Microsoft "focused on the Microsoft-faithful with its last release [DPM 2007}, but they're trying to move upstream with [DPM 2010]," Enterprise Strategy Group analyst Lauren Whitehouse said.

i365 set to ship EVault for Data Protection Manager

Seagate Technology Inc.'s i365 subsidiary on Monday said general availability of its EVault for Data Protection Manager (EDPM) will come in June, around the time Microsoft officials expect DPM 2010 to become generally available.

i365 already previewed its DPM integration last fall, and general manager Terry Cunningham said the software is set to be released on an appliance (based on Dell server hardware) that blends EVault data backup for non-Windows servers with DPM 2010 under a common management interface. That interface will include common monitoring, alerting, and management reports across DPM and EVault backups. Each product must be managed separately for day-to-day operations but will be launched from the common GUI.

"You can see where we're going with this -- users start and stop jobs in the respective software tools, but once they're running they're shown in one monitoring console from then on," Cunningham said. "Over time we will continue to consolidate the interfaces."

The appliance will be available through i365 channel partners, Microsoft Certified Partners, and i365 direct in three configurations. One configuration is a tower server with 2 TB of disk in a RAID 5 configuration, one year of 24/7 phone support and next-business day on-site service. It also includes EVault and Data Protection Manger software, and two software agents of the customer's choosing for $9,995. The same software and service package is also available with a 2U rackmount server that holds 6 TB of disk for $19,990, and all of the above in a 10 TB configuration costs $29,990.

I365 also offers a Cloud-Connected service that replicates data backed up to the EVault for DPM appliance offsite for an extra backup copy and disaster recovery.

Iron Mountain updates CloudRecovery for DPM 2010

Iron Mountain is upgrading its CloudRecovery product, which it first announced for DPM 2007. New features available for CloudRecovery are new TurboRestore optional on-site appliances in 2 TB, 4 TB, 12 TB and 24 TB configurations, and support for multi-terabyte DPM servers thanks to software updates that better support multithreading, according to Iron Mountain senior product marketing manager Jackie Su.

Iron Mountain also clearly has i365 in its sights as a competitor -- Su said Iron Mountain places less emphasis on the on-site appliance, making it a "true cloud service" in Su's words. Su also pointed out that because Iron Mountain already supports DPM 2007, it can assist customers with the migration to DPM 2010.

DPM 2010 eagerly anticipated, but cloud data storage a tougher sell

Tim Burke, president and CEO of managed services provider and i365 VAR Quest Systems, hopes the appliance approach and option to create a "local cloud" between the appliances at a user's own primary and secondary locations will appeal to his customers. Burke says resistance to cloud data backup is decreasing, although far from gone.

"A year ago, the cloud was part of our conversations [with customers] maybe 10% to 20% of the time," Burke said. "Now it's jumped up to 60%, where it's a legitimate part of the conversation, but whether or not they're going to do an implementation of this kind of technology might take an interim step." The appliance and "local cloud" option could serve as that intermediate step, Burke said. "It gives the customer something to kick the tires on, something real and tangible."

Caltrol's Waldrop said he has no interest in DPM 2010's new cloud-based replication, whether to Iron Mountain, i365 or Microsoft's Azure cloud data storage services. "I don't think we need something like that," he said. "We're already running pretty smoothly with our own off-site data backup and replication. I don't want to introduce another layer if there's not really a need for it."
Dig Deeper on Cloud backup
PRO+
Content
Find more PRO+ content and other member only offers, here.