News
Stay informed about the latest enterprise technology news and product updates.
Cbeyond partners with Mozy to provide cloud-based backup to SMBs and other SMB data storage news
This week's SMB data storage news in brief: Cbeyond and Mozy to provide cloud-based backup to SMBs; Nasuni's cloud storage dashboard gets positive reviews from users and more.
This Article Covers
RELATED TOPICS
Looking for something else?
The following is a compilation of the latest small- to medium-sized business (SMB) data storage technology news.
Cbeyond partners with Mozy to provide cloud-based backup to SMBs
Cbeyond Inc. announced that it has partnered with EMC Corp. Mozy to provide cloud-based backup and online data storage services to SMBs. The Secure Backup Service allows users to back up their data by downloading their software and connect the Cbeyond network. Cbeyond will then encrypt the files and prepare them for long-term storage, schedule automatic backups and set email alerts for better data management.

Download this free guide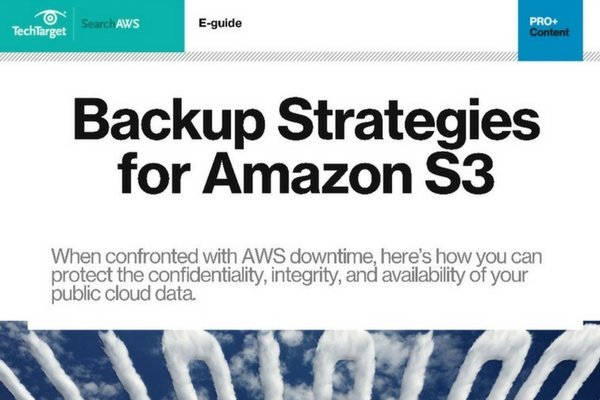 Amazon S3 in the spotlight: Your 34-page backup guide
In this guide curated by the SearchAWS.com editors, you'll evaluate and overcome the DR tradeoffs associated with Amazon S3, with guidance on solidifying an AWS backup plan and securing S3 buckets. Download your copy now.
By submitting your personal information, you agree that TechTarget and its partners may contact you regarding relevant content, products and special offers.
You also agree that your personal information may be transferred and processed in the United States, and that you have read and agree to the Terms of Use and the Privacy Policy.
Verio survey reveals SMBs don't understand the benefits of cloud computing
A recent survey conducted by Verio Inc. revealed that many SMBs are looking to minimize their technology costs while implementing advanced technologies into their data storage environments. The survey also revealed that more than 50% of SMBs believe the ability to share IT resources is important, 42% favor on-demand resources, and most respondents still lack a sufficient understanding of the benefits of cloud computing in their environments. The survey concluded that nearly 30% of SMB respondents would implement a cloud solution within a year, while 13% would implement a solution within three months if the benefits of cloud were clear.
Northland Systems to offer Digitiliti's DigiLIBE for virtualized environments
Digitiliti Inc., an Operational Business Intelligence for small businesses, announced that Northland Systems will be offering Digitiliti's DigiLIBE Virtual Corporate Library to its customers. Northland Systems focuses on the planning and implementation of server, desktop and storage virtualization. According to Northland Systems, the addition of DigiLIBE could potentially help eliminate complexities and reduce extra costs associated with managing information and storage.
Pogo Linux releases two unified storage products: The StorageDirector Z2 Foundation and StorageDirector Z2 HA Cluster
Pogo Linux, a provider of open-source storage, announced the release of a new line of StorageDirector Z2 Foundation and StorageDirector Z2 HA Cluster unified storage products. These series feature the latest version of NexentaStor 3.0 Enterprise Edition, an OpenStorage software system that provides data and application availability. According to Pogo Linux, the key features of these products include inline data deduplication, snapshots and integration with major virtualization platforms. They also include enterprise-grade network-attached storage (NAS) and storage area network (SAN) features.
Pricing for the StorageDirector Z2 Foundation starts at $17,300 and the StorageDirector Z2 HA Cluster starts at $31,475.
Nasuni's cloud storage dashboard gets positive reviews from users
Nasuni's Nasuni Filer, a cloud storage dashboard, has received positive reviews from its trial users. Users noted that the cloud storage dashboard made it easy to monitor and manage billing for multiple cloud providers. According to Nasuni, the dashboard allows users to get a clear view of their services through a series of reports that tracks their usage and costs.
Symantec makes additions to its SMB Protection Portfolio
Symantec Corp. announced new enhancements to its SMB Protection Portfolio. Its new Symantec Protection Suite Advanced Business Edition, available this summer, will provide endpoint and messaging security as well as desktop, laptop and server backup and recovery for business continuity. Symantec also announced hosted options for email and Web security, and lower pricing for Symantec Protection Suite Small Business Edition. Symantec Protection Suite Advanced Business Edition is designed to give users flexibility to deploy on-site and Software-as-a-Service (SaaS) technologies with add-on options for hosted email and Web security from Symantec Hosted Services.
Do you have SMB data storage news to share with us? Email the editors of SearchSMBStorage.com.
Dig Deeper on Cloud backup
PRO+
Content
Find more PRO+ content and other member only offers, here.