News
Stay informed about the latest enterprise technology news and product updates.
Sepaton adds storage pooling and prepares to move beyond pure virtual tape library
Sepaton releases version 5.4 of its VTL software, which includes storage pooling, improved data analytics and now runs on Hitachi Data Systems AMS 2100 storage platform; a NAS interface is on deck.
This Article Covers
RELATED TOPICS
Looking for something else?
Sepaton Inc. today added storage pooling and improved monitoring and reporting features for its S2100-ES2 virtual tape libraries (VTLs) while preparing to extend the platform from beyond solely a VTL to support Ethernet and file-based interfaces.

The S2100-ES2 is now based on the Hitachi Data Systems AMS 2100 storage platform. The new version of the operating system also supports content-aware monitoring and reporting, and trackable VTL cartridge erasure.

Download this free guide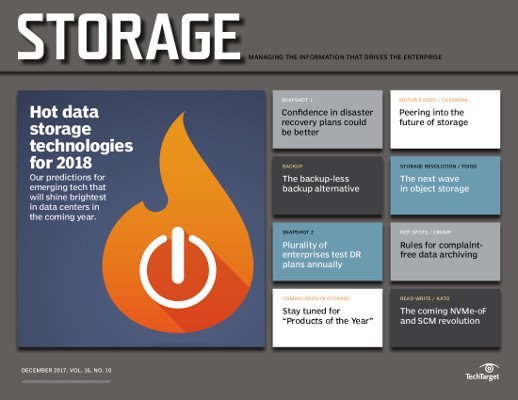 Snapshot of top 2018 backup tech: CDM, complaint-free archiving, ransomware detection vendors
The SearchStorage.com team names the most promising ransomware detection products, 4 rules for complaint-free archiving, how to use copy data management for effective recovery, and more. Download your e-zine copy here.

By submitting your personal information, you agree that TechTarget and its partners may contact you regarding relevant content, products and special offers.

You also agree that your personal information may be transferred and processed in the United States, and that you have read and agree to the Terms of Use and the Privacy Policy.

Sepaton director of product and program management Linda Mentzer said the company is moving its data backup systems toward a "unified secondary storage infrastructure." She said Sepaton is working on adding a network-attached storage (NAS) interface and support for 10 Gigabit Ethernet, iSCSI and Fibre Channel over Ethernet (FCoE) to the Fibre Channel interface it has had from the start. Sepaton also plans on offering its software in a virtual machine format so that it can run inside virtualized environments, allowing customers to decouple backend storage and utilize cloud technologies.

The changes would transform Sepaton into a complete data deduplication disk backup vendor with a product line more in line with competitors such as EMC Corp.'s Data Domain and Quantum Corp.'s DXi platform.

Gartner analyst Dave Russell said Sepaton is clearly pursuing a broader set of capabilities. "This [release] is laying the foundation for moving the platform in a new direction," Russell said. "It suggests that in the future, [Sepaton] could start to position this beyond virtual tape libraries. If they add a file-level interface, which they've hinted that they will, then it could be for virtual tape for backups; it could be a file-level interface for backups, and it eventually could become an archiving platform as well. So this sets the stage for positioning its platform as more of a data engine repository for multiple use cases."

Sepaton's new storage pooling technology lets administrators manage multiple pools in a single VTL. They can use features such as thin provisioning and load balancing on each pool. All nodes in a system will work together to dedupe incoming data. If only one pool is being accessed, then all system nodes will dedupe incoming data. If data is then ingested for another pool, the nodes will load balance across both pools. Storage administrators can also now configure multiple virtual storage pools for multitenant environments, making the VTL an option for managed service providers and IT admins with multiple departments.

"Going forward, storage pooling really becomes significant because it allows [Sepaton] to do interesting things around quality of service, workload prioritization, and whether to deduplicate and replicate workloads," Russell said.

Sepaton also formalized its April reseller agreement with HDS by integrating the HDS AMS 2100 platform into the S2100-ES2 VTL series. The VTL now ships with 1 TB or 2 TB AMS 2100 disks standard.

Russell said he believes the new hardware platform will eventually allow customers to mix disk types and capacities. "It sets the stage for having different kinds of disks," he said. "Right now they are saying 'we can have 1 TB or 2 TB [SATA] drives,' but in the future they could start mixing them, you know they could have SAS drives, SATA drives, in various densities, which kind of goes hand in hand with the storage pooling."

The S2100-ES2 series' ContentAware Data Analytics service accumulates backup set metadata, downloads it to Sepaton website databases, and offers monitoring and reporting services back to customers through a website portal. The upgrade also includes support for the Secure Erasure feature that Sepaton announced earlier this month.
Dig Deeper on Disk-based backup
PRO+
Content
Find more PRO+ content and other member only offers, here.