News
Stay informed about the latest enterprise technology news and product updates.
Will 50 TB tape cartridges prove a boon for data archiving?
Developments in tape technology could result in 50 TB cartridges with advances in indexing and search that enhance the medium's value for data archiving more than traditional backup.
This Article Covers
RELATED TOPICS
Looking for something else?
TECHNOLOGIES
Emerging developments in tape technology will expand its density and capacity while making it more searchable, continuing to make tape more useful for data archiving rather than its traditional role as data backup.

Download this free guide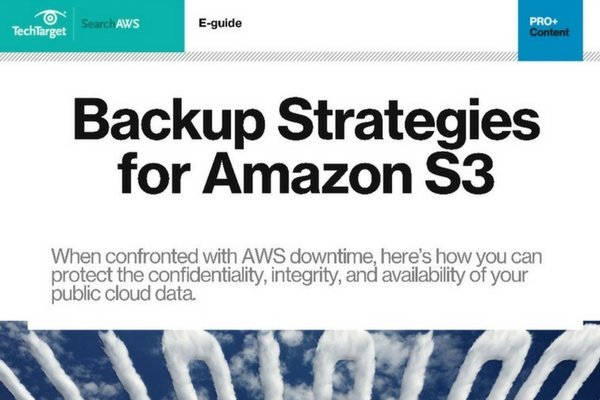 Amazon S3 in the spotlight: Your 34-page backup guide
In this guide curated by the SearchAWS.com editors, you'll evaluate and overcome the DR tradeoffs associated with Amazon S3, with guidance on solidifying an AWS backup plan and securing S3 buckets. Download your copy now.

By submitting your personal information, you agree that TechTarget and its partners may contact you regarding relevant content, products and special offers.

You also agree that your personal information may be transferred and processed in the United States, and that you have read and agree to the Terms of Use and the Privacy Policy.

In May, Hitachi Maxell Ltd. and the Tokyo Institute of Technology said they developed a new high-capacity tape media using ultra thin nano-structured magnetic film. The data tape cartridge features an areal density of 45 Gb per square inch, and enables more than 50 TB capacity per standard backup tape cartridge. This is 33 times larger than the capacity of current LTO-5 tapes.

The record density was achieved thanks to a new technique called the facing targets sputtering method. Magnetron sputtering methods, which are currently used to create LTO tape, cannot be used for fine composite films.

The Hitachi-Tokyo Institute of Technology news came just four months after the IBM Research lab in Zurich combined with FujiFilm to achieve an areal density that would enable 35 TB of capacity on one cartridge. The areal density for that short-lived record was 29.5 billion bits per square inch.

LTO roadmap calls for 32 TB capacity with LTO-8

LTO tape density continues to grow, too. The current roadmap for LTO extends through LTO-8, which will have a capacity of 32 TB and a data transfer speed of up to 472 MBps. That's compared to 3 TB of capacity and a data transfer speed of 280 MBps for LTO-5 tape that began shipping this year.

The tape format will remain unchanged for LTO-6, LTO-7 and LTO-8, and it's too early to tell if future iterations of LTO would use Hitachi Maxell's new high-capacity tape media. But regardless of what comes down the line capacity-wise, other developments afoot will make data tape cartridges more useful over the near term.

LTO providers Hewlett-Packard (HP) Co., IBM Corp. and Quantum Corp. recently announced a Linear Tape File System (LTFS) specification that could play a role in making long-term data archiving to tape more practical.

LTO-5 tapes offer users the ability to partition each tape into two segments, and the Linear Tape File System uses one partition to store a file system index of the data stored in the second partition. The file system allows users to drag and drop files to and from tape the way they do with disk.

"[LTFS] is making tape more usable, making tape easier to search," Enterprise Strategy Group analyst Mark Peters said. "By applying a native file structure to a 50 TB tape, you've essentially got the largest thumb drive anyone has ever seen."

The next step would be for backup and archiving software vendors to support NTFS in their products. "There are independent software vendors that are highly interested in using this file system with their applications," said Bruce Master, senior program manager at IBM. "Any application provider or user can download the NTFS spec from the LTO Ultrium website, download the code, and even extend it, because it's open source."

Tape's appeal grows for data archiving

While disk technologies such as virtual tape and data deduplication combined with falling disk prices are prompting organizations to switch backups from tape to disk, Peters said tape retains advantages for data archiving.

"If you look at the leading edge companies today, less and less are using tape for backup purposes," he said. "Companies are using tape more and more for archiving, because the last thing you want is infrequently used data spinning around on disks."

Andrew Warby, senior network administrator at financial consulting firm CRA International's Boston office, agreed that the combination of large capacity, low price, and improved searchability would be a boon for data archiving.

CRA International performs all backups to LTO-3 tape and LTO-4 tape using Symantec Corp.'s NetBackup for Unix systems, Symantec's Backup Exec for Windows with Vizioncore vRanger Pro for virtual machines. CRA is also subject to long-term data archiving requirements and Warby said that large capacity tapes are attractive for that purpose.

Warby says CRA is considering replicating data offsite to replace some tape for disaster recovery, but he's interested in seeing if vendors incorporate NTFS in their archiving products.

"This is very interesting. I think we will still move away from tape in the colocation facility, but this may change what we do in some of our other offices," he said.
Dig Deeper on Archiving and backup
PRO+
Content
Find more PRO+ content and other member only offers, here.