News
Stay informed about the latest enterprise technology news and product updates.
ProStor CEO: RDX removable disk will leave LTO-5 tape in the rear-view mirror
ProStor Systems CEO Frank Harbist says InfiniVault archiving systems represent the long-term future for the vendor that supplies the industry's RDX removable hard drives.
This Article Covers
RELATED TOPICS
Looking for something else?
TECHNOLOGIES
ProStor Systems is best known for manufacturing RDX removable disk media sold by partners Dell Inc., Fujitsu, Hewlett-Packard (HP) Co., Imation Corp., IBM Corp., NEC and Tandberg Data. ProStor claims more than 80 PB of capacity and 500,000 cartridges have been shipped to more than 165,000 customers. But ProStor CEO Frank Harbist says the real growth opportunity for the company lies with its InfiniVault data archiving product, which adds data management software and online disk to its RDX removable disk cartridges. We recently spoke with Harbist about the future of ProStor and removable disk.

SearchDataBackup: How would you describe your two businesses?

Harbist: RDX removable disk is where the company started, and that's a mission-accomplished type of situation. All major system OEMs are on board branding and selling the product. But InfiniVault is our future vision. It's long-term data retention. We're moving from basic server backup to network storage systems. We got through the first year with InfiniVault, and now we're thinking about how to take this to the next level and make ProStor a more significant player on the systems side.

Download this free guide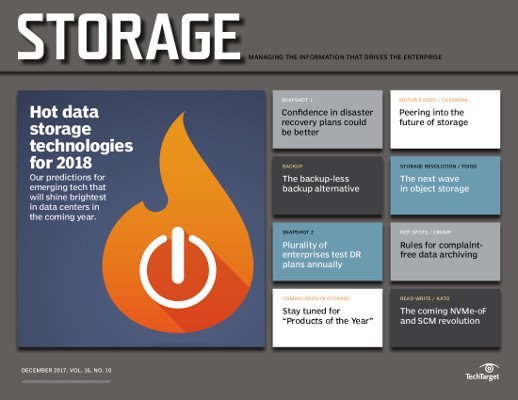 Snapshot of top 2018 backup tech: CDM, complaint-free archiving, ransomware detection vendors
The SearchStorage.com team names the most promising ransomware detection products, 4 rules for complaint-free archiving, how to use copy data management for effective recovery, and more. Download your e-zine copy here.

By submitting your personal information, you agree that TechTarget and its partners may contact you regarding relevant content, products and special offers.

You also agree that your personal information may be transferred and processed in the United States, and that you have read and agree to the Terms of Use and the Privacy Policy.

SearchDataBackup: How does InfiniVault differ from the RDX products that your partners sell?

Harbist: InfiniVault is an efficient data management retention platform. If you're in a compliance-driven vertical market or have long-term company retention policies, InfiniVault is a good fit. We have a software stack that runs embedded in an appliance form factor. It acts

as a NAS device on the network, and applies policy management features such as copy, data retention, encryption and WORM. It helps you find data like you cannot do with tape. It is one of the tiers of storage that we automated this data into. You have an online tier, a nearline tier and an RDX tier that can be removed, with InfiniVault as the offline tier.

We see RDX as tape replacement for small companies and branch offices. It's essentially surpassed DAT tape as a legacy platform. We'll see 1.5 TB RDX cartridges at the end of the year, which gets you to LTO-5 tape capacity, and then the game is over. By 2012, RDX will be looking in the rear-view mirror at LTO.

SearchDataBackup: Do you expect wide-scale migrations from from LTO to RDX?

Harbist: It will happen slowly. You have legacy data, and we're working with customers at their pace as they want to move to RDX with new or incremental data, or with new branch offices. We do see some large migrations taking place. The nice thing about having InfiniVault is we're able to have a conversation around, 'Why are you backing up all this data? Wouldn't you be better served by a combination of removable data for a short RTO [recovery time objective] plus a long-term data retention strategy?'

SearchDataBackup: Does RDX removable disk and InfiniVault replace the need for data backup software?

Harbist: Because we're a backup or archive target, we're not in competition with backup software or file movement software. Most of our OEM vendors bundle backup software apps with RDX; it could be a trial version or a de-featured version of backup software that uses the backup-to-disk function. One of the benefits of RDX [over tape] is you can use deduplication, especially when backing up virtual machines. You don't have to reconstruct data [to restore] as you would from tape.

SearchDataBackup: Is ProStor profitable?

Harbist: No, and that's by design. The RDX business is very profitable, so I benefit from a unique situation as a startup. We have two businesses, and one of them is a cash cow essentially. That affords us a great opportunity to leverage that investment to drive as aggressively as possible on the InfiniVault side. We use RDX as a vehicle for investment for InfiniVault. It also makes get funding from VCs less onerous a task because part of the business is cash positive.

SearchDataBackup: You recently appointed Jay Kidd, NetApp senior vice president, storage solutions group and product strategy, to your board of directors. What role will he play at ProStor?

Harbist: We needed to have more horsepower as far as the storage market goes, and the expertise that Jay brings from the marketing and technology management perspectives will be an incredible contribution.

SearchDataBackup: Is there a partnership with NetApp brewing?

Harbist: I think about any network storage vendor can benefit from having RDX slots, but there are no announcements imminent.
Dig Deeper on Disk-based backup
PRO+
Content
Find more PRO+ content and other member only offers, here.