Pancetera Unite helps speed up virtual machine backup
Startup brings out Pancetera Unite to reduce I/O requirements and accelerate backups of virtual machines; the vendor promises other management capabilities.
This Article Covers
RELATED TOPICS
Looking for something else?
Startup Pancetera Software Inc. came out of stealth today with a virtual appliance designed to optimize virtual machine backup and other data storage management processes in large virtual server environments.

Download this free guide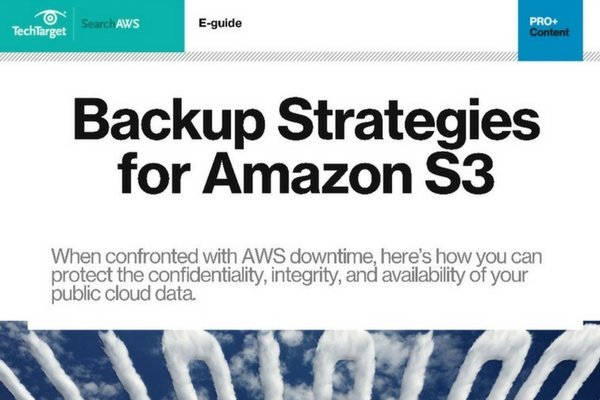 Amazon S3 in the spotlight: Your 34-page backup guide
In this guide curated by the SearchAWS.com editors, you'll evaluate and overcome the DR tradeoffs associated with Amazon S3, with guidance on solidifying an AWS backup plan and securing S3 buckets. Download your copy now.

By submitting your personal information, you agree that TechTarget and its partners may contact you regarding relevant content, products and special offers.

You also agree that your personal information may be transferred and processed in the United States, and that you have read and agree to the Terms of Use and the Privacy Policy.

Pancetera Unite offloads the production servers to simplify management, and provides a single access point for virtual machines, according to Pancetera marketing vice president Bart Bartlett. Unite runs as a virtual Linux appliance on one host outside of the data path and performs activities such as agent operations, data backup, security scans, replication and storage migration over the LAN or WAN.

Customers mount the Unite file system as a CIFS share or NFS mount, but files are not written to the Unite file system. The Unite file system is instead populated with virtual machines files from vSphere EXS or ESXi servers. Hosts and virtual machines appear as directories that customers can browse regardless of what type of storage they use. Pancetera claims one Unite installation can span an entire virtual environment.

"We interface with VMFS [virtual machine file system] in a holistic way," Bartlett said. "We work with whatever storage you have underneath. We're focused on making it easy to manage backup, data migration and replication, and on reducing the I/O requirements for these workloads."

Unite uses technologies that Pancetera calls SmartRead and SmartView. SmartView provides the unified view of virtual storage across hypervisors and data stores. It provides access to all running virtual machines and their associated files for backup, replication, archiving, security scanning, search, and other functions. Admins can browse, move and copy virtual machine files in the Windows Explorer view.

SmartRead is a set of algorithms designed to improve storage utilization by reducing I/O. It reads file system metadata from the guest OS to determine which parts of the virtual machine disk file are redundant or no longer in use and reads only unique blocks from primary storage.

The first use cases for Unite are to speed backups and migration over the WAN. Bartlett said Pancetera is searching for an antivirus partner, and that will likely be the next feature supported. Pancetera also plans support for Microsoft Hyper-V and Citrix XenServer.

Unite is priced at $250 per virtual machine or $1,000 per socket. Bartlett said the product has been shipping since May, but Pancetera held off with a formal announcement until it already had customers and revenue.

Pancetera helps university with virtual server backup

Barry Morrison, system administrator at the office if IT at the University of the Pacific, said he began using Pancetera in beta when a VAR brought it to his attention. Unite helps him back up 133 virtual servers on vSphere 4.0 using Dell M100 blades and Sun 4550 x86 physical servers.

His shop has two NetApp FAS6040 Fibre Channel SANs and BakBone's NetVault software to back up to an EMC Data Domain DD690, and then replicates to a DD580. However, backups were painfully slow because of poor network performance.

Morrison said he looked at products such as NetApp's Snap Manager for Virtual Infrastructure (SMVI), Novell's PlateSpin and BakBone's VMware ESX Plugin, but found them wanting for one reason or another. So he decided to give Pancetera a shot. Now instead of managing the backup routine of 133 servers, he manages a single client with four Pancetera appliances attached. That has saved him money by letting replace the backup clients while improving backup performance.

"Moving to the hypervisor let us see a substantial sustained gain in performance," Morrison said. "It shrunk our backups considerably. It's also simpler going forward because as our VM environment grows, we don't have to purchase additional backup licenses."

Taneja Group analyst Dave Bartoletti said Pancetera Unite will prove valuable if it lives up to its claim of reducing I/Os required to backup or migrate data across large numbers of virtual servers.

"If it works as advertised, it can handle some storage I/O bottleneck problems with larger VMware environments," Bartoletti said. "When you run backup on a virtual machine today, it has to go through the hypervisor layer and read the whole machine from the VMDK file format, read it out, back it up and that takes a lot of I/Os. Unite only has to read part of the image used, and it's faster."

Bartoletti said the closest product on the market to Pancetera Unite is Virsto Software's Virsto One, but there are even major differences. Virsto decided to tackle Hyper-V first and it works in band. "Virsto works in-band and takes random I/Os in a virtual server operation and tries to put them in a more orderly sequence," Bartoletti said. "In this case, Pancetera is doing it out of band and using a separate virtual appliance."

Pancetera's biggest challenge could be keeping up with changes to VMware. vSphere 4.1 includes improved I/O resource management, a better way to handle backups while eliminating VMware Consolidate Backup (VCB), and VMware vStorage APIs for Array Integration (VAAI) that will let storage vendors move VM management into their arrays. vSphere 4.1 is in beta.

Pancetera uses VMware's standard APIs but has no formal partnership with VMware. Bartoletti suggests the startup partner with VMware and array vendors "to take this to the next level."

The Santa Clara, Calif.-based Pancetera was founded by Data Domain veterans Bartlett, CTO Mitch Haile and engineering vice president Greg Wade. Pancetera CEO Henrik Rosendahl is the former director of application virtualization at VMware, and previously was CEO of Thinstall before VMware acquired it.
Dig Deeper on Backup for virtual servers
PRO+
Content
Find more PRO+ content and other member only offers, here.