News
Stay informed about the latest enterprise technology news and product updates.
Quantum refreshes high-end data deduplication backup system at SNW
Quantum rolls its new data deduplication backup system. The DXi8500 has faster processors and support for 15,000 rpm 6 Gbps SAS drives for speed increase over its previous system.
This Article Covers
RELATED TOPICS
Looking for something else?
TECHNOLOGIES
GRAPEVINE, Texas -- Quantum Corp. completed a refresh of its DXi data deduplication disk backup portfolio today, launching the DXi8500 enterprise virtual tape library (VTL) at Storage Networking World (SNW).

Download this free guide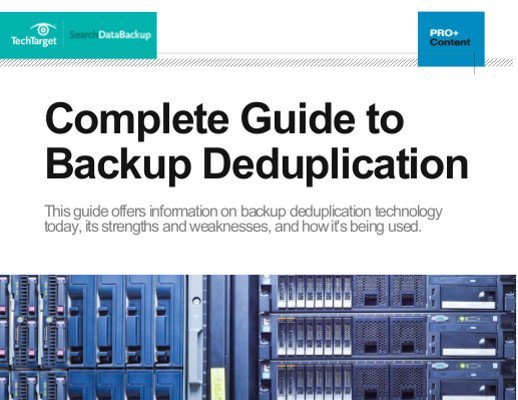 Free Download: Complete guide to backup deduplication
Access all of the 31 articles in our Data Deduplication Essential Guide by downloading our comprehensive PDF version so that you can access all of this expert content in one, easy-to-read resource.

By submitting your personal information, you agree that TechTarget and its partners may contact you regarding relevant content, products and special offers.

You also agree that your personal information may be transferred and processed in the United States, and that you have read and agree to the Terms of Use and the Privacy Policy.

The DXi8500 replaces the DXi7500 as the high-end in Quantum's disk-backup portfolio, and comes after a year-long overhaul of the DXi platform. Quantum also launched DXi6500 midrange network-attached storage (NAS) systems last October, a midrange DXi6700 deduplication backup appliance in August, and DXi4500 appliances for small- to medium-sized

businesses (SMBs) in May.

The overhaul came after EMC Corp. acquired Data Domain and ended its OEM deal to sell Quantum's deduplication software. EMC Data Domain is now Quantum's main rival in the deduplication backup market. Quantum positions the DXi8500 as a competitor to the EMC Data Domain DD8800.

A DXi8500 box scales from 20 TB to 200 usable TB. It is built with six-core Nehalem processors, and Quantum claims it can perform at 6.4 TB per hour -- three times faster than the DXi7500. The DXi8500 supports RAID 6, 6 Gpbs SAS drives and 8 Gbps Fibre Channel and 10-Gigabit Ethernet connectivity.

Steve Whitner, product marketing manager for disk products at Quantum, said faster processors and 15,000 rpm SAS drives are key reasons for the performance boost. Quantum changed the way it indexes metadata and looks for redundancies on disk to better take advantage of the faster SAS drives, he said.

"What we are doing is putting part of the data on fast disk to check for deduplication," Whitner added. "Some data needs lots of I/O and if you put it on fast disk then it speeds up the whole operation."
Quantum, like other vendors, is recognizing the need for speed matters, especially for larger customers, and they are doing something about it.

Greg Schulz
founder and senior analystServer and StorageIO Group
Server and StorageIO analyst Greg Schulz said the early discussions surrounding deduplication systems focused on the reduction ratio, but now more customers and vendors are recognizing that time and performance also matter.

"For most customers, performance matters," he said. "Transfer rates matter as much as reduction ratios. Quantum, like other vendors, is recognizing the need for speed matters, especially for larger customers, and they are doing something about it. Any application that has a short data backup and recovery window, you have to move the data quickly."

The DXi8500 supports VTL, NAS and Symantec Corp. OST interfaces simultaneously, and its direct tape creation feature bypasses the backup server and writes data directly to tape.

"People still use tape, so the DXi8500 is able to migrate to tape," Whitner said. "But it does not have to go back to the customer's backup server. We link with backup applications. The backup software knows the data has been moved."

Quantum's Advanced Reporting and Quantum Vision 4.0 management software are part of the basic licensing package. Advanced Reporting shows how much data is passing through each port, and displays CPU operations, capacity utilization, disk I/O and how much data is stored for deduplication. Quantum Vision is a central console for the global management of disk and tape.

The list price for the DXi8500 is $430,000, and a DXi8500 with 90 TB usable and VTL interface costs $731,000.

No global deduplication backup support in DXi8500

Quantum still doesn't support global deduplication, which lets customers deduplicate data across multiple boxes. Most software deduplication applications support global dedupe, as does Sepaton Inc. and IBM Diligent. EMC added a Global Deduplication Array in April that dedupes across two nodes.

Whitner said Quantum uses replication to gain similar benefits across two systems. "We can go up to 200 TB per controller," he said. "If there's a second box, we replicate back across the systems."

Huawei Symantec introduces SAN and unified storage

Huawei Symantec Technologies, a joint venture firm between Chinese networking company Huawei and Symantec, launched two storage systems in North America. The Oceanspace S2600 SAN disk enterprise-feature product is targeted at SMBs, and the Oceanspace N8300 Unified Storage product can be used for both the SMB and enterprise-level environments.

Both products already have been tested in other markets such as Europe, Asia, Southeast Asia and South America, said Jane Li, general manager of North America, Huawei Symantec.

Huawei OEMs Symatec's FileStore for its Oceanspace N8300 while using its own hardware for the device that supports clustered NAS, SAN and iSCSI. It has an active-active clustering mode, 48 GB of cache and scales to a capacity of 8 TB. The file system scales up to 256 TB, has dynamic storage tiering and handles various disk types that include SSD, SAS, FC and SATA.

The Oceanspace S2600 SAN disk product handles multi-mode data replication, multi-site disaster recovery and multi-level data protection. It has a 64-bit processor, 4 GB of expandable cache and holds 96 disks. It supports SATA and SAS disks and can handle 256 connections to hosts.
Dig Deeper on Data reduction and deduplication
PRO+
Content
Find more PRO+ content and other member only offers, here.