News
Stay informed about the latest enterprise technology news and product updates.
EMC Data Domain goes after long-term data retention with Archiver product
EMC's Data Domain deduplication platform gets a new member -- an archiving system for long-term data retention to go with its backup appliances, which have also been upgraded with new high-end and global dedupe models.
This Article Covers
RELATED TOPICS
Looking for something else?
TECHNOLOGIES
EMC Corp.'s Data Domain data deduplication backup appliances have led a charge to replace tape with disk as the most popular data backup medium. Now Data Domain is taking aim at tape's role as the most popular data archiving medium with today's release of the Data Domain Archiver long-term data retention system.

Download this free guide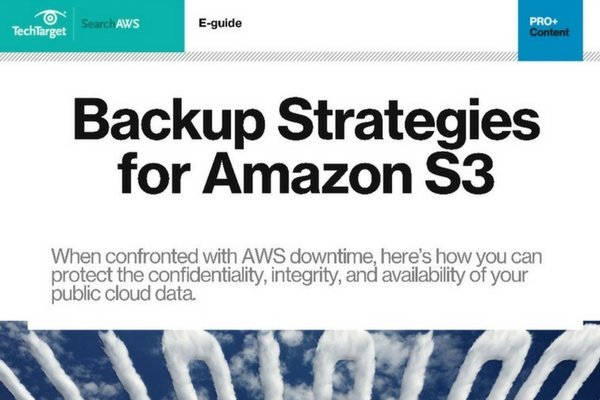 Amazon S3 in the spotlight: Your 34-page backup guide
In this guide curated by the SearchAWS.com editors, you'll evaluate and overcome the DR tradeoffs associated with Amazon S3, with guidance on solidifying an AWS backup plan and securing S3 buckets. Download your copy now.

By submitting your personal information, you agree that TechTarget and its partners may contact you regarding relevant content, products and special offers.

You also agree that your personal information may be transferred and processed in the United States, and that you have read and agree to the Terms of Use and the Privacy Policy.

EMC is also refreshing its top-end deduplication target backup devices with faster processors. Its new systems are the DD890 and DD860 single controller systems, plus a new Global Deduplication Array (GDA) based on two clustered DD890 controllers. Also, EMC said the GDA now supports a virtual tape library (VTL) option and all Data Domain systems natively support IBM Power systems using the IBM i operating environment. EMC first launched the GDA last April based on DD880 controllers and DD Boost software.

The DD Archiver consists of a DD860 controller, up to 570 TB of usable storage that can be allocated among tiers, and policy management software for moving data from active to archive tiers. The system provides logical partitioning of data for fault isolation. DD Archiver also supports DD Replicator and DD Retention Lock software options. The idea is to make it easier for customers to use disk to archive data and restore from instead of tape.

Shane Jackson, VP of marketing for EMC's backup and recovery services division, said disk systems have been more favorable for backup with fast throughput (disk) or for archive because of price (tape) but he expects DD Archiver to change that.

"Tape's had a hideout where customers are using it for long-term data retention for data three to seven years old and beyond," Jackson said. "With deduplication and our system's infrastructure, we're going after that market."

DD Archiver divides data into active and archive tiers. The active tier is for short-term (fewer than 90 days) of backup and archive data. It consists of the DD890 deduplication controller, and can hold four storage shelves for 96 TB of usable capacity. The tier has a maximum throughput of 9.8 TB per hour with DD Boost software and 4.3 TB per hour without DD Boost.

The archive tier is disk only, and can expand to 23 additional storage shelves for 474 TB of usable capacity for long-term data retention. The archive tier can be divided into logical units based on the age of data.

Customers set policies in their backup software to determine when data gets moved from the active to archive tiers, and from one archive unit to the next. When one archive unit is filled, the archive is sealed for fault isolation. Jackson said by "sealed," EMC means no other archive or active unit is required to read the data. But sealing a unit does not prevent users from accessing data on the unit.

If one sealed unit becomes unavailable, the rest of the units remain online. If customers replicate offsite, they can take the archive unit from the disaster recovery site and plug it into the primary archive.

Customers can retain data on the DD Archiver for seven years. Jackson said the Archiver is different than EMC's Centera content-addressed storage (CAS) system, which has more search, indexing and e-discovery features. Jackson said "Centera is designed for "deep archives. Centera is for customers that have the highest levels of regulatory compliance."

The DD Archiver does not spin down drives, however, which gives tape the advantage in power savings. But EMC will try to extend some of disk's advantages over tape in the backup space to archiving.

"They're taking on the last great bastion of tape, which is long-term archiving, and trying to blow it away," Silverton Consulting president Ray Lucchesi said of EMC. "Economically, disk still can't compete with tape but it has advantages in operations and administration. Even with tape automation, it still takes a lot of manual operation to get tape off the library to an Iron Mountain Vault. Data Domain's offsite replication is completely automated without user intervention."

Enterprise Strategy Group analyst David Chapa said tape will retain its archiving stronghold but Data Domain Archiver will be a better fit for some customers who don't want to use specialized archiving applications. With Archiver, they can manage it through "a familiar architecture," he said.

"People are still trying to manage archives with backup applications, and it's daunting," Chapa said. "Archiver is a good bridge solution for customers still trying to do that without having to invest in a major archiving application. Customers will still use tape for a lot of data that needs to be retained for years, but for data they need to have access to and may be on legal hold, they can containerize it with Archiver."

Data Domain revs faster data deduplication engines

The DD890 replaces the DD880 as the high end of the Data Domain platform, and the DD860 replaces the DD690 midrange system. The DD890 supports throughput up to 14.7 TB per hour with DD Boost -- up from 8.8 TB/hour on the DD880. The DD860 can hit 9.8 TB per hour with DD Boost, up from 3.9 TB per hour on the DD690. The DD890 holds up to 285 TB usable capacity and the DD860 holds 142 TB. The upgraded GDA supports up to 26.3 TB per hour throughput and up to 570 TB usable capacity.

The DD Archiver pricing starts at $220,000 for a controller and one storage shelf (24 usable terabytes) in the active tier. List price for the new GDS with two DD 890 controllers is $750,000. The DD890 pricing starts at $300,000; the DD860 starts at $160,000, and support for IBM i and open-systems VTL starts at $6,750.
Dig Deeper on Archiving and backup
PRO+
Content
Find more PRO+ content and other member only offers, here.