News
Stay informed about the latest enterprise technology news and product updates.
Symantec goes after Veeam, Acronis for patent infringement
Symantec charge Veeam Software and Acronis with patent infringement in separate lawsuits; says smaller rivals' software use Symantec's technology.
This Article Covers
RELATED TOPICS
Looking for something else?
Backup software giant Symantec said this week it's suing Veeam Software and Acronis for patent infringement, after the company accused its two smaller rivals of using Symantec technology in their products.

Download this free guide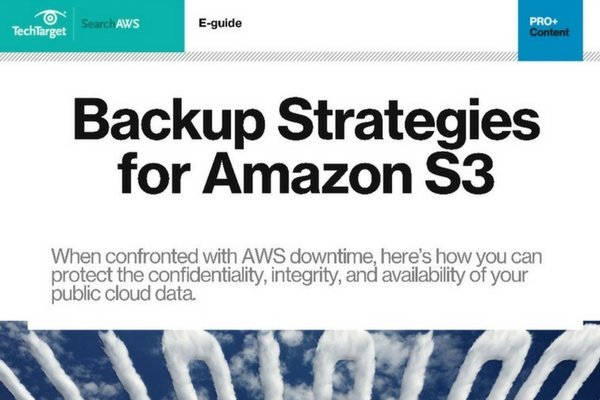 Amazon S3 in the spotlight: Your 34-page backup guide
In this guide curated by the SearchAWS.com editors, you'll evaluate and overcome the DR tradeoffs associated with Amazon S3, with guidance on solidifying an AWS backup plan and securing S3 buckets. Download your copy now.
By submitting your personal information, you agree that TechTarget and its partners may contact you regarding relevant content, products and special offers.
You also agree that your personal information may be transferred and processed in the United States, and that you have read and agree to the Terms of Use and the Privacy Policy.
Symantec's products -- mainly NetBackup and Backup Exec -- cover the entire range of data protection. Veeam addresses virtual machine backup while Acronis specializes in image-based backup and restore. Symantec claims Veeam's Backup & Replication and Acronis Backup & Recovery applications use technology based on Symantec patents without permission.
Symantec's complaints claim its innovations are involved with functions necessary for "state of the art" backup and recovery. These innovations include backing up and imaging virtual machines, restoring imaged data on the same and different computer systems, and use of an effective user interface to manage backups.
Veeam and Acronis released prepared statements responding to the lawsuits but would not answer questions.
"We are aware of the complaint, and plan to defend it vigorously," Acronis' statement said. "This type of litigation happens all of the time between competitors in the software business and has no effect today on our existing customers or our ability to sell software to new customers."
Veeam's statement read: "We do not believe the case has merit, we are looking into the claims carefully, and we will issue an official comment when this analysis is completed."
Symantec accused both companies of doing "irreparable harm" in its lawsuits. It is looking for monetary damages and -- rather than receive royalties for its patents -- Symantec is asking the courts to stop Veeam and Acronis from using the technology in their products.
Veeam lawsuit
Veaam has made a successful business of selling backup software for virtual machines since 2008, but Symantec portrayed itself as a pioneer of virtual server backup in its court filing. Symantec accused Veeam of causing price erosion and diminished profits for Symantec by selling products that incorporate Symantec's technology without paying to develop or license it.
"One area in which Symantec has lead [sic] innovation is the provision of data protection for virtual server environments," Symantec said in its complaint against Veeam. "Symantec has developed and incorporated tools into NetBackup, Backup Exec and its other storage products that allow native backup, restoration, and management of virtual machines on VMware's vSphere and Microsoft's Hyper-V. These tools allow enterprises to use a single, integrated platform for backing up physical and virtual machines."
Symantec claims it became the first vendor to offer granular file recovery for virtual machines when it added the feature to NetBackup 6.5 in 2007. It also said Backup Exec was the first backup application released by a "major market provider" to include virtual machine backup, storage, and replication for Hyper-V and it introduced granular file recovery for Hyper-V with Backup Exec 12.5 in Sept. 2008.
Symantec also claims its unique features for virtual machine backup today includes single-pass backup, agentless backup of virtual machines, full and granular file level recovery and "system-wide, version-wide deduplication."
Symantec claims Veeam infringed on its patents for "Disaster Recovery and Backup Using Virtual Machines," "Computer Resotration Systems and Methods," "Method and System of Providing Replication," and "Selective File and Folder Snapshot Creation."
Acronis complaint
Symantec accused backup and DR vendor Acronis of infringing on patents involving restoring data to a different type hardware than the original machine, the ability to back up a virtual machine to a different storage device, the ability to create a backup image on the same partition that is being backed up, creating catalogues of backed up data, and a GUI that shows on one screen both backed up data and the computer on which data would be restored.
The patents Symantec alleges Acronis infringed are "Retargeting a Captured Image to New Hardware While in a Pre-Boot Environment," "Disaster Recovery and Backing Up Virtual Machines," "Storing a Computer Disk Image Within an Imaged Partition," "Synthesized Backup Set Catalog," and "Graphical User Interface for Mapping Computer Resources."
Dig Deeper on Backup for virtual servers
PRO+
Content
Find more PRO+ content and other member only offers, here.