News
Stay informed about the latest enterprise technology news and product updates.
Exabyte tries to get back on track
This Article Covers
RELATED TOPICS
Looking for something else?
The return to profitability may prove to be a bumpy road for Exabyte.
Amidst rumors of acquisition and financial troubles, Exabyte Corp., which engineers and markets 8mm and MammothTape technology tape drives as well as storage media and libraries for, DLTtape and LTO Ultrium tape, reported revenue for the first quarter of 2001 of approximately $49 million and a net loss of $17,550,000 or $0.77 per share compared to a net loss of $13,580,000 or $0.60 per share for the first quarter of 2000.

Download this free guide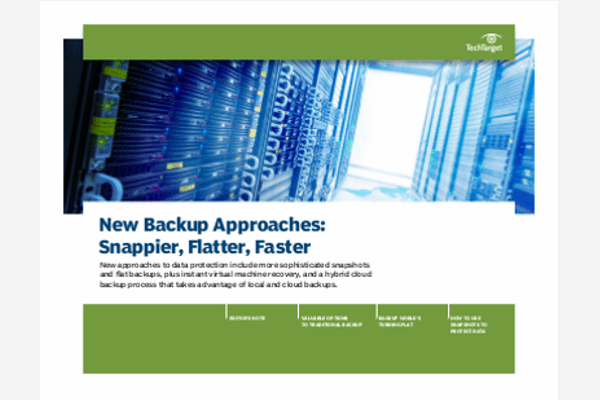 Drill down into today's new backup approaches
Due to the features of most modern backup software – which include snapshot management, DR elements, cloud support, VM protection – backups can do so much more than simply restoring data in the event of a storage or server failure. Download this guide and not only discover the latest upgrades to today's top enterprise backup vendors, but also learn where backup software works best in your computing environment.
By submitting your personal information, you agree that TechTarget and its partners may contact you regarding relevant content, products and special offers.
You also agree that your personal information may be transferred and processed in the United States, and that you have read and agree to the Terms of Use and the Privacy Policy.
Bill Marriner, Exabyte's chairman, president and chief executive officer said that Exabyte has done a lot of work remodeling its business in a very uncertain period. "The recipe to return this company to profitability says that it will take 15% higher earnings per quarter (roughly $57 million in sales) to reach the break-even level." A number that Marriner says is not out of range. "We're not looking at revenue levels that are even at the levels we've achieved in recent history," he said, adding that at this time last year the company posted revenues of more than $60 million.
The restructuring of Exabyte has resulted in a consolidation of its facilities and a wave of personnel cuts.
Last month Exabyte laid off 200 workers at its Boulder headquarters and said it plans to cut 50 more jobs in the near future. Marriner said the company expects to save $20 million annually in personnel related costs like salaries, benefits and consolidation of its operations.
Exabyte is pursuing other cost-cutting tactics like relocating its production. "There are further plans for cost reduction and the transfer of production offshore later this year." Exabyte is already farming out some of its work to Singapore and expects to move all production, save the high-end libraries, offshore as well. "With the transfer of production we will further reduce headcount and have more building consolidation."
Marriner confirmed rumors of a possible acquisition of Exabyte, but gave no details of except to say that Exabyte's discussions about a possible merger and acquisition are at "a very serious state." Though Marriner did add that no offers are on the table at this time.
In the meantime Exabyte plans on delivering a new library product each month over the next six months stating that Advanced Intelligent Tape (AIT), SuperDLTtape (SDLT) and Linear Tape Open (LTO) are all on deck to enter the Exabyte library family. Marriner said it's just a matter of integrating the technology into Exabyte's existing libraries. "It's a relatively easy integration effort with very little risk involved," he said.
The company experienced a sales slowdown for many reasons according to Marriner. Exabyte's distributors reduced inventories during the quarter and the company has not been able to meet demand for its M2 media due to problems with its suppliers and their production of media. "With media now available in quantity at all of our major distributors, we believe sales of M2 drives and libraries will begin to improve," said Marriner.
The M2 drives have been experiencing trouble on the technical side as well. The M2 drive uses a thin, fragile media, one that hasn't been faring well against the operation of the drive. "We've found a particular issue with the design of the tape path that causes the drive to handle the media roughly," said Marriner. "Extended usage can damage the media." Exabyte said that it has discovered the root of the problem and have implemented a rework of the tape deck on all of it s products going out the door.
Earlier this month company reported that its annual report on Form 10-K for the fiscal year ended December 2000 would be filed late because the Securities and Exchange Commission had questions about the timing of the company's write-off of deferred tax assets. Exabyte said the it was permitted an extension for filing the 10-K in order to review and respond to the SEC's comments.
Exabyte recently closed a $3 million preferred equity financing deal with the State of Wisconsin Investment Board, a long-time investor in the company. "We believe the return to profitability is financeable within our current means and without further infusions of capital," asserted Marriner. In recent weeks the company has also converted its ownership in HighGround Systems to common stock of Sun Microsystems, and increased its bank line of credit by $5 million.
Exabyte's s drive sales were $14.6 million; libraries were $10.1 million; while media accounted for $19.2 million; and services, $3.3 million.
Let us know what you think about the story, e-mail
Kevin Komiega, assistant news editor
For more information:
Exabyte announces first quarter results
Exabyte Corp. cuts 200 jobs in Boulder
Exabyte spins off storage service provider
searchStorage Best Web Links: Tape Drives
Dig Deeper on Tape backup and tape libraries
PRO+
Content
Find more PRO+ content and other member only offers, here.