CNT crafts new architecture to aid long-distance tape backup
CNT has designed a better way to do long-distance backup over IP networks, it says. The company says it can eliminate the performance problems of remote tape backup through its UltraNet Edge Storage Router product.
This Article Covers
RELATED TOPICS
Looking for something else?
Computer Network Technology Corp. has a new pipeline into the world of long-distance backup and recovery.
Using its UltraNet Edge Storage Router as a foundation, CNT, Minneapolis, Minn., has developed a remote tape backup and recovery architecture for open-systems environments which, CNT said, can operate over thousands of miles using IP networks.

Download this free guide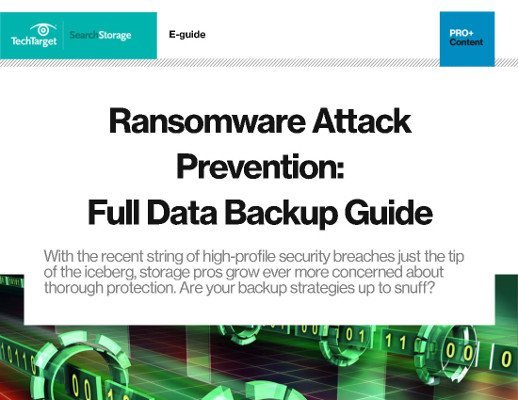 SearchStorage writers evaluate backup's role in ransomware detection
WannaCry, NotPetya, the list of dangerous ransomware viruses goes on and on, well beyond the most highly-publicized attacks. Use this guide to learn about the extent of the threat posed by ransomware, and bolster protection of your data, apps, and systems by using the backup strategies detailed within.
By submitting your personal information, you agree that TechTarget and its partners may contact you regarding relevant content, products and special offers.
You also agree that your personal information may be transferred and processed in the United States, and that you have read and agree to the Terms of Use and the Privacy Policy.
The process, dubbed "tape pipelining," operates through the router and makes the remote tape backup system appear local to the server, enabling remote backup to occur at unlimited distances with little or no performance degradation. CNT said it has only successfully tested tape pipelining at distances under 2000 miles.
"The caching effect over long-haul IP [networks] lets CNT stream regardless of distance, in theory," said Steve Duplessie, senior analyst and founder of the Enterprise Storage Group Inc., Milford, Mass.
That means that remote tape backup can be used simultaneously with remote disk mirroring over the same IP network.
CNT says that its technology can free up network bandwidth and improve efficiency by performing synchronous disk mirroring by day and asynchronous tape backup by night when the bandwidth is underutilized.
Patty Barkley, CNT's storage networking market manager, said that the common practice of performing backups locally and trucking tapes to a remote storage facility is a laborious process.
"With the sequential nature of tape I/O, if you add any distance between the server and the tape, you lose performance," she said. "Tape pipelining allows backup over long distances with no drop-off."
CNT said that all models of its UltraNet Edge Storage Router will come standard with tape pipelining and disk mirroring capability. The tape pipelining capability will be available in the fourth quarter of 2002.
Let us know what you think about the story; e-mail
Kevin Komiega, News Writer
FOR MORE INFORMATION:
CNT buys UK storage management house
CNT looks to link storage nets over IP
SearchStorage.com's Best Web Links category on tape
Comment on this article in the SearchStorage.com Discussion forums
Dig Deeper on Remote data protection
PRO+
Content
Find more PRO+ content and other member only offers, here.