News
Stay informed about the latest enterprise technology news and product updates.
Veritas adds instant recovery, Exchange support to NetBackup
In its second software release in as many months, Veritas has made upgrades to its popular NetBackup software.
This Article Covers
RELATED TOPICS
Looking for something else?
Veritas Software Corp. may be gearing up for its bid for the systems management market, but with its second storage software upgrade in as many months, it appears the company hasn't lost sight of its bread and butter -- backup and recovery.

Download this free guide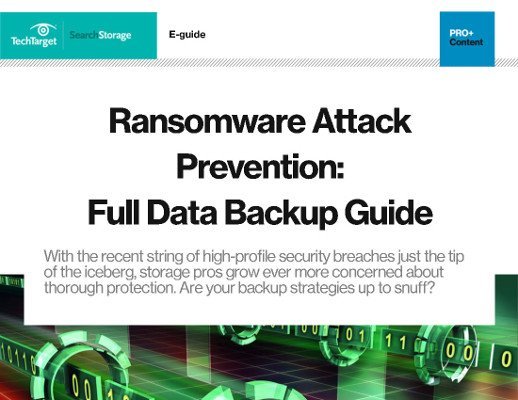 SearchStorage experts combat ransomware in this comprehensive backup guide
Download our editors' ransomware guide, in which you'll discover the full value of mature DRaaS, blockchain technology, and copy data management techniques in detecting and fighting the scourge of ransomware. Additionally, we review backup tools from Acronis and Unitrends used for ransomware protection.
By submitting your personal information, you agree that TechTarget and its partners may contact you regarding relevant content, products and special offers.
You also agree that your personal information may be transferred and processed in the United States, and that you have read and agree to the Terms of Use and the Privacy Policy.
The Mountain View, Calif., company on Tuesday announced enhancements to its Veritas NetBackup data protection software. The upgrades are aimed at streamlining backup and recovery performance.
New features of the Veritas NetBackup 4.5 Feature Pack include an instant recovery option that allows data recovery directly from disk, better support for backup and recovery at the mailbox level of Microsoft Exchange environments and Integrated Disaster Recovery, which is a tape management and reporting capability that manages the transport of backup tapes to an off-site location.
Last month, Veritas debuted the latest version of its top backup application, Backup Exec 9.0 for Windows Servers. Backup Exec 9.0 was designed to back up Microsoft Exchange e-mail servers and has been integrated into Microsoft's upcoming Windows Server 2003 operating system.
Steve Kenniston, a technology analyst with Enterprise Storage Group Inc., Milford, Mass., said that using NetBackup 4.5 Feature Pack to reduce or eliminate data center downtime can benefit businesses.
Kenniston said Veritas customers who have been NetBackup users for quite some time and who do run Exchange liked the features they saw in Veritas' Backup Exec software -- and those customers wanted the features in NetBackup.
"This move helps to make the backup story from Veritas consistent from the high end to the low end," he said.
In a surprise move last December, Veritas made its intentions for extending its software reach in the data center known by acquiring Precise Software Solutions Ltd. and Jareva Technologies Inc., a pair of purchases that gave the company control of servers, applications and storage.
The Precise acquisition, a $537 million transaction, brings Veritas' storage management software up to the application level by enabling monitoring and analysis of an application infrastructure. Web servers, application servers, databases and storage now fall under Veritas' management expertise. Precise is based in Westwood, Mass.
Jareva Technologies' focus is on automated server provisioning. The Sunnyvale, Calif., company's software, which cost Veritas $62 million, automatically provisions requests for a replacement from a server pool in the event of a failure. Jareva brings new servers online, puts in place the correct environment and then passes it to Veritas to fail over the application.
Competitors like Computer Associates International Inc. said Veritas is overstepping its bounds by trying to move from managing just storage to tackling the entire data center, but Mark Bregman, executive vice president of product operations for Veritas, said the company has moved beyond the storage part of data management to server and application availability.
"We've filled in a couple of squares on the chess board with these acquisitions," Bregman said. "This extends our storage performance [capabilities] up into server applications."
Bregman said that Jareva lets Veritas fill in the server application automation stack, including server provisioning, while Precise adds performance management capabilities.
Veritas said it will take time to integrate the product lines of the acquired companies. Bregman estimates the deals will close in the middle of 2003. Products will soon follow.
Veritas NetBackup 4.5 is available now for $5,000 for Windows and Linux platforms and $10,000 for Unix platforms.
FOR MORE INFORMATION:
Veritas unveils new version of Backup Exec for Windows
Veritas buys two firms, takes on app management
Veritas buys startup's reporting software, bolsters SANPoint Control
Let us know what you think of this story. E-mail Kevin Komiega, News Writer
Dig Deeper on Data storage backup tools
PRO+
Content
Find more PRO+ content and other member only offers, here.