News
Stay informed about the latest enterprise technology news and product updates.
The ultimate backup equation
SearchStorage.com caught up with experts W. Curtis Preston and Brendan Reilly for their take on disk-to-disk-to-tape technology. Is disk-to-disk-to-tape technology the ultimate backup solution? Find out who is most likely to employ D2D2T and if it can save you money in the long run.
This Article Covers
RELATED TOPICS
Looking for something else?
TECHNOLOGIES

Download this free guide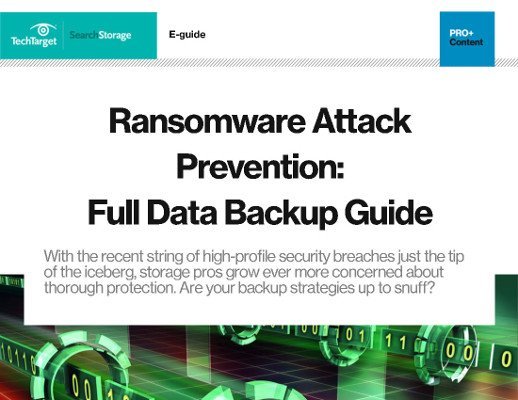 SearchStorage experts combat ransomware in this comprehensive backup guide
Download our editors' ransomware guide, in which you'll discover the full value of mature DRaaS, blockchain technology, and copy data management techniques in detecting and fighting the scourge of ransomware. Additionally, we review backup tools from Acronis and Unitrends used for ransomware protection.

By submitting your personal information, you agree that TechTarget and its partners may contact you regarding relevant content, products and special offers.

You also agree that your personal information may be transferred and processed in the United States, and that you have read and agree to the Terms of Use and the Privacy Policy.

SearchStorage.com caught up with backup experts W. Curtis Preston and Brendan Reilly for their take on disk-to-disk-to-tape technology. Find out who is most likely to employ D2D2T and why, will it be a viable backup solution and what vendors they see moving into the market. SearchStorage.com: Are we going to see a lot of people jumping on the disk-to-disk-to-tape bandwagon this year? W. Curtis Preston: You betcha. Brendan Reilly: Because of its performance benefits, backing up to disk prior to tape has continued to gain momentum year after year. Now with the advent of lower cost ATA-based RAID solutions, organizations can improve backup and recovery performance much more cost effectively. This results in a lot more people jumping this year on the disk-to-disk-to-tape bandwagon. SearchStorage.com: If organizations pick up on D2D2T, will it be because of lower costs, faster backups or a combination of both? Or, is it just another layer of data protection? W. Curtis Preston: It can bring both but not always. It only reduces cost if we're talking an initial purchase. It's usually for faster and more reliable backups. This is especially true of incremental backups which are very hard to tune. Brendan Reilly: Organizations will pick up on D2D2T because of both lower cost and faster backups and will, as a result, achieve improved availability. SearchStorage.com: Where would this type of backup solution likely play out, enterprise-level organizations or smaller shops? Why? W. Curtis Preston: In my not so humble opinion, smaller shops should (and can now) go to all-disk systems now. Companies like Mirra and Avail Solutions offer completely disk-based systems. They both offer the ability to mirror your backups offsite without ever touching a tape. Enterprise companies can benefit from disk as well but should stay with tape at the back end. The reason for my disk-only recommendations in SMBs is that I've found that they never swap their tapes anyway. A disk system needs no maintenance like that. Brendan Reilly: A D2D2T strategy will play out in any size organization that has a lot of data, has a small or non-existing backup window or has a requirement for quick recoverability. SearchStorage.com: Certance (LLC) came out with its Certance CP 3100 product line. What can we see from other vendors now or in the near future? W. Curtis Preston: The Certance product is a virtual autoloader aimed at the SMB market. It is similar to the virtual tape libraries (VTLs) from Alacritus, FalconStor and ADIC. Where they emulate huge tape libraries, this product emulates a DDS-4 tape drive or autoloader. They also, like some of the VTLs, automate the moving of data from disk to tape once the backup is done. The price is a lot cheaper than those larger solutions, as you might imagine. (They start at $1,500.) Yes, just as the number of VTL products has tripled in the last year, I would expect the same to happen to the virtual autoloader products. Nature abhors a vacuum I've been told. Brendan Reilly: The Certance CP3100 does a great job at meeting SMB (small-medium business) requirements. For larger enterprises, ADIC introduced its Pathlight VX integrated disk-to-tape backup solution. The Pathlight VX is capable of scaling to 40TBs of storage and is capable of backing up at speeds in excess of 1TB/hr. According to Quantum, its DX100 is capable of scaling to support backup speeds in exceed of 2TB/hr. The future will see improved performance and functionality but most dramatically, lower cost. SearchStorage.com: Do you think D2D2T will be a viable remote backup solution? W. Curtis Preston: I think that D2D2T is the ultimate backup solution. That is, backup to disk locally, replicate the backup to offsite disk, then backup to tape there. You never have to touch the tapes as they're offsite already. In order for this to work though, you have to have something that changes the way backups are done. You can't do it with traditional backup software because there wouldn't be enough bandwidth to replicate full and incremental backups. You've got to have something that works like Avamar where they store only new, unique blocks of data across the enterprise. Another way to do it would be to change your storage infrastructure and store data on an appliance that can replicate the data for you such as moving to NetApp and SnapMirror or EMC and SRDF. Or, dozens of other products like them from other vendors. Brendan Reilly: Yes. SearchStorage.com: Got any tips on how an organization can decide if D2D2T is the best solutions for its backup needs? W. Curtis Preston: Honestly? Don't just go buy it and then start using it. Hire an outside consultant -- one that's not connected to the vendors trying to sell you the D2D2T solution -- to see if you can benefit from D2D2T. If they're good, they can save you more than they cost you. In fact, we often guarantee that in writing. A recent client of ours was about to spend over $1,000,000 on hardware, including a D2D2T solution. We ended up telling them they didn't need it. A relatively simple reconfiguration of their backup software and hardware increased their throughput by 300% and their capacity by 1000%. Let's just say that it's going to cost them a lot less than $1,000,000. The only two fully independent storage consulting companies I know of is The Storage Group and Glasshouse Technologies. Brendan Reilly: If your current backups no longer fit within your backup window or if you're constantly having to go back to tape to restore user or application data, then D2D2T is a great solution for improving your organization's backup and recovery capabilities.
Dig Deeper on Data storage backup tools
PRO+
Content
Find more PRO+ content and other member only offers, here.