News
Stay informed about the latest enterprise technology news and product updates.
SD 2004 preview: Why you'll soon use disk for backup
A lot has been made recently of disk's emergence as a viable option for backup and recovery. While many of the virtual tape systems, disk libraries and software based disk-to-disk technologies are in their infancy, they're drawing a hard look from many users and analysts in the industry.
The fact is this: using tape for backup in today's business world poses problems. According to Arun Taneja, founder and consulting analyst with the Taneja Group, if you aren't considering disk as a primary backup option today you will be within the next 18 months.
In this interview, Taneja explains who should be evaluating the technologies and why. And he offers a preview of his upcoming presentation on next-generation backup at the Storage Decisions conference later this month.
This Article Covers
RELATED TOPICS
Looking for something else?
SearchStorage.com: What can users expect from your upcoming presentation at the Storage Decisions conference?
It's going to be about laying the groundwork in terms of the different disk-to-disk backup solutions that are becoming available in the market so we'll have a snapshot of what is possible. I'm going to dig in to how to make a buying decision and which technology to pick and provide users with the questions they need to be asking and what the decision making criteria should be.

Download this free guide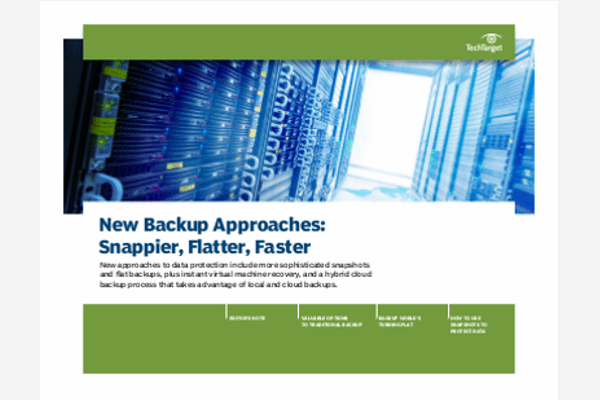 Drill down into today's new backup approaches
Due to the features of most modern backup software – which include snapshot management, DR elements, cloud support, VM protection – backups can do so much more than simply restoring data in the event of a storage or server failure. Download this guide and not only discover the latest upgrades to today's top enterprise backup vendors, but also learn where backup software works best in your computing environment.

By submitting your personal information, you agree that TechTarget and its partners may contact you regarding relevant content, products and special offers.

You also agree that your personal information may be transferred and processed in the United States, and that you have read and agree to the Terms of Use and the Privacy Policy.

RELATED ARTICLES:

SD 2004 preview: Plugging the holes in Tivoli Storage Manager

Virtual tape offers first step toward disk-based backup

Airline cuts sky high costs with virtual tape

SearchStorage.com: What's the difference between using a virtual tape library, something like EMC's Clariion Disk Library or embedded disk backup support in software packages like NetBackup or NetWorker?
Even though the term Virtual Tape Library has been accepted in the industry to mean tape emulation, EMC decided to call its product a disk library. The primary reason was they felt the term Virtual Tape Library was synonymous with caching technology that we've seen in relation to mainframe disk, which is much different than what EMC's Clariion DL does. At a conceptual level EMC's Disk Library and Virtual tape Libraries are like Quantum's DX100 or ADIC's Pathlight VX. Both behave like tape libraries. If users want to improve speeds without disrupting the existing backup environment a Virtual Tape Library is the easiest stepping stone. There's no pain involved relative to other solutions like software with disk [backup] support where the software is taking full advantage of the random access nature of disk whereas in virtual tape mode you miss out on the maximum speeds of disk-based backup and recovery. With software support there's more disruption in the environment with procedure and policy changes, but I find them incidental since you can stay with the same software vendor and all of a sudden you get disk support. SearchStorage.com: Many users are hesitant to adopt disk-to-disk as a primary method of backup. The technology is relatively new. Is it ready for prime time?
Because so many of the products are new I think the end user has to be concerned about how robust a solution is. You must not rely on vendors saying that it's 'ready for prime time.' We're seeing a mixture of established companies adding disk support and smaller vendors like Avamar Technologies adding novel solutions. The small vendors seem to understand that they're messing with user data and must really bake [their products] before coming to market. They know one black eye in this industry and you're out of business. Users reluctant to deploy these solutions in production environments would be wise to wait for it to be available from an established player. For example, Hewlett Packard is reselling Avamar. Users know that they can fall back on HP's support infrastructure to get them out of a jam. But even if a smaller company does not have that level of support available to you I still suggest looking at that solution. Bring it in and beat it up because you're going to live with your selection for the next few years. SearchStorage.com: What type of end user should consider implementing a disk-based backup solution and when should they start the planning process?
I don't think there's a single enterprise of any size that's not ready for disk-to-disk backup. If they don't [move to it] they're going to have a calamity on their hands. I believe between 85 and 100% of all companies will implement disk-to-disk backup within the next 18 months. Practically every enterprise is in a situation today where, from a backup and recovery perspective, they have been in a primitive land. Fundamental backup and recovery methodologies have not changed in the last 15 years. Increasingly, users have gotten further and further behind because incoming data rates are higher than ever, the pressure to maintain a 24x7 environment and the urgency with which people want data back is increasing.
Dig Deeper on Disk-based backup
PRO+
Content
Find more PRO+ content and other member only offers, here.