Backup School Quiz 1, Answer # 4
Here is the answer to Backup School quiz 1, question # 4.
This Article Covers
RELATED TOPICS
Looking for something else?
Question #4
All of these are examples of media you can use to back up data EXCEPT:
a. Tape
b. Disk
c. CD
d. Files
Were you correct? The correct answer is:
d. Files
Learn more:
Optical media - such as the compact disk (CD) - are storage media that hold content in digital form and that are written and read by a laser; these media include all the various CD and DVD variations, as well as optical jukeboxes and autochangers. Optical media have a number of advantages over magnetic media such as the floppy disk. Optical disk capacity ranges up to 6 gigabytes; that's 6 billion bytes compared to the 1.44 megabytes (MB) - 1,440,000 bytes - of the floppy. One optical disk holds about the equivalent of 500 floppies worth of data. Durability is another feature of optical media; they last up to seven times as long as traditional storage media.

Download this free guide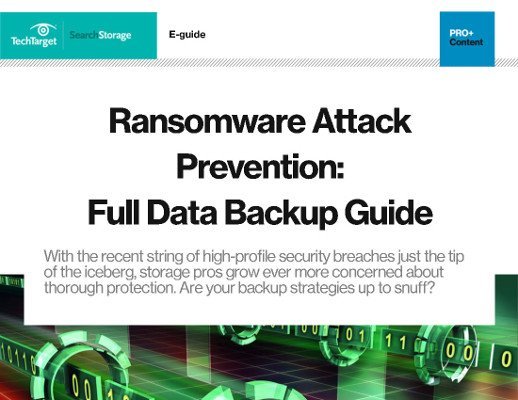 SearchStorage experts combat ransomware in this comprehensive backup guide
Download our editors' ransomware guide, in which you'll discover the full value of mature DRaaS, blockchain technology, and copy data management techniques in detecting and fighting the scourge of ransomware. Additionally, we review backup tools from Acronis and Unitrends used for ransomware protection.
By submitting your personal information, you agree that TechTarget and its partners may contact you regarding relevant content, products and special offers.
You also agree that your personal information may be transferred and processed in the United States, and that you have read and agree to the Terms of Use and the Privacy Policy.
The Optical Storage Technology Association (OSTA) is an international trade organization dedicated to the promotion of standardized writable optical technologies and related products. Incorporated in 1992, OSTA is made up of members and associates from the leading optical media manufacturers and resellers of North America, Europe, and Asia. OSTA members include Adaptec, Hewlett-Packard, Philips, and Sony.
Related articles:

Dig Deeper on Data storage backup tools
PRO+
Content
Find more PRO+ content and other member only offers, here.