Tape backup quiz
Think you know tape? Take our quick quiz and see how you measure up on our tape backup geek-o-meter. How many can you guess without peeking? And when you're done, share your score with us.
This Article Covers
RELATED TOPICS
Looking for something else?

Download this free guide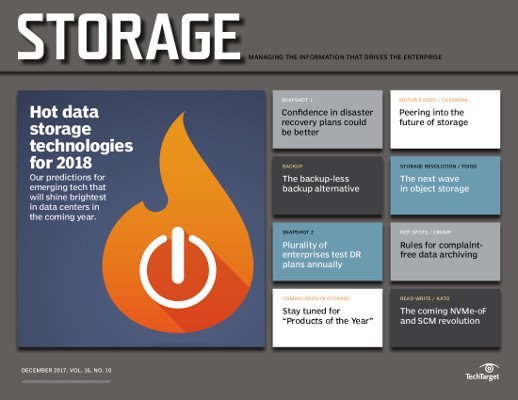 Snapshot of top 2018 backup tech: CDM, complaint-free archiving, ransomware detection vendors
The SearchStorage.com team names the most promising ransomware detection products, 4 rules for complaint-free archiving, how to use copy data management for effective recovery, and more. Download your e-zine copy here.

By submitting your personal information, you agree that TechTarget and its partners may contact you regarding relevant content, products and special offers.

You also agree that your personal information may be transferred and processed in the United States, and that you have read and agree to the Terms of Use and the Privacy Policy.

Quiz 3 -- Tape – Sept. 2004
Think you know storage? Take our quick quiz and see how you measure up on our tape geek-o-meter. How many can you guess without peeking? And when you're done, how about sharing your score with us.
1. This is an open standard for a backup tape system, providing formats for both fast data access and high-storage capacity.
What is it? 2. This is a form of magnetic tape and drive system used for computer data storage and archiving. A special compression algorithm facilitates storage and retrieval of data at high speeds and in large quantities.
What is it? 3. This is a magnetic tape and drive system used for computer data storage and archiving. The tapes measure eight millimeters (8 mm) across. A helical scanning technique, similar to that used in Mammoth drives, optimizes the data transfer rate and the storage capacity.
What is it? 4. This is a device that stores computer data on magnetic tape, especially for backup and archiving purposes. Like an ordinary tape recorder, it records data on a loop of flexible celluloid-like material that can be read and also erased.
What is it? 5. In data storage, this is a collection of magnetic tape cartridges and tape drives. This hardware device contains multiple tape drives for reading and writing data, access ports for entering and removing tapes and a robotic device for mounting and dismounting the tape cartridges without human intervention.
What is it? 6. This is a tape storage device that automatically loads tape cartridges using a robotic mechanism. It can load cartridges sequentially or in some specified order.
What is it? 7. This is the use of a special storage device that manages less-frequently needed data so that it appears to be stored entirely on tape cartridges when some parts of it may actually be located in faster, hard disk storage.
What is it? 8. In computers, this makes a group of files in a file system structure accessible to a user or user group. In some usages, it means to make a device physically accessible. For instance, in data storage, this will place a data medium (such as a tape cartridge) on a drive in a position to operate.
What is it? 9. In computers, this is the ability to periodically copy the contents of all or a designated amount of data from its usual storage device to a tape cartridge device so that, in the event of a hard disk crash or comparable failure, the data will not be lost.
What is it? 10. This is a collection of computer files that have been packaged together for backup, to transport to some other location, for saving away from the computer so that more hard disk storage can be made available, or for some other purpose.
What is it? How many did you get right without peeking? Do you have a topic suggestion for a future quiz? Take the time to write and let us know.
Dig Deeper on Tape backup and tape libraries
PRO+
Content
Find more PRO+ content and other member only offers, here.