Evaluate
Weigh the pros and cons of technologies, products and projects you are considering.
Choosing Linux backup software
There are a number of Linux backup software products to choose from, but the decision should be based on the user''s experience level and specific business backup needs.
This Article Covers
RELATED TOPICS
Looking for something else?
When it comes to backup, Linux storage administrators probably have a wider range of choices than on any other OS. While other OSs, such as Windows, may have more actual backup software products, Linux backup software has a broader range of approaches, not to mention prices.

Download this free guide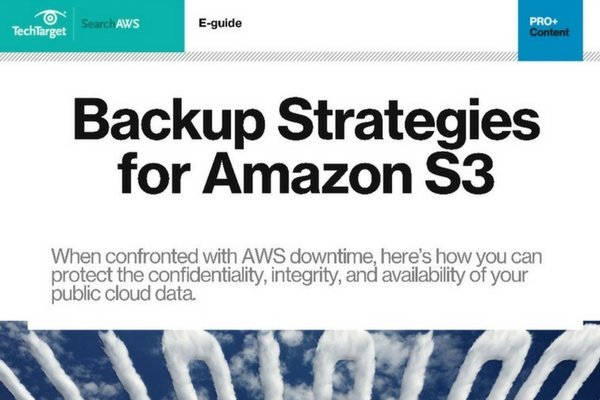 Amazon S3 in the spotlight: Your 34-page backup guide
In this guide curated by the SearchAWS.com editors, you'll evaluate and overcome the DR tradeoffs associated with Amazon S3, with guidance on solidifying an AWS backup plan and securing S3 buckets. Download your copy now.

By submitting your personal information, you agree that TechTarget and its partners may contact you regarding relevant content, products and special offers.

You also agree that your personal information may be transferred and processed in the United States, and that you have read and agree to the Terms of Use and the Privacy Policy.

The good news is that this makes it easier to find a backup approach that matches your needs. The bad news is that you will need to put a lot of thought into selecting a Linux backup package.

One thing that requires careful and honest evaluation is your organization's level of technical sophistication with Linux or Unix-type products, which tend to be designed assuming that the user is a technically knowledgeable and experienced administrator with a background in Unix. For example, Bacula, which offers a set of computer programs that permits users to manage backup, recovery and verification of computer data across a network of computers of different kinds, warns potential users that the product is not for administrators without experience in Unix or sophisiticated backup software on the home page of their Web site.

That caveat applies to a number of Linux backup products. Linux comes with its own backup utilities, such as tar, which are based on the Unix processes. These can be quite powerful, especially if you're used to writing shell scripts. By using scripts, you can tune your backups with a high degree of granularity. This is probably the most common approach for performing Linux backups, and many of the more sophisticated products are built around these utilities.

This is fine if you're comfortable with this approach. If not, there are many other choices, and a number of them are as easy to use as anything in the Windows world.

Also, when dealing with Linux backup packages, you must be sure to use them for what they are actually designed to do. A number of the open-source backup products were written for a specific user and are quite specific in what they do. One example is AMANDA, the Advanced Maryland Automatic Network Disk Archiver. AMANDA backs up workstations or desktop systems to a single centralized server over a LAN. If you happen to have similar requirements to the original developers, these products can be extremely useful.

There are also a number of commercial products that have come out of the Linux and Unix worlds as well. Storix is one such product that specializes in handling Linux and AIX.

Most of the major vendors, such as Veritas Software, Legato and EVault, offer versions of their products for Linux. This is especially useful for heterogeneous environments, such as Linux/Windows, because it allows users to manage all of their enterprise's backups with a single product. (However, it's important to note that some of the Linux products, such as Bacula, also back up Windows systems.)

The cost of Linux backup products is all over the map as well. Many of the available products are open source, and others are versions of commercial programs available for other OSs.

As with most open-source products, initial cost shouldn't be the determining factor. You also need to consider the cost of supporting and adapting the product to your environment. Tar, which includes a bunch of do-it-yourself supporting scripts, has zero initial cost, but it quickly gets expensive when you consider the skilled labor necessary to write and maintain those scripts.

Lastly, consider your specific business needs. If you are backing up a single server, there are many Linux products that can do the job. But, if you are backing up a complex SAN/WAN setup, your choices are going to be much more limited.

About the author: Rick Cook has been writing about mass storage since the days when the term meant an 80 K floppy disk. The computers he learned on used ferrite cores and magnetic drums. For the last 20 years, he has been a freelance writer specializing in storage and other computer issues.

Dig Deeper on Backup and recovery software
PRO+
Content
Find more PRO+ content and other member only offers, here.