Manage
Learn to apply best practices and optimize your operations.
Managing Exchange backups: Tape vs. CDP
Depending on your environment, traditional tape backup products may not be sufficient to achieve your overall messaging service objectives.
This Article Covers
RELATED TOPICS
Looking for something else?
TECHNOLOGIES
What you will learn from this tip: The limitations of tape backup for Exchange 2000 and 2003, and future trends for Exchange data management.
---
Traditional tape backup methods provide full Exchange database protection. However, they are restricted by large databases and offer limited mailbox recovery using CPU-intensive MAPI (Messaging Application Program Interface) operations. Depending on your environment, traditional tape backup products may not be sufficient to achieve your overall messaging service objectives.

Scalability challenges:

The advent of Exchange 2000 and Exchange 2003 has brought a scalability challenge for tape backup methods. Online Exchange tape backup is performed using the Exchange Extensible Storage Engine (ESE) Backup API. For Exchange 5.5, there was one Exchange database per server, so a full backup by default protected the entire 5.5 Server. Exchange 2000 and 2003 introduced a concept called a storage group. An Exchange 2000/2003 Server can have up to four storage groups and each storage group can contain up to five databases. A full backup for Exchange 2000/2003 is performed at the storage group level and includes all the databases contained within that storage group.

Download this free guide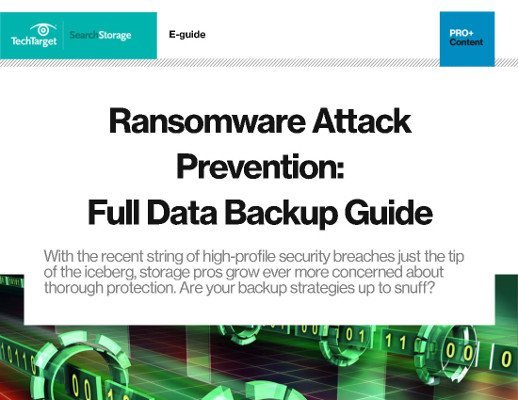 SearchStorage writers evaluate backup's role in ransomware detection
WannaCry, NotPetya, the list of dangerous ransomware viruses goes on and on, well beyond the most highly-publicized attacks. Use this guide to learn about the extent of the threat posed by ransomware, and bolster protection of your data, apps, and systems by using the backup strategies detailed within.
By submitting your personal information, you agree that TechTarget and its partners may contact you regarding relevant content, products and special offers.
You also agree that your personal information may be transferred and processed in the United States, and that you have read and agree to the Terms of Use and the Privacy Policy.
Recovery time:
Tape backup allows for a full recovery of the Exchange database in the event of a hardware failure or corrupt database. The recovery time is dependent on the amount of data contained in the Exchange database. As a general rule of thumb, the recovery time is two to three times the amount of time it takes to perform the backup. For a typical 40 GB Exchange database, the backup time is 1-2 hours and the recovery time is 2-6 hours, depending on the number of log files. For most organizations, going without e-mail service for more than two hours is unacceptable.
Limitations for mailbox recovery:
The Exchange ESE Backup API does not support mailbox recovery. To perform mailbox recovery, backup vendors developed a method called "brick-level backup" that uses MAPI. Brick-level backups require a second pass of the Exchange database and place a very large burden on the Exchange Server CPU. And the time it takes to perform a brick-level backup is four to eight times what it takes to perform a full backup. For this reason, users avoid brick-level backups at all cost. Instead, they rely on the Mailbox Recovery feature in Exchange 2000/2003 or use a recovery server.
Strengths and weaknesses of tape backup:
The strength of tape backup is that the technology is mature and performs well. If your Exchange database is not too large, the backup can be performed in a reasonable amount of time allowing for daily full backups. Tapes can be located off site as a precaution for disaster recovery, which is an important feature. A major disadvantage of tape backup is slow recovery time. Depending on your environment, tape recovery can take hours, increasing your recovery time to an unacceptable level. A second disadvantage of tape backup is that the amount of data that can be lost is potentially 23 hours of data. Depending on the needs of your organization, this may also be unacceptable.
New trends for Exchange data management:
Continuous data protection solutions leverage capacity-optimized disk storage such as SATA RAID. These technologies use disk as a primary backup target, improving both backup and recovery time. Continuous data protection methods that are also "application-integrated" offer fine-grain recovery of Exchange mailboxes and messages, and reduce the recovery point to near zero. These new disk-based data management solutions for Exchange supplement conventional tape-based data protection and dramatically improve service for local Exchange data recovery.
For more information:
Tip: When to choose tape
Topics: Disk-based backup
Tip: The ABCs of CDP
---
About the author: Bob Spurzem is Senior Product Marketing Manager at Mimosa Systems Inc.

Dig Deeper on Data storage backup tools
PRO+
Content
Find more PRO+ content and other member only offers, here.