Mobile computers: Regular backups prevent disaster
If you are not backing up your mobile PCs, you're flirting with disaster
This Article Covers
RELATED TOPICS
Looking for something else?
TECHNOLOGIES
Mobile computers: Regular backups prevent disaster

By Linda Gail Christie
If you are not backing up your mobile PCs, you're flirting with disaster. A study performed by OnTrack International shows that the causes of data loss among laptop users are: human error (29.9%), disk failure (22.9%), other hardware failure (18.6%), software malfunction (13.2%), virus infection (5.8%), and natural disaster (2.9%).

Download this free guide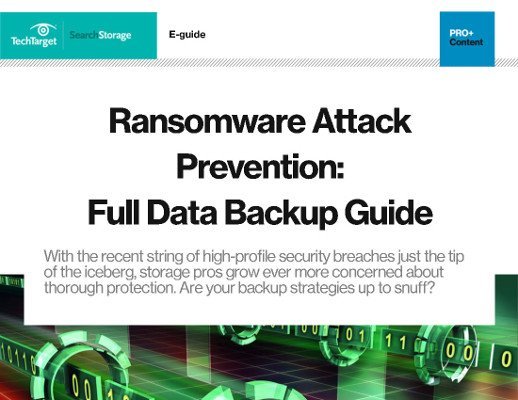 SearchStorage experts combat ransomware in this comprehensive backup guide
Download our editors' ransomware guide, in which you'll discover the full value of mature DRaaS, blockchain technology, and copy data management techniques in detecting and fighting the scourge of ransomware. Additionally, we review backup tools from Acronis and Unitrends used for ransomware protection.
By submitting your personal information, you agree that TechTarget and its partners may contact you regarding relevant content, products and special offers.
You also agree that your personal information may be transferred and processed in the United States, and that you have read and agree to the Terms of Use and the Privacy Policy.
As more and more critical data is being stored on laptops, companies need to back up these PCs just as diligently as networked computers. "In our experience, companies can count on catastrophic loss for one in three laptops in the field," said Andre Beausoleil, remote mobile product manager for Computer Associates. "Unfortunately, backing them up isn't easy, since many laptops are seldom directly connected to the LAN and field personnel are notoriously negligent about doing it, themselves."
With limited bandwidth via modem connections, and short intermittent connectivity, administrators only have narrow windows of opportunity to perform backups centrally. Fortunately, a number of vendors such as Computer Associates, are offering backup solutions sensitive to these issues.
"We designed our Lifeguard product to overcome connectivity problems," said Beausoleil. "The client-side of our solution accumulates the changes made to files on the laptop into a database. Then when the laptop is connected to the server, the changes are transmitted in the background, with no action required by the end user. By limiting the transmission to incremental changes, Lifeguard can backup the laptop in very little time, without slowing the person's access to other applications."
Beausoleil advises administrators to seek a remote backup solution that is also capable of securing data transmitted over open TCP/IP networks. "Lifeguard not only compresses and encrypts the data, but our proprietary database structure makes it impossible for anyone to recreate the data without knowing the structure of the database."
Beausoleil cautions administrators about "bare-metal restore" claims that some backup products make. "Because each laptop has a unique set of components, drivers, and Windows settings -- even within a given product line -- bare-metal restores usually do not work. Lifeguard addresses these problems by exporting the data, together with the incremental changes, to the original laptop, or to an off the shelf replacement configured with new software -- a restore process that works, even if the OS or software has been upgraded."
Mobile computer backup solutions should minimize bandwidth requirements, provide secured communication, and be automatic and transparent to end-users.
For more information about Computer Associates, visit their Website at http://ca.com/.
About the author: Storage management tips are written by Linda Gail Christie, a contributing editor based in Tulsa, Okla.
Dig Deeper on Data storage backup tools
PRO+
Content
Find more PRO+ content and other member only offers, here.