Problem solve
Get help with specific problems with your technologies, process and projects.
Overstock.com overcomes backup woes
Overstock.com ditches DAT and chooses DLT tape for daily backups.
This Article Covers
RELATED TOPICS
Looking for something else?
Overstock.com overcomes backup woes
DLT helps dot-com fulfill need for speed
By M.C. Kincora
Overstock.com ditches DAT and chooses DLT tape for daily backups.
Last year Overstock.com discovered a potential monkey wrench in the gears of its well-oiled e-tailing machine. To succeed where other dot-coms have failed, Overstock.com has to be a model of buying and selling efficiency. The Salt Lake City-based company has made a profitable business of buying the languishing, unsold inventories of failed e-tailers and quickly selling them at bargain prices. In 2000 the company realized that one part of its model, a DAT tape drive-based backup system, could be a point of failure.

Download this free guide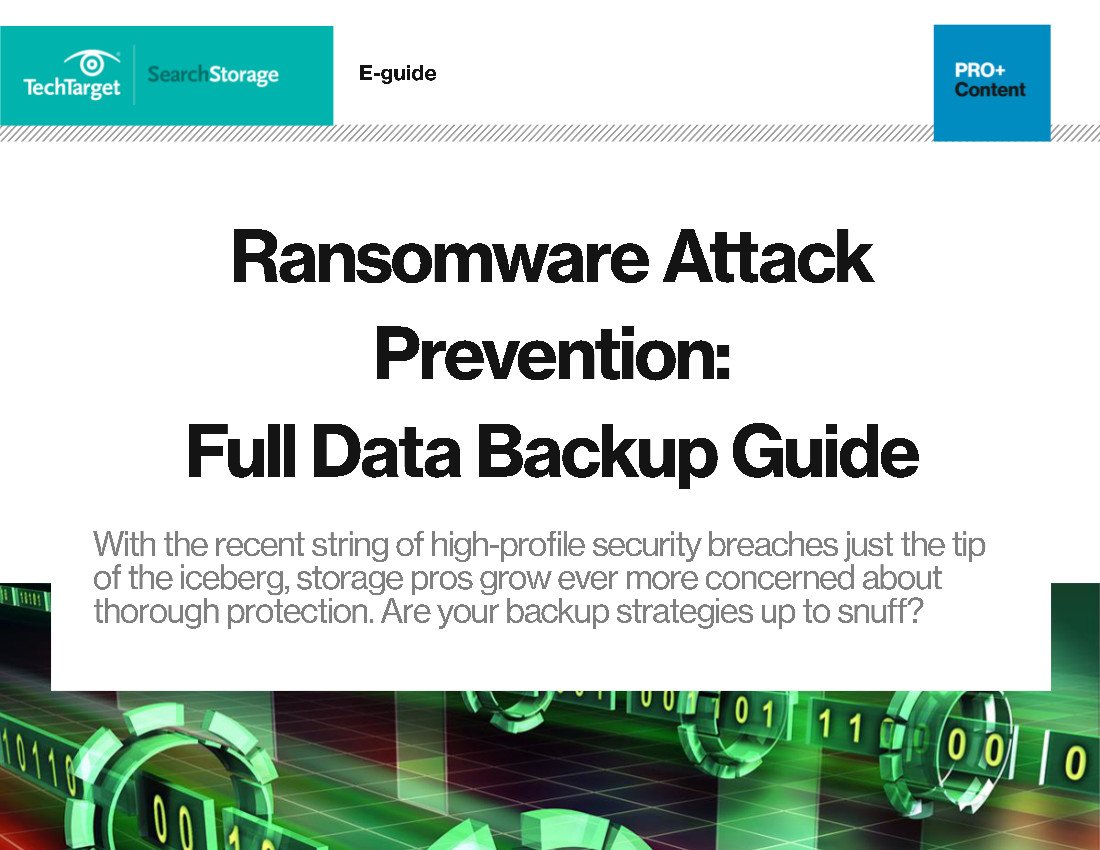 Protect Against Ransomware with Comprehensive Backup and Recovery
Download this handbook to learn how to prepare your backup system to handle the mounting ransomware threat. Inside, you'll discover the importance of adopting canary files for quick infection alerts, as well as the individual merits of using a cloud-based DR to repair selective files or folders versus full enterprise file sync-and –share, and more.
By submitting your personal information, you agree that TechTarget and its partners may contact you regarding relevant content, products and special offers.
You also agree that your personal information may be transferred and processed in the United States, and that you have read and agree to the Terms of Use and the Privacy Policy.
Overstock.com was using DDS3 DAT tapes, which didn't have the reliability or speed needed by a 24x7 e-tailing operation, according to Shawn Schwegman, Overstock.com's director of information technology.
In the DAT system, data was lost too often. "Having to recreate lost data was unacceptable. Not only does it waste the time initially put into creating and storing the data, but it takes extra time to rebuild the data," says Schwegman. Backing up all of Overstock.com's mission critical data on DAT tape drives took so long that the company routinely backed up only every few days. As a result, doing a full backup was a complex task. "If you only do a full backup on Saturday and incremental or differential backups throughout the week, you have to go to multiple tapes to restore everything," says Schwegman.
That was the situation when Schwegman joined the company in 2000. As a veteran of many successful startup ventures, Schwegman could see right away that the DAT system wasn't what Overstock.com needed. He assumed that data storage volume was going to increase dramatically in the next year. He was right, as Overstock.com's daily data backup volume increased from 20GB to about 260GB between mid-2000 and mid-2001.
"In a startup environment you have to move so fast in order to survive," says Schwegman. "To move fast, a company has to have the capability to do full backups in a short amount of time and be sure that backup reliability is rock solid. DAT didn't offer that capability."
Fortunately, Schwegman didn't have to mount an exhaustive search for an alternative to DAT. "DLT was our top choice." Having had considerable experience with Quantum Corp.'s DLTtape technology as a consultant, Schwegman knew that Digital Linear Tape drives were fast and reliable. "DLTtape technology gives you a speed advantage," says Schwegman. Overstocks daily backup of 260G bytes can be done in a six-hour window.
Overstock uses a Dell Computer Corp. PowerVault 4 library with four DLT 8000 drives with up to 28 DLTtape IV cartridges. A Hewlett-Packard Co. DLT 7000 based library with a single drive and 15 cartridges is used to backup Web servers. All the backup units run Veritas Software's NetBackup.
It took some time to get the DLT-based system up and working properly, primarily due to software integration glitches. "From my experience, all backup software seems to be buggy and always has instrumentation headaches," says Schwegman. "Veritas is the one I've found that has the least amount of bugs and headaches and Veritas' tech support is far superior to anyone I've dealt with before."
One problem Schwegman had was getting the drives to be recognized properly. That was a quick fix by using a SCSI controller and an updated set of drivers. "Backing up data on heterogeneous software is tricky," says Schwegman. "Windows 2000 is fairly new, but it's probably the smoothest OS to backup using Veritas' software." With the DLTtape system, Overstock.com does full backups of its data every night using three separate DLT-based backup units at three physical sites: Overstock.com's corporate facility, warehouse, and a co-location facility which houses the company's Web site.
"Everything has run smoothly," says Schwegman. "In the last four months, we've had to restore files seven or eight times, because things happen, like someone inadvertently deletes data by accidentally hitting the delete key. This is easy to fix. I can even get on the VPN at home and do the backup and restore in no time."
"The challenge is practicing proactive management," asserts Schwegman. "A lot of people will set up a backup solution and walk away from it, and then it slowly degrades. We geeks call it decrapitation. Constant maintenance is very important."
For more information on Quantum's DLTtape, visit their Web site.
To learn more about Overstock.com, visit their Web site.
For More Information
>> SearchStorage.com Best Web Links: Hardware: Tape
>>Share your experiences and post questions in our searchStorage.com Administrator Central Forum
>>SearchStorage.com Tips: Backup
Dig Deeper on Tape backup and tape libraries
PRO+
Content
Find more PRO+ content and other member only offers, here.