Problem solve
Get help with specific problems with your technologies, process and projects.
Ten things you should ask a vendor before buying a tape library
Purchasing the right tape library can make or break your backup system. Here are 10 things you should ask any potential vendor before you purchase a new tape library.
This Article Covers
RELATED TOPICS
Looking for something else?
The tapes you are creating today may have to be read many years from now. This not only requires a degree of forward compatibility, but it also increases the need for future upgrades to avoid replacing expensive libraries. All of that needs to be taken into consideration when you select a tape library.

Download this free guide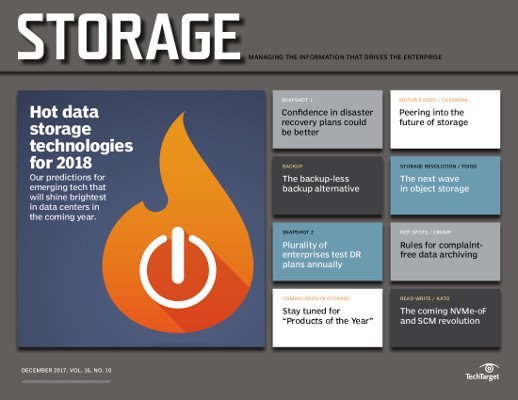 Snapshot of top 2018 backup tech: CDM, complaint-free archiving, ransomware detection vendors
The SearchStorage.com team names the most promising ransomware detection products, 4 rules for complaint-free archiving, how to use copy data management for effective recovery, and more. Download your e-zine copy here.

By submitting your personal information, you agree that TechTarget and its partners may contact you regarding relevant content, products and special offers.

You also agree that your personal information may be transferred and processed in the United States, and that you have read and agree to the Terms of Use and the Privacy Policy.

Here are some questions you need to ask potential vendors when purchasing a tape library.

What's your total capacity?

An important question to ask a vendor is how many tapes and drives the unit can support. The larger the unit's total capacity, the more expensive it is likely to be to initially purchase. However, a unit that can meet your needs with upgrades for seven years is probably a lot more cost effective than a unit you have to replace in three years because you've outgrown it.

Can you mix different kinds of tape in one library?

This is important if you are using more than one kind of tape technology in your organization. Some libraries that support multiple drives allow you to mix technologies like SDLT and LTO in the same library. Their software supports multiple simultaneous varieties of tapes, and the trays in the racks can be switched out.

What's your upgrade path?

Sooner or later, you're going to have to expand your library's capacity. Ideally, you'd like to be able to add just as much capacity for new tapes and just as many drives as you need. Some libraries can be upgraded with new technology drives as they become available. In some cases, one or more of the original drives -- and some or all of the trays -- can be swapped out to support advanced versions of your current drives, or even completely new kinds of drives with new form factors.

Will it work natively with my software?

Not all libraries will work with all backup software packages and options. Worst-case, you end up replacing your backup software with something compatible with your shiny new library. This is expensive and a major pain to boot. Choosing a product that works with your current software can help you narrow down your options, save you money, and avoid the hassle of deploying and learning to use new software.

Is your library easy to manage with my software?

You should be able to manage the library as easily as you manage a RAID array. This doesn't always happen because the backup software needs to have support for your library and libraries aren't nearly as standardized as RAID arrays.

Major backup software vendors strive to offer support directly for specific tape libraries. Sometimes this isn't available and the library relies on an emulator. This isn't a show stopper, but you should find out what the library's performance is like running the emulator.

What's your roadmap?

How well do the vendor's future plans match your projected needs? You don't want to be forced to switch vendors because the maker of your current tape library doesn't have a model that can take you to the next step.

How many generations back do you support your technology?

Tape vendors are constantly striving to increase the capacity of their tapes, which means that the tape technology you start using today is likely to be replaced by something bigger and possibly faster in a couple of years.

Obviously, no drive vendor is going to keep supporting an obsolete version of its tape back to the IT Paleolithic era, but they should have a policy on how many generations they will support at any time. It will usually be two or three generations back. But whatever the number, it is going to have an impact on when you replace your drives, if not your library.

Are you storage standards compliant?

For tape libraries, the most important standard is the Storage Management Initiative - Specification (SMI-S) storage management standard developed by the Storage Networking Industry Association (SNIA). The standard aims to provide a method of communicating between servers and a broad range of storage devices, including tape libraries.

If your storage involves a lot of fixed content, SNIA's eXtensible Access Method (XAM) is important. XAM is a metadata standard that objectifies your files so they can be as independent as possible from the underlying storage technology. Considering that some of those fixed content files are going to live in your organization for decades, not being tied to a particular technology, vendor or device is a major advantage. XAM is a new standard and support is still developing for it.

What's your key management scheme?

Key management standards to support encrypted tapes is still new and many vendors don't support standards-based key management. However, if you can get a library that's encryption conforms to a standard like IEEE 1619.3, you'll be better protected.

With the rise of tape encryption, support for a robust, secure key management scheme is important in choosing a tape library. However, standards take a back seat to data protection in this arena.

In general, coming up with a good encryption scheme at the tape library level is a lot easier than developing a good key management system. Your key management should be easy to use, secure, have adequate ways of decrypting even if the main key is unavailable and have those alternate methods walled off to keep them well protected.

What's your support like?

A tape library is a mission-critical piece of hardware that combines both electronic equipment and mechanical hardware. Because of this, it is more likely than, say, a server, to fail and it is vital that it be brought back up as quickly as possible.

Through your vendor or reseller you should be able to establish a firm service-level agreement covering things like guaranteed downtime, ready availability of a technician in the event of a problem, and covering other critical areas. You should also pay attention to the reputation of the vendor and the reseller for service.

About the author: Rick Cook specializes in writing about issues related to storage and storage management.

Do you have comments on this data backup article? Let us know.

Please let others know how useful this tip was via the rating scale below. Do you have a helpful backup tip, timesaver or workaround? Email the editors to talk about writing for SearchDataBackup.com.

Dig Deeper on Tape backup and tape libraries
PRO+
Content
Find more PRO+ content and other member only offers, here.