Evaluate
Weigh the pros and cons of technologies, products and projects you are considering.
The end of data backup software?
Disk technologies are pushing data backup applications into a new role.
This Article Covers
RELATED TOPICS
Looking for something else?
For years, backup applications focused primarily on two main functions: moving data from client to server, and managing tapes and tape libraries. Numerous optimizations, like multistreaming and storage area network (SAN) media servers, were developed to essentially overcome performance limitations inherent to the serial nature of tape.

Download this free guide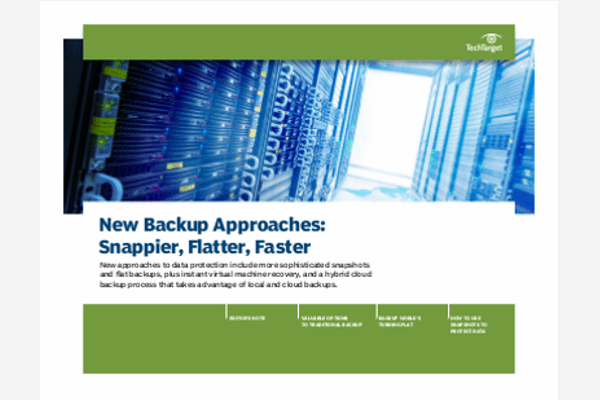 Drill down into today's new backup approaches
Due to the features of most modern backup software – which include snapshot management, DR elements, cloud support, VM protection – backups can do so much more than simply restoring data in the event of a storage or server failure. Download this guide and not only discover the latest upgrades to today's top enterprise backup vendors, but also learn where backup software works best in your computing environment.
By submitting your personal information, you agree that TechTarget and its partners may contact you regarding relevant content, products and special offers.
You also agree that your personal information may be transferred and processed in the United States, and that you have read and agree to the Terms of Use and the Privacy Policy.
At the same time, the range of available options for data recovery expanded well beyond backup to the point that, for many organizations, restoring from tape has become their option of last resort.
This world of recovery possibilities, enabled by disk technology, is pushing backup applications into a new role. Backup apps are evolving as the central entity for managing disk-based recovery. This includes:
Snapshot management: Snapshots and split mirrors have long been used to facilitate the backup of key apps. Beyond improving backup, many environments snapshot throughout the day and retain snapshots. In most cases, they're managed independent of backup.
Replication: Like snapshots, replication has become an important recovery mechanism, particularly for disaster recovery, and needs to be included in any comprehensive recovery management capability.
Virtual tape libraries (VTLs) as intelligent disk: For large tape environments, tape emulation remains the simplest and least disruptive means of leveraging disk, and VTL vendors are working to enrich their feature sets beyond just emulation. However, functions performed outside of the awareness of the backup app (e.g., replication) can often create confusion when it comes to recovery and overall data recovery management.
Data deduplication: Data deduplication has created opportunity and confusion. It's a technology that can be performed at the client, server, within a NAS appliance or in a virtual tape library. Data backup applications must be able to accommodate any of those approaches and often more than one at a time.
Continuous data protection (CDP): Like deduplication, CDP is a technology that takes a number of forms. In some cases, it exists as a standalone technology, but its real value is as an integrated element of a tiered recovery strategy, and it should be managed as such.
Enhanced application recovery: In some cases, disk can be used to simplify and improve recovery capabilities for environments like VMware and apps such as Exchange and SharePoint with both volume-level and granular object recovery available from a single backup.
Establishing consistent data management and recovery policies and ensuring they're adhered to is becoming increasingly important. While leveraging disk technology can lead to improved data recovery service levels, a complementary management capability is also required. The leading enterprise backup apps have all been able to evolve beyond traditional backup.
As more disk-based recovery alternatives are adopted, the coordinated management of multisource recovery will continue to increase in importance. A logical place to look for this to coalesce is within the backup application. It's important for organizations to understand their vendor's strength and direction in this area. The time has come to shed the traditional, compartmentalized view of backup and embrace a recovery-centric data management focus. To do otherwise would mean standing still.
This article originally appeared in Storage magazine.
About this author: James Damoulakis is CTO of GlassHouse Technologies.
PRO+
Content
Find more PRO+ content and other member only offers, here.