Problem solve
Get help with specific problems with your technologies, process and projects.
The year's best backup software
If this year's best backup software category is any indication, when it comes to data protection, companies might do well to think small.
This Article Covers
RELATED TOPICS
Looking for something else?
What you will learn from this tip: The best backup software products of 2004, and what they have to offer your company.
---
If this year's best backup software category is any indication, when it comes to data protection, companies might do well to think small. Startups and small companies dominated the field this year, offering data protection, compliance and remote backup products at reasonable prices.

Download this free guide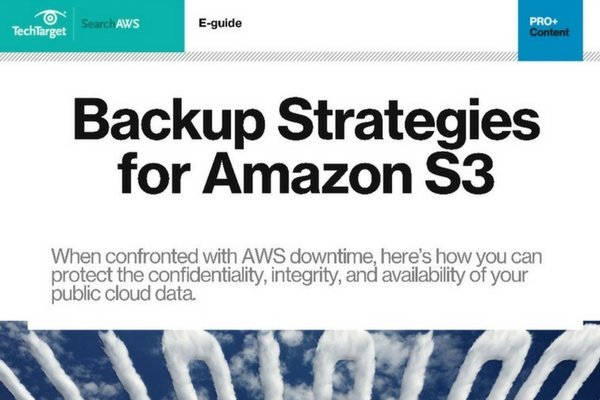 Amazon S3 in the spotlight: Your 34-page backup guide
In this guide curated by the SearchAWS.com editors, you'll evaluate and overcome the DR tradeoffs associated with Amazon S3, with guidance on solidifying an AWS backup plan and securing S3 buckets. Download your copy now.
By submitting your personal information, you agree that TechTarget and its partners may contact you regarding relevant content, products and special offers.
You also agree that your personal information may be transferred and processed in the United States, and that you have read and agree to the Terms of Use and the Privacy Policy.
As always, entrants were judged on six criteria:
Innovation
Performance
Ease of integration into existing environments
Manageability
Functionality
Value






Backup and disaster recovery software

The top winners in this category are:

GOLD AWARD: XOsoft WANSyncHA
SILVER AWARD: Permabit's Permeon Compliance Vault 1.2
BRONZE AWARD: Asigra Televaulting
GOLD AWARD: XOsoft WANSyncHA


Data protection is at the top of most storage managers' minds these days, especially in companies where information fuels not only business decisions but the business itself. XOsoft Inc., Burlington, MA, has carved a niche out of the burgeoning data protection market with a small arsenal of business-continuity products.

WANSyncHA, the latest incarnation of XOsoft's remote replication package, continuously replicates data to a local or remote site and provides automatic failover to ensure uninterrupted access. WANSyncHA's innovation is evident from the start, with its non-disruptive agent installation that doesn't require rebooting servers or stopping applications.

WANSyncHA runs on Windows, Linux and Sun operating system servers. Application-specific versions for Microsoft Exchange, SQL Server and Oracle databases provide services such as the autodiscovery of database files and network configurations. WANSyncHA is hardware-agnostic and operates with nearly any storage system.

The server agent software monitors all changes to files and directories in the server's file system and records changes to a journal. The journals are then used to synchronize the master data and replica data over a LAN or a WAN.

When synchronizing replica data with master data, WANSyncHA compares the data at the two servers and sends only the changes to minimize WAN traffic. WANSyncHA can also sense slow connections and spool changes until sufficient bandwidth is regained; updates interrupted by lost connections will recover and resume when the connection is re-established WANSyncHA can be configured in a many-to-one arrangement where a single replica at a remote site serves multiple masters. For more resilient disaster recovery, WANSyncHA can be used in a "tree" structure to create multiple replicas at disparate sites.

In a crowded disaster recovery market, WANSyncHA is "outstanding data protection solution," said one judge, who cited its "high innovation, high functionality, high performance and high value." And with a price tag that starts at approximately $5,200 to $10,000 per license, it's also a cost-effective approach to disaster recovery.

SearchStorage.com and Storage magazine editors

SILVER AWARD: Permabit's Permeon Compliance Vault 1.2


While disaster recovery is a prime concern, many companies are seeking ways to avoid disaster. Confronted by a slew of data-retention regulations, companies have turned to technology to help them ensure compliance. Cambridge, MA-based Permabit Inc.'s Permeon Compliance Vault (PCV) 1.2 answers the call by providing an effective way to lock down corporate data and rein in compliance costs.

At the heart of PCV is content-addressable storage (CAS) technology, which breaks data into chunks and then uses hashing algorithms to give each chunk a unique identifier. These chunks of data are retained in their original state and can't be altered or duplicated; digital certificates can be used to prove the data hasn't been changed. PCV works with any storage hardware, turning any type of disk media into secure write once, ready many (WORM) storage.

Fault tolerance is built in, with the ability to replicate protected data to other locations. As PCV secures data, it also distributes it across available disks to balance the load and provide fast retrieval.

Calling Permabit "one of the leaders in this space," one judge extolled PCV's "outstanding ease of use, and exceptional CAS and data protection integration." With a starting price of $25,000 for a 2TB configuration, plus $12,500 for each additional 1TB increment, PCV offers an inexpensive route to compliance that can leverage already-installed disk capacity.

SearchStorage.com and Storage magazine editors

BRONZE AWARD: Asigra Televaulting


Dollars and sense are the key virtues Toronto-based Asigra Inc.'s Televaulting brings to remote backup software. Televaulting breaks ground with volume-based pricing and sheer practicality, and it scores big with its agentless architecture.

Televaulting's DS-System, a dedicated server located at the central site, collects backup data from each remote site's DS-Client server. The DS-Client is a commodity box running Windows or Linux attached to the local network; it discovers all connected servers and desktop PCs, and can back up any or all of them.

The DS-Client examines the collected data to weed out duplicate files and find changes to existing data. The backup sets are then compressed to bandwidth-friendly dimensions, encrypted and shipped over the WAN to the central DS-System. Data collected by the DS-System can then be backed up using normal data center procedures and software.

Asigra's agentless architecture means installation and upgrades involve only one machine at each site. And because users pay according to data volume, the number of devices that can be backed up is unlimited. "Agentless backup is incredibly innovative," noted one judge, adding that the product's "pricing is market disruptive."

Administration is centralized, so little—if any—training is required at remote sites. The built-in billing and chargeback system can be used to distribute backup costs. But with prices starting at a modest $11,250, departments aren't likely to object to paying their fair share.

SearchStorage.com and Storage magazine editors

Dig Deeper on Backup and recovery software
PRO+
Content
Find more PRO+ content and other member only offers, here.