Evaluate
Weigh the pros and cons of technologies, products and projects you are considering.
Three steps for evaluating a VTL product
This tip offers three helpful steps for evaluating a virtual tape library (VTL), virtual tape system or disk library and a template that can be used for comparison evaluations.
This Article Covers
RELATED TOPICS
Looking for something else?
TECHNOLOGIES
What you will learn from this tip: This tip offers three helpful steps for evaluating a virtual tape library (VTL), virtual tape system or disk library and a template that can be used for comparison evaluations. Also, learn how and where VTLs can be used as part of an effective data protection strategy.

Download this free guide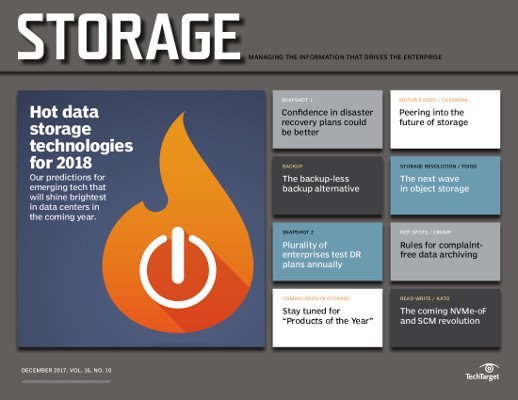 Snapshot of top 2018 backup tech: CDM, complaint-free archiving, ransomware detection vendors
The SearchStorage.com team names the most promising ransomware detection products, 4 rules for complaint-free archiving, how to use copy data management for effective recovery, and more. Download your e-zine copy here.
By submitting your personal information, you agree that TechTarget and its partners may contact you regarding relevant content, products and special offers.
You also agree that your personal information may be transferred and processed in the United States, and that you have read and agree to the Terms of Use and the Privacy Policy.
---
I/O, I/O, it's off to a VTL your data goes!
A key point to remember when it comes to evaluating a virtual tape library (VTL) is making sure you have an understanding of your requirements and how you will be using the technology. For example, if you need to support both open systems and IBM mainframe tape processing from a single VTL, your options may be more limited than if you were looking at just open systems support.
Here are three simple steps that will help you to evaluate a VTL (or any type of storage for that matter):
Know your requirements and needs
Know your options and how to compare them
Make an informed and effective decision
Know your requirements
Make sure you know what your requirements are, including how you will be using a VTL and for what type of functions. For example, will you be using a VTL to support disk-to-disk (D2D) to tape (D2D2T) backups or for archiving? Will you be using a VTL for weekly, daily or continuous backups (CDP) or as nearline storage or archiving?
Other items to consider when evaluating a VTL include:
What are your tape handling (onsite and offsite) needs including performance?
What backup software and hierarchical storage management (HSM) or archive software do you need to support?
How many servers do you need to attach and with how much storage capacity?
What host interfaces do you need (Fibre Channel, iSCSI, NAS, etc.)
Know your options and how to compare them
The second step is identifying potential products along with how their capabilities can meet your requirements. The functionality provided by a specific VTL product can vary by vendor and specific product. A differentiator between VTLs and disk arrays is the level of emulation that is available. For example, research which types of tapes (e.g., ADIC, IBM, Overland, SpectraLogic, Sun/STK, etc.) are and are not emulated. The same is true for tape drives (e.g., SDLT, AIT, LTO, DDS, VXA, IBM, STK, etc.) and virtual tape cartridges. Some types of tapes that I would not expect to be emulated by VTLs include duct, scotch, painters, packaging and masking tapes.
Other considerations for VTLs include:
Can you leverage a VTL to enhance data security and prevent tape theft?
What software is supported and with what functionality?
How much training of your staff will be required and what procedures will change?
How much data capacity is needed and what are the I/O profiles for the VTL?
Vendors and product providers of VTL and disk-based libraries include 3PARdata Inc., ADIC Corp., ATTO Technology Inc., Breece Hill Inc., Copan Systems, Data Domain, Diligent Technologies Corp., EMC Corp., FalconStor Software, Fujitsu, HP, IBM Corp., Luminex Corp., Maxxan Systems Inc., Neartek Inc., Nexsan Technologies, Overland Storage, Quantum Corp., Sepaton Inc., and Sun Microsystems Inc., among others.
Make an informed and effective decision
The third step in this simplified approach is to organize and utilize the information from steps 1 and 2. You may also chose to conduct a request for quotation (RFQ) or request for proposal (RFP) as part of vetting out potential products and vendors. An evaluation worksheet with your criteria and vendor capabilities is a time tested approach to organizing and competing technology capabilities evaluations and assessments.
The chart below shows some sample acquisition items and a template that could be used for comparison evaluations. Supplement the various items and requirements with additional ones unique to your environment and discard those that do not apply.
| | | |
| --- | --- | --- |
| Requirements and Evaluation Criteria | Solution A | Solution B |
| Mandatory (must have) requirements | | |
| Items from list below | | |
| | | |
| Discretionary (optional) requirements | | |
| Items from list below | | |
| | | |
| Requirement items (examples) | | |
| Mainframe, open systems or mixed support | | |
| Host backup, archive, HSM software support | | |
| Monitoring and reporting capabilities | | |
| Number and type of tape drives emulated | | |
| Number and type of tape libraries emulated | | |
| Compression and encryption capabilities | | |
| Number and type of host interfaces supported | | |
| Scaling and RAS characteristics | | |
| Warranties for hardware and software | | |
You could evolve the simple three-step approach to a more granular multiple step approach as well as adapt to other hardware, software, network and services acquisitions. The key to successfully evaluating a VTL product is to know your needs and identify vendors that can meet and exceed your requirements with a cost-effective product. You can learn more about VTLs in the SearchStorage tip "DR Solutions For VTLs" by Greg Schulz.
Do you know…
---
About the author: Greg Schulz is founder and senior analyst with the IT infrastructure analyst and consulting firm StorageIO. Greg is also the author and illustrator of "Resilient Storage Networks" (Elsevier) and has contributed material to "Storage" magazine and other TechTarget venues.
---
Dig Deeper on Disk-based backup
PRO+
Content
Find more PRO+ content and other member only offers, here.