Used tape sales on the rise
Pre-used tapes are becoming a popular and inexpensive trend among IT professionals. Become familiar with the possible risks of using used tape in your environment.
This Article Covers
RELATED TOPICS
Looking for something else?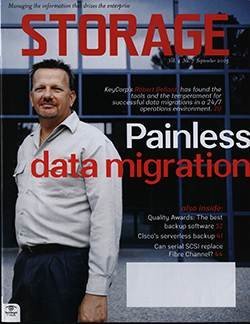 Download
What you will learn: Pre-used tapes are becoming a popular and inexpensive trend among IT professionals. Become familiar with the possible risks of using used tape in your environment.
---
There are some things you should think twice about before buying used: mattresses, running shoes and backup tapes. But according to Jim Milligan, executive director of sales and marketing at Imation, which makes tape media, buying and selling used tape media is becoming more common.

Download this free guide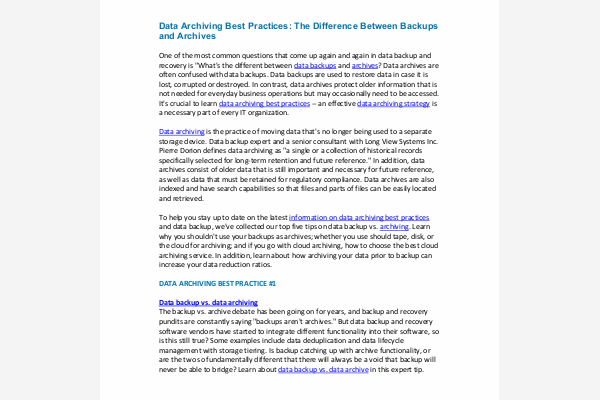 Archive vs. Backup and Why You Need to Know the Difference
Differentiating data backups from archives is one of the most common questions among IT pros when it comes to data recovery. Download this invaluable guide to discover why you need to know the difference between the two, and for important tips and best practices on building or refining the best data archiving strategy for your organization.
By submitting your personal information, you agree that TechTarget and its partners may contact you regarding relevant content, products and special offers.
You also agree that your personal information may be transferred and processed in the United States, and that you have read and agree to the Terms of Use and the Privacy Policy.

"IT folks under operational cost pressures are reselling tapes into the recertified market," Milligan says, usually at the suggestion of a VAR who offers to take old tapes in exchange for a credit toward future purchases. Those tapes are then erased, repackaged and resold, usually at a discount of 20% to 50% over brand-new tapes.

However, backup tapes don't always erase well. Imation engineers recently purchased four recertified LTO cartridges and could see enough residual signal to determine that the tapes had been used by an R&D facility researching DNA sequences, Milligan says.

That highlights the risk of selling your used tapes. "Is the information on them truly being eliminated and destroyed?" Milligan asks. That's an especially valid question in regulated industries like finance and healthcare, which have strict privacy provisions Bob Abraham, president of Freeman Reports, a market research firm focused on removable media, concurs. "We've all heard stories of tapes and disks getting erased, but the data is still there. If there's sensitive data on the tape, the only safe thing to do is shred it."

Buyers of used backup tapes run different risks, mainly around reliability. "The customer has absolutely no idea what this tape has been through earlier in its lifecycle," Milligan says. "What was it used for? What conditions was it stored in?" Debris on the tape generated in its former life can also be introduced into the new environment.

Buyers often don't know they're buying recertified tapes because they're repackaged and boxed to look like new tapes. There are obvious signs--catchphrases like "refurbished" or "recycled," but vendors will sometimes obfuscate a tape's used status with sneakier descriptors like "factory certified" or "better-than-new." To remove that uncertainty, Imation is developing a security seal for its new cartridges that will immediately identify a tape as new.

Denigrating used tapes is an easy position for a media manufacturer to take, but Abraham believes the risks Milligan describes are real. "It's a legitimate position. The fact that they may be trying to protect their market is besides the point."

For more information:
Dig Deeper on Tape backup and tape libraries
PRO+
Content
Find more PRO+ content and other member only offers, here.