Get started
Bring yourself up to speed with our introductory content.
Working with the Windows 8 File History feature
Microsoft expert Brien Posey explains what the Windows 8 File History feature is designed to do and why it is not a comprehensive backup product.
This Article Covers
RELATED TOPICS
Looking for something else?
TECHNOLOGIES

PRODUCTS
The Windows 8 File History feature is designed to create automatic, local backups of users' data. Users are able to use File History to restore lost files or to revert to a previous version of a file.

Download this free guide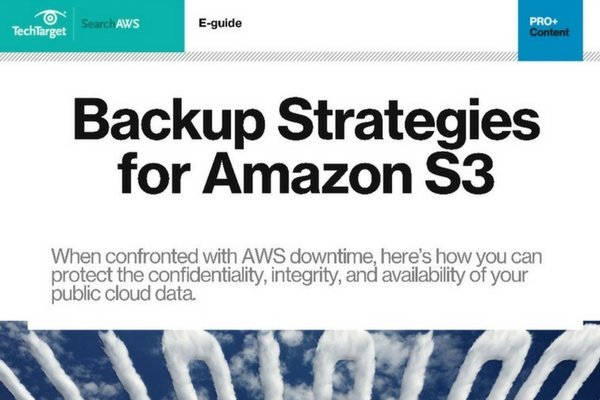 Amazon S3 in the spotlight: Your 34-page backup guide
In this guide curated by the SearchAWS.com editors, you'll evaluate and overcome the DR tradeoffs associated with Amazon S3, with guidance on solidifying an AWS backup plan and securing S3 buckets. Download your copy now.
By submitting your personal information, you agree that TechTarget and its partners may contact you regarding relevant content, products and special offers.
You also agree that your personal information may be transferred and processed in the United States, and that you have read and agree to the Terms of Use and the Privacy Policy.
What gets backed up?
The first thing that you need to know about the Windows 8 File History feature is that it is not a comprehensive backup solution. It is designed to protect the data that users are most likely to lose, and do so on a continuous basis without user intervention. Consequently, File History does not back up a user's entire PC. It backs up the user's libraries, contacts, favorites and desktop. File History can also back up the Microsoft SkyDrive cloud storage service. It is exposed through Windows 8 and Office 2013, but Windows 8.1 will feature very extensive SkyDrive integration.
There is no configuration setting that directly allows additional locations to be backed up. For example, you can't tell Windows to back up the D:\YourData folder. However, if a user does have data stored outside the supported locations, that data can be backed up in a roundabout way by creating a new library and adding the data's location to the library.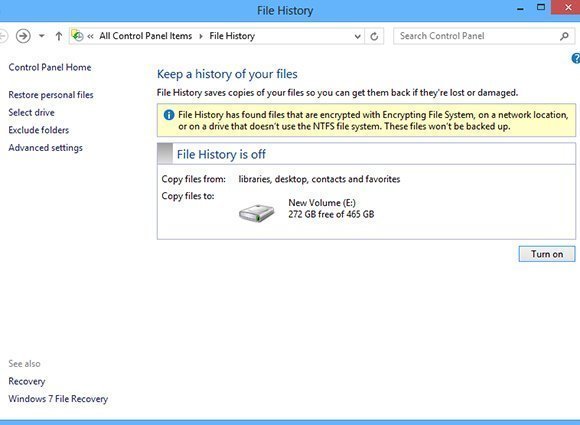 Figure A. You can exclude individual folders from File History.
Although there is no mechanism for adding additional data locations to the backup (aside from adding them to a library), you can exclude a location from being backed up. To do so, open the File History interface, and clicking the Exclude Folders link, shown in Figure A. Upon doing so, you are presented with the option to exclude individual folders from being backed up.
Selecting a backup location
The File History feature is designed to write backups to a dedicated external hard disk. However, it is probably impractical to provide each user with a dedicated external hard disk. Not only is cost a consideration, but external drives that remain connected all the time seem to have a high mortality rate due to drops, spills, etc.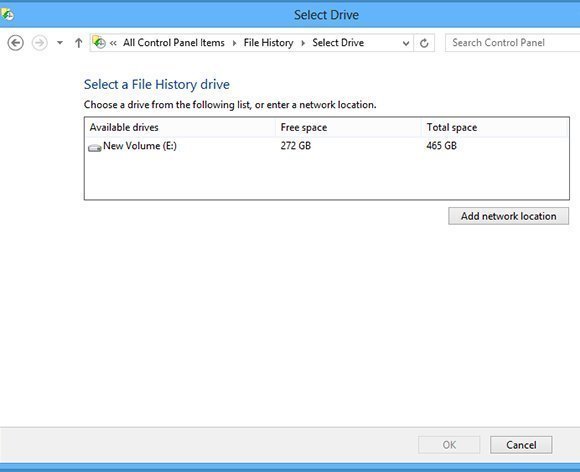 Figure B. You can save File History data to a network location.
As an alternative to using an external hard drive, Windows gives you the option of storing File History data on networked storage. This is probably the more practical of the two options. To do so, open the File History interface, and then click on Select Drive (or Change Drive if a drive is already connected). Now, click on the Add Network Location button, shown in Figure B, and then provide the path to the network location that you want to use for storing file history data.
Other configuration settings
Clicking the Advanced Settings option, shown in Figure A, gives you the ability to control the backup frequency. By default, file history data is backed up hourly, but the backup frequency can be changed to meet your needs.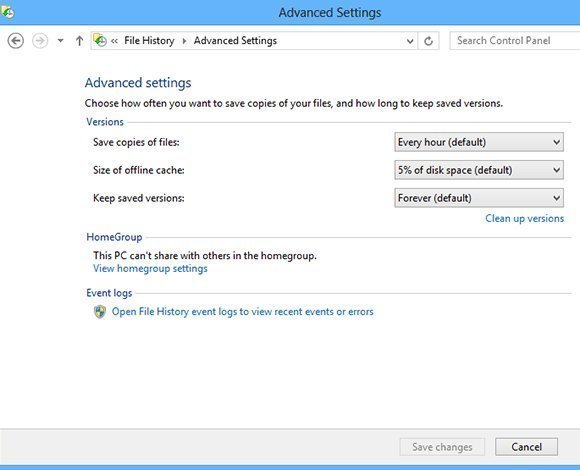 Figure C. The Advanced Settings screen allows you to control the backup frequency.
The Advanced Settings screen, shown in Figure C, also lets you control how long saved versions of user data are retained. The default setting is Forever, but this value also can be changed to meet your needs.
Security considerations
It is worth noting that Microsoft treats the File History feature differently from the Windows 7 Backup feature. The Windows 7 Backup feature would allow a user to run a backup only if they had the appropriate rights. In contrast, any user can use File History to back up their own data.
In case you are wondering, File History is compatible with BitLocker, so users are able to back up data even if their PC is BitLocker-encrypted.
Group policy
The File History feature isn't suitable for every organization. Specifically, organizations that have rigid document lifecycle policies in place should not use the File History feature because it can circumvent the existing retention policies by allowing users to recover old versions of documents. In those types of organizations, it is a good idea to use Group Policy to disable File History.
Group Policy can be used to disable File History but cannot be used to control any other function. The number of versions that File History keeps is configurable. Windows doesn't let you specify the number of versions you want to keep. Instead, version retention can be controlled by file age, ranging from one month to two years. The default setting is to keep previous versions forever. There is also an option to purge old versions when space begins to run low.
To disable File History, you must have a domain controller running Windows Server 2012 (or you could modify the local security policy on your Windows 8 desktops). The setting for disabling File History is located at: Computer Configuration | Administrative Templates | Windows Components | File History.
Conclusion
The Windows 8 File History feature can help users protect their data better, but the feature isn't suitable for every organization. Because users are free to enable File History at will, administrators should evaluate the appropriateness of the File History feature for their own organizations and disable it if necessary.
About the author:
Brien M. Posey, MCSE, has received Microsoft's MVP award for Exchange Server, Windows Server and Internet Information Server. Brien has served as CIO for a nationwide chain of hospitals and has been responsible for the department of information management at Fort Knox. You can visit Brien's personal website at www.brienposey.com.
Dig Deeper on Backup and recovery software
PRO+
Content
Find more PRO+ content and other member only offers, here.