Evaluate
Weigh the pros and cons of technologies, products and projects you are considering.
Deduplication technology buying guide: Target deduplication products
Download our free deduplication technology buying guide on target deduplication to help you choose the best product.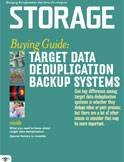 Deciding what type of deduplication technology will be the best fit for your environment is a difficult decision. Deduplication technology comes in many flavors, from global deduplication to target deduplication technology, and then there is inline and post-processing deduplication.
For most data centers—especially larger ones—target deduplication (or "target dedupe") is the easiest way to store all of your backups on disk without significant changes to the way you do backups. It could be as easy as deploying a target dedupe product and just pointing your backups at it—assuming it was properly architected and sized. Having said that, choosing the right target data deduplication system for your environment is perhaps the most crucial decision you must make.
What is target deduplication?
Target deduplication technology (as opposed to source deduplication) deduplicates data once it has arrived at your backup system. Data is sent unmodified from the backup client to the backup server and is then deduplicated. With typical target dedupe systems, no changes to backup software or processes are required. For source data deduplication, you must use source dedupe-knowledgeable backup software on both the client and server, which may require some modification to your backup operation. With source dedupe, the client talks to the server during a backup and identifies redundant segments of data before sending them to the server; if a segment of data is determined to be redundant, it's not sent across the network.
There are two significant differences between target deduplication technology and source dedupe. Source dedupe requires a change in backup software (assuming you're not already using a backup application that has source dedupe capabilities), but can significantly reduce the amount of data sent across your LAN during backups. Target deduplication doesn't require any changes to backup software, but it also doesn't reduce the amount of traffic sent across your LAN from the backup client to the backup server.
Like with deduplication technology, there are different "flavors" of target data deduplication products as well. The most common type is a target deduplication appliance that consists of a dedicated server running specialized software with one or more disk arrays connected to it. The server is often referred to as the dedupe "head" or "controller." Some target dedupe appliance companies may also sell a "gateway" version of their product that's only the dedupe controller without any disk attached to it; gateways allow customers to use the disk they feel is most appropriate for their environment.
In this e-guide on target deduplication, learn about target vs. source deduplication, what to look for in a product, how target compares to other deduplication technologies, and how inline and post-processing deduplication can impact a product's performance. Click here to download the entire guide on target deduplication.