Letter to the Editor: IBM TSM and VMware Consolidated Backup
A SearchDataBackup reader shares their perspective regarding IBM Tivoli Storage Manager (TSM) and VMware Consolidated Backup (VCB).
We received this letter in response to our article A comparison of data backup software packages and their integration with VMware.
Dear SearchDataBackup Editor,
I though you might enjoy another perspective regarding IBM Tivoli Storage Manager (TSM) with VMware Consolidated Backup (VCB).
We are actually a shop that has Symantec NetBackup 6.5 and TSM 5.5. First off, there is no perfect solution. You have to go with what is best for your particular environment or your particular objective.

Download this free guide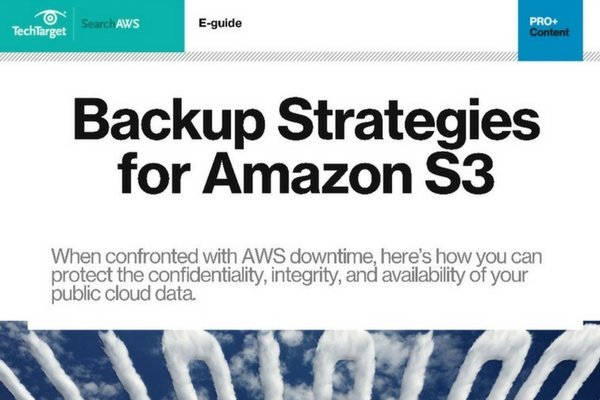 Amazon S3 in the spotlight: Your 34-page backup guide
In this guide curated by the SearchAWS.com editors, you'll evaluate and overcome the DR tradeoffs associated with Amazon S3, with guidance on solidifying an AWS backup plan and securing S3 buckets. Download your copy now.
By submitting your personal information, you agree that TechTarget and its partners may contact you regarding relevant content, products and special offers.
You also agree that your personal information may be transferred and processed in the United States, and that you have read and agree to the Terms of Use and the Privacy Policy.
When we went with VMware, we looked at NetBackup and TSM. I had Symantec and IBM come into our shop to talk about backups using VCB. Even though from our discussions it seemed Symantec did a better job on the image backup/restore, it wasn't a major selling point. In our environment, we would be doing file-level backups everyday with archives twice a month and very little image backups (only when we were about to do patches, or every other month image backups).
So in the end, we chose TSM for three reasons (even though I felt the NetBackup had a good product):
TSM file-level incremental forever backups and restores at our shop has always been easier and more reliable than NetBackup's synthetic backups and restore
Generally speaking, TSM appears to be more efficient with the storage requirements than NetBackup (mainly tape utilization)
TSM backup sets are a lif- saver for archives in our environment and since I work for healthcare, this a must-have
Our backups are pretty simple with TSM (and I'm sure NetBackup wasn't going to be bad either). As you know, the macro file we created on the VCB (calls the TSM "backup vm" command) does incremental forever backups for the guest that are in the VCB dsm.opt file. The windows servers admins just restore files using the TSM GUI on the guest and takes seconds to retrieve from our Quantum DXi7500 units.

I did the same thing regarding NDMP and chose NetBackup over TSM for backing up our BlueArcs. Again, either product would have worked but I felt with our particular objective, NetBackup seemed like the best choice.

--David

Sound off: Do you have something to say about one of our articles on SearchDataBackup? Email the editors at SearchDataBackup.
Dig Deeper on Backup for virtual servers