Q
Problem solve
Get help with specific problems with your technologies, process and projects.
A centralized backup can reduce admin costs
We are in the process of design phase of our backup "architecture." We are a manufacturing company and have approximately 50 sites (95% frame-relay, hub and spoke model, with at least four hub sites). Most of the traffic crosses the "IT data center" to get to other sites from the hubs. We are debating the pros and cons of central over the WAN back (256K, 0 CIR PVCs for the majority of the links) or go with each HUB doing central backups or each site doing its own backup. Any advice?


Download this free guide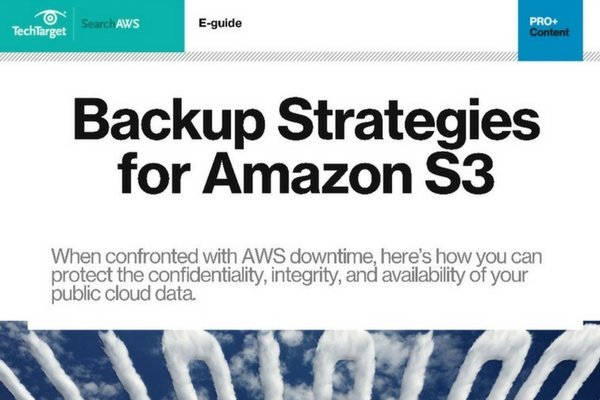 Amazon S3 in the spotlight: Your 34-page backup guide
In this guide curated by the SearchAWS.com editors, you'll evaluate and overcome the DR tradeoffs associated with Amazon S3, with guidance on solidifying an AWS backup plan and securing S3 buckets. Download your copy now.

By submitting your personal information, you agree that TechTarget and its partners may contact you regarding relevant content, products and special offers.

You also agree that your personal information may be transferred and processed in the United States, and that you have read and agree to the Terms of Use and the Privacy Policy.

We are in the process of design phase of our backup "architecture." We are a manufacturing company and have approximately 50 sites (95% frame-relay, hub and spoke model, with at least four hub sites). Most of the traffic crosses the "IT data center" to get to other sites from the hubs.

We are debating the pros and cons of central over the WAN back (256K, 0 CIR PVCs for the majority of the links) or go with each HUB doing central backups or each site doing its own backup.

I like the idea of centralizing backups to an IT data center. We have looked at a few vendors (NSI double take, CommVault to name a few) and they all "pitch" that it is a great idea. However, I have to make a business case and convince my boss with why it will be a great cost saving, low managing idea.

Any white papers, best practices, etc. or advice is greatly appreciated.

W. Curtis Preston's response:
With that many sites, I'd be looking for a centralized backup system too! First, I will say that I think centralized backup is a good thing, especially with that many sites. Its biggest advantage is that it significantly reduces administration costs. The other big advantage is that you're already providing off-site, disaster recovery type backups if you're using an alternate site as your backup. There are a number of ways you can do this and it depends heavily on the infrastructure that you have, or are willing to purchase. Here is a quick list of some options. Which option is right for you will depend on which type of hardware/software combination you have.

Storage-based mirror This works well if you've got homogeneous storage and can use the mirroring software to mirror all of your data to a central location then back it up from there. File-level mirror This uses a product (like some of the ones you mentioned) to mirror files to the central location where you can back it up from there. Hybrid Mirror what arrays you can, do file-level mirrors of the rest then back up centrally. What you have to keep in mind, though, is how you're going to get a consistent picture of any kind of databases that you've got. You can't just mirror Oracle, Exchange, etc., to another disk and then back up that disk without telling Oracle/Exchange about it. You've got to back up a consistent image. That means that you've got to put the database in backup mode (or something like that) then create a snapshot (static image) that then gets mirrored to the other site. Then you backup that image. This part can be a bit tricky and it helps if you have hardware that has snapshots already built into it. Before attempting something this large, with as many potential vendors as this will involve, I would definitely be talking to an independent consultant for advice.

Editor's note: Do you agree with this expert's response? If you have more to share, post it in one of our .bphAaR2qhqA^0@/searchstorage>discussion forums.



Dig Deeper on Backup and recovery software
Have a question for an expert?
Please add a title for your question
Get answers from a TechTarget expert on whatever's puzzling you.